Former NBC News Correspondent Returns to Providence College
Mike Leonard returns to PC tomorrow to give a talk about his film, Providence, which focuses on transformative years at the college.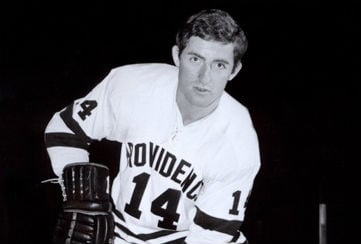 Mike Leonard, a Providence College class of 1970 alumnus, and former national correspondent for the "Today" show on NBC, will head a conversation between faculty and classmates about the transformative years at the college between 1966­­­­–70. The discussion will take place at Blackfriars Theatre at Providence College, this Sat., May 30 at 3 p.m.
Leonard will show clips of his recently released film, Providence, to stimulate dialogue. Providence asks larger questions about fate and destiny through a storyline that features Rhode Island's capital city, the Providence College campus and hockey team, and the overarching presence of the Vietnam War during this time. National champion hockey coach Nate Leaman and Providence College President Father Brian Shanley will also participate in the discussion of this transformative time period.
Leonard is an expert storyteller with an intense love for Providence. Head to Providence College tomorrow for an afternoon of stimulating dialogue about our capital city.