Forage for Wild Mushrooms in Rhode Island
'Shroom Hunters Ryan Bouchard and Emily Schmidt Show You How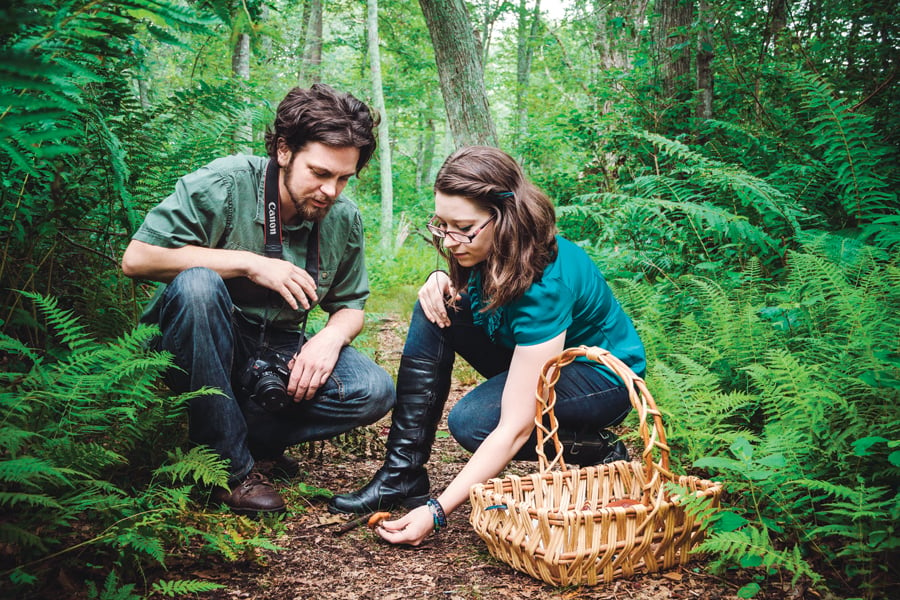 You might call it something like a treasure hunt: Hiking along a heavily wooded trail in western Rhode Island, Ryan Bouchard and Emily Schmidt keep their eyes low, expertly scanning the forest growth for possible loot. Suddenly, they veer off the path. An otherwise unremarkable tree stump sits in the underbrush, sprouting about a dozen glossy, shelf-like mushrooms up to eight inches wide in hues from gold to rusty red. The reishi mushrooms are edible but tough, used mostly for tea. Bouchard pulls out a pocketknife, and the Southern New England Mushroom Hunters begin to harvest.
Bouchard and Schmidt are Rhode Island natives who began mushroom hunting as a hobby after taking a class with the Audubon Society of Rhode Island. As the couple studied the science and history of mushroom foraging, including the ecological role, unique uses and nutritional benefits of wild fungi, it morphed into a business they shared with others during presentations, culinary demonstrations and private guided foraging walks. "We educate people about safe mushroom collecting, as we all know there are poisonous mushrooms out there," says Bouchard, who authored the Ocean State's first book about mushroom foraging, Gourmet Mushrooms of Rhode Island. "People are largely unaware that you can do this in Rhode Island. And we teach people to disturb the environment as little as possible."
The duo has sampled more than 140 varieties of local, wild edible 'shrooms in flavors from sweet and tangy to nutty and savory. They hope to partner with local restaurants and lead educational mushroom-themed dinners. Schmidt's favorite recipes include swordfish smothered in black trumpets and salmon with chanterelles. She warns against wasting your bounty, though: "If you're eating a mushroom you haven't tasted before, don't just throw it into a burger, soup or casserole," she says. "Saute it and eat the mushroom by itself so you get to know its flavor."
Plus, learning the finer points of foraging shouldn't be taken lightly, the hunters say. Before you pluck the nearest fungus, here's some advice: "When in doubt, throw it out," Bouchard says, along with the old adage: " 'There are old mushroom hunters, and there are bold mushroom hunters. But there are no old, bold mushroom hunters.' Basically, it's not a hobby for daredevils."
Private lessons and guided walks can be scheduled by contacting mushroomhuntingcentral@gmail.com and calling 401-595-6143. Public classes will be held Sept. 16, 5–7 p.m. (beginner) and Oct. 28, 5–7 p.m. (advanced) at the Farmer's Daughter, 716 Mooresfield Rd., South Kingstown, 401-792-1340, thefarmersdaughterri.com.