Food Lovers' Guide
From local goods to multicultural ingredients, you can shop like a chef with our guide to the best food stores, farm stands, gourmet and ethnic markets. Plus, meet the state's best purveyors, and score recipes for the perfect Thanksgiving feast.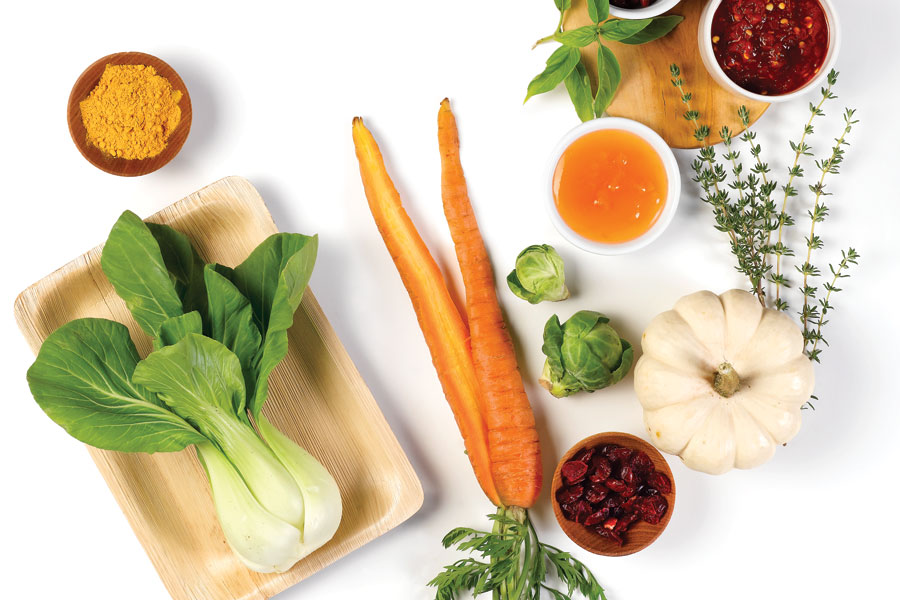 Edited by Jamie Coelho
Reporting assistance by Jamie Samons and Ashlyn Lillibridge

Asian Market Tour
Ingredient hunting in Providence and Cranston.
Asian Market Tour
Ingredient hunting in Providence and Cranston.We always wanted to shop Asian markets for little-known herbs and sauces for Thai, Chinese, Vietnamese and Japanese cooking, but where to begin? For help along our adventure, we enlisted James Mark from north restaurant and north bakery in Providence to
take us on a private tour. foodbynorth.com

V Mart
176 Narragansett Ave., Providence
490-0612, vmartprovidence.com
"V Mart is more comfortable for the average person because it's laid out like a regular supermarket," says Mark. The store boasts the largest breadth of ingredients from Vietnamese, Southeast Asian, Korean and Japanese cuisine as well as East African. Divided into sections, dry goods include bulk quantities of rice and dry noodles in all shapes and sizes at affordable prices. There are fresh and frozen fish sections that have everything from eye-opening waterbugs to conger eel. Peruse aisles of specialty oils, soy, chili and fish sauces and a variety of pastes. Find fresh herbs and produce like Thai basil, garlic chives, bok choy, bitter melon and more.
Best ingredients: Red Boat fish sauce. "It's just anchovies and sea salt. That's it. It has a very delicate flavor. We use it as a finishing sauce," Mark says. Also snag a bag of New Yung Ky fresh noodles, made in Brooklyn. "Cook them in boiling water for forty-five seconds," says Mark.

Pacific Seafood
247 Reservoir Ave., Providence
467-2047
Tanks of live fish, lobsters and crabs amaze from the entrance. "It's the best fish market in the city," says Mark. The best choices are the rock crabs, lobsters and the Rhode Island-caught seafood, says Mark, including squid, scup and bluefish, when it's in season. "They go down to Point Judith and New Bedford to get it," he says. "If you stick to fish that comes from the area, it will be good here." They also have tanks stocked with swimming tilapia and catfish, and bushels of clams, whelk, snails and more fit for any home-based feast.
Best ingredients: Locally caught scup, squid or bluefish, rock crabs and lobsters.

Sunny Market
243 Reservoir Ave., Providence
941-5089
This is a smaller version of V Mart, with fewer shelves showcasing many of the same ingredients in a more compact space. Mark recommends the market for fresh produce and Thai/Cambodian snacks made by Hong Meas restaurant, which are freshly made and packaged to-go by the front door. Beautiful, bright herbs and vegetables line the refrigerated cases. "The galangal and curry leaf is fresher here, and will last longer," he says. There is also an aisle filled with Asian cookware like woks, mortar and pestles, steaming baskets and beautiful serving plates for your next dinner party.
Best ingredient: "We use tapioca starch for our fried chicken," says Mark. "It's gluten-free and fries up really crispy."

Mirae Korean Market
602 Reservoir Ave., Cranston
941-9419
This small Korean market is run by a couple that also has a fondness for Korean music and DVDs (available for rental behind the register). Mark often shops here for ingredients and treats for his restaurant's staff meal. "This is where we get our rice cakes we serve with our dan dan noodles," he says. Other things he orders here include brown rice vinegar (Assi Brand), hot pepper paste called gochujang, and kochukaru hot pepper powder to make north's kimchee base. "You go through an absurd amount to make kimchee," he says. Other key ingredients include bonito flakes for making dashi, and dried kelp (kombu) for soup base.
Best ingredients: All of the above, but don't leave without Korean snacks, candy and drinks, including Mochi ice cream.

---
Asian Food Glossary
Perplexed by an ingredient? Consult our handy list of explanations.
Galangal
A root that's similar to ginger, but with pine notes and a strong citrus scent, used in Thai, Indonesian and Malaysian cooking.
Fish sauce
Liquid extracted from the fermentation of fish with sea salt, often used as a condiment.
Udon
Thick wheat flour noodles used in Japanese cuisine, often soup.
Thai basil
A type of sweet basil native to Southeast Asia that has small, narrow leaves and purple stems and a licorice flavor.
Bitter melon
Bitter fruit with a warty exterior from a vine that grows in Asia, Africa and the Caribbean. Often used in stir fries, Asian salads and teas.
Bean curd wrappers
Also known as tofu skins, the brittle, paper-thin sheets are made from lifting the surface skin off boiled soybean milk. They are used to create dumplings, spring rolls and sausages.
Tapioca starch
White, gluten-free flour made from the starch extracted from the cassava plant.
Rice cakes
Mounds made with glutinous rice flour by steaming.
Gochujang
A savory and pungent fermented Korean condiment made from red chili, glutinous rice, fermented soybeans and salt.
Kombu
Edible kelp with an umami flavor, often sold in dried sheets and used in Japanese broth (dashi).
Kochukaru
Crushed red chili pepper finely ground into a powder or tiny flakes, used in Korean cooking for sauces, soups, stews and kimchee.

---
One-Stop Shopping
These bigger local markets stock everything food-related all in one place.
We applaud McQuade's Marketplace's seafood selection of native blackfish and wild mussels and littlenecks, but we also praise the produce, butcher, bakeshop and prepared foods.
106 Main St., Westerly, 596-2054; 6 Clarke St., Jamestown, 423-0873; 14 Clara Dr., Mystic, Conn., 860-536-2054, mcquadesmarket.com.
Clements' Marketplace boasts lots of lovely attributes like the chef's corner with dinner solutions, a bake shop, butcher block, a by the sea department with ready-to-bake options and more. Best of all, they offer grocery delivery to your door.
2575 East Main Rd., Portsmouth, 683-0180, clementsmarket.com.
Tom's Market is the place to go for excellent cuts of meat and filleted fish from sources you can trust. The prepared foods section could rival any high-end buffet.
821 Tiogue Ave., Coventry, 826-0050; 137 Child St., Warren, 289-2852; 492 Main Rd., Tiverton, 816-0862, tomsmarket.com.
Eastside Marketplace procures organic produce priced the same as conventional, its seafood department receives daily deliveries from local waters, and the butcher grinds the store's own beef every four hours. The store also provides Rhode Island's only kosher meat service every Thursday 8 a.m.−2 p.m.
165 Pitman St., Providence, 831-7771, eastsidemarket.com.
What was once a roadside fruit stand opened by Dave Cesario in 1969 has expanded to nine Dave's Marketplace locations stretching across the state. With online ordering and catering, the market makes life simpler for today's busy families. davesmarketplace.com.
Gourmet and Local
Go-to destinations for farm foods and gourmet goods.
Willy's Local Foods
394 Wickenden St., Providence
421-1411, willyslocalfoods.com
If there's a local company making a food product, chances are this shop stocks it. From Three Sisters ice cream and Rhody Fresh milk to Top This ready-made pizza crusts and Twin Oaks pasta sauce, the shelves showcase lovingly made goods from our neighbors. The cafe also sells fresh baked treats, coffee and lunchtime staples like soups, salads and sandwiches assembled with greens from nearby farms, cheese from Narragansett Creamery, Daniele meats and bread from Great Harvest.
Must-try item: Nettie's Kettle Corn, a sweet and savory popped corn treat.

Fertile Underground
1577 Westminster St., Providence
365-4384, fertileunderground.com
We're all for farmers markets, but set schedules are sometimes hard to work around. Enter Fertile Underground, a community-supported grocery store selling seasonal local produce, dairy, eggs and meat from local farms, seafood from the Local Catch and plenty of vegan options, seven days a week. The West Side location was formerly a food desert for more than twenty years, meaning that without transportation, it wasn't easy to access fresh fruits and vegetables. FUG has solved the problem by planting a communal garden and selling food straight from farms, bringing wholesomeness into an oft-neglected city neighborhood.
Must-try item: Housemade soup varieties, including creamy coconut butternut squash.

Alternative Food Cooperative
357 Main St., Wakefield
789-2240, alternativefoodcoop.com
Local and specialized products can be found inside the hippest hangout in South County. It's a one-stop shop for produce from Rhode Island farms: eggs from Santos Family Farm and Zephyr Farm, meat and eggs from Windmist Farm, fish from the Local Catch and dairy from Narragansett Creamery and Rhody Fresh. Gather fresh herbs from Frontier Co-op, salsa and pasta sauce from Poblano Farm, plus daily housemade soups, sandwiches and meals to take home. Avoid unwanted packaging by bringing your own sacks (or grab a recycled bag) and fill them with scoopfuls of organic pastas, flours, grains, legumes, granola and much more.
Must-try item: Breakfast quesadilla made with eggs and cheese and different daily ingredients like sweet peppers, corn and scallions and sweet potatoes with feta.

Schartner Farms
1 Arnold Pl., Exeter
294-2044, schartnerfarms.com
During the fall months, the farm is an escape for the whole family with hayrides and pick-your-own pumpkins, plus squash, homemade preserves and gourmet items, including fresh bread from Pain D'Avignon bakery for purchase. In the summer months, it's all about strawberries, tomatoes and corn grown right on the spot. As soon as you walk into the main building, the smell of fresh calzones and pastries fills your nose.
Must-try item: Step right up to the bakery and order a sandwich made with locally raised meat and cheeses, a traditional spinach calzone or indulge in a Rhode Island classic: pizza strips.

Persimmon Provisions
338 County Rd., Barrington
337-5885, persimmonprovisions.com
This retail companion to Bristol's heralded Persimmon restaurant gives chef and owner Champe Speidel a forum to display his enviable butchering skills. High quality meats populate the display case, but the staff never shies away from unusual cuts or special orders. The shop also includes an impressive artisanal cheese selection and specialty condiments. Check out the freezer case for homemade stocks and sauces as well as offal for the ambitious home chef.
Must-try item: Bolognese. It's the same tribute to Emilia-Romagna that's served in the restaurant. You needn't disclose to dinner guests that you didn't slave all day over a hot stove.

Blackbird Farm Farmstand
660 Douglas Pike, Smithfield
232-2495, blackbirdfarmri.com
The Bouthillette family presents its Blackbird Farm pedigreed Black Angus beef, American Heritage Berkshire pork, organic, free-range Rhode Island Red eggs, local produce and regional products from neighboring farms and producers at their seasonal farmstand, open Wed.−Sun. from 9−6 p.m. Weekends only in the winter.
Must-try item: The burger mix. There's a reason so many of the state's top chefs rely on Blackbird's ground beef: multiple grinds and spot-on fat-to-lean ratio mean your patty will have the flavor and heft of a steak as well as chin-dripping juiciness.

Pat's Pastured Farm Store
830 South Rd., East Greenwich
patspastured.com; also available at several farmers markets and through meat clubs and CSA shares.
Pat McNiff raises grass-fed and pastured chickens, pigs and turkeys using a well-defined set of principles that focus equally on quality of life for the animal and quality of product for the consumer. Berkshire, Large Black and Tamworth pigs yield traditional pork cuts, sausages and bacon. Laying hens and ducks provide eggs. Pastured broilers are processed onsite and are sold as whole birds or chicken parts. Reserve turkeys several weeks before Thanksgiving.
Must-try item: Pat's Farmway Franks. Juicy pork interior and snappy casing make this dog an excellent vehicle for chili, kraut or condiments, but also allow it to shine on its own.

Four Town Farm
90 George St., Seekonk, Mass.
508-336-5587, fourtownfarm.com
Take a look at any notable local chef's menu and odds are it includes produce from Four Town. The farm is seasonal and open mid-April through the holidays with current crops always listed on the website. In late fall, they offer turnips and winter squash, Brussels sprouts, cabbage and more, plus locally made jams, harvested honey and baked goods for your Thanksgiving spread. Come Christmas time, you'll find trees and wreaths too.
Must-try item: Winter squash for days. Four Town grows every variety you can think of.

Sweet Berry Farm
915 Mitchell's Ln., Middletown
847-3912, sweetberryfarmri.com
The market (open through the end of December, and reopening in April) is like one big gift basket, including gourmet cheeses from around the world, and jams, jellies, salsas, fruit pies and pastries made from the farm's produce by Steve Cory of Cory's Kitchen. If you don't have time to cook, the refrigerated section provides prepared foods from chicken pot pie to chicken curry salad. You can also pick up pints and half-pints of Susanna's famous homemade ice cream to-go (we're partial to the peach and strawberry).
Must-try item: Bumbleberry jam includes a taste of Sweet Berry Farm: strawberries, rhubarb, peaches, blueberries and raspberries.

Milk and Honey Bazaar
3838 Main Rd., Tiverton
624-1974¸ milkandhoneybazaar.com
Rhode Island is still home to one of the best cheese shops around, and it's located just a picturesque drive away in Tiverton. The Four Corners shop carries more than 100 varieties of cheese (tasting is encouraged!), including local versions and hard-to-find European specialties. They also sell the perfect cheese accompaniments: pates, charcuterie, olives, olive oils, vinegars, jellies, mustards, honey, flatbreads and crackers. Platters, displays and gift baskets can be arranged for your holiday needs.
Must-try item: Fromager d'Affinois, a French double-cream soft cheese made from cow's milk.

Le Petit Gourmet
26 Bellevue Ave., Newport
619-3882, newportwinecellar.com
Sit by the front window and savor a cheese plate paired with a split of wine from the adjoined Newport Wine Cellar. They also host Friday night tastings from 4−7 p.m. in the wine shop where you'll sample a wine and cheese pairing, and if you like it, you can purchase both for a 10 percent discount. Le Petit Gourmet also features quiches, sandwiches, pates, fresh breads, charcuterie, spreads and more to-go for your next cocktail party. Or pop in for lunch to extend your Newport shopping spree.
Must-try item: Ewephoria is a pasteurized sheep milk Gouda-style cheese from Holland.

---
Testing, Testing
Olive oil and vinegar tasting bars in the Ocean State.
No need to travel across Europe when Olive del Mondo stocks exceptional olive oils and balsamic vinegars — including a blood orange-fused agrumato from Tunisia and a fig balsamic from Modena, Italy — available for tasting and purchase right on beloved Hope Street.
815 Hope St., Providence, 383-5733, olivedelmondo.com.
The Olive Tap in Wayland Square caters to home cooks who like to sample before they buy. Sign up for the shop's newsletter to learn about tasting events complete with appetizers and recipes that showcase the gourmet oils and vinegars.
485 Angell St., Providence, 272-8200, theolivetapprovidence.com.
Narragansett Bay Olive Oil Company launched in Wickford as a result of touring Napa Valley's olive oil tasting rooms. The family that owns the shop brings California's finest oils and vinegars to Rhode Island for our savoring pleasure.
4 Brown St., Wickford, 295-2500, nboliveoil.com.
---
Winter Farmers Markets
Aquidneck Growers' Winter Market
Sat. 10 a.m.−2 p.m.
Nov. 1−May 2.
Newport Vineyards and Winery, 900 East Main Rd., Middletown, aquidneckgrowersmarket.org
Coastal Growers' Winter Market
Sat. 10 a.m.−1 p.m.
Nov. 1–May 9.
Lafayette Mill, 650 Ten Rod Rd., North Kingstown, coastalmarket.org
Hope Valley Winter Farmers Market
Sat. 11:15 a.m.−1:30 p.m.
Nov. 15−April 11.
Richmond Community Center, 1168 Main St., Wyoming
Mount Hope Year-Round Farmers Market
Sat. 9 a.m.−1 p.m.
Mount Hope Farm, 250 Metacom Ave., Bristol, mounthopefarm.org
Pawtucket Wintertime Farmers Market
Sat. 9 a.m.−1 p.m.
Nov. 1−May 9.
Hope Artiste Village, 999 and 1005 Main St., Pawtucket, farmfreshri.org
Pawtuxet Village Wintertime Farmers Market
Thurs. 4:30−7 p.m.
Dec. 4–April.
Location TBA, friendsofthepawtuxet.org/farmmarket.html
South Kingstown Winter Market
Sat. 10 a.m.−2 p.m.
Nov. 1–April 25.
Peace Dale Mill Complex, 1425 Kingstown Rd., Peace Dale, southkingstownfarmersmarket.org
St. Luke's Arts and Farms Indoor Winter Farmers Market
Mon. 3−6 p.m.
Oct. 20−March 2.
St. Luke's Church, 99 Peirce St., East Greenwich, facebook.com/artsandfarms
Woonsocket Winter Farmers Market
Tues. 3−6 p.m.
Nov. 4–Dec. 23.
Thundermist Health Center, 450 Clinton St., Woonsocket

Meet the Purveyors
Baffoni's Poultry Farm
The Baffoni family has raised turkeys and chickens with care since 1935. By Jamie Coelho
Farmer Donald Baffoni walks up to an open-air pen raised off the ground that holds a flock of 250 young turkeys. He knocks on the wire mesh, says "hello," and a crowd of gobblers gathers around him, chirping and barking, cocking their heads and looking straight at us. The turkeys inside the pen are varying sizes, and there's another nearby pen holding 250 more full-size turkeys, a few months older. For Thanksgiving, Baffoni's Poultry Farm in Johnston will raise up to 1,200 turkeys, and each of them will be meticulously cared for by the Baffoni family for about six months.
The size of the turkey on your dinner table might be determined by sex. "The difference between the males and females is profound. If we time everything right, the females will grow to be eighteen pounds, and the males will be about twenty-eight pounds," says Baffoni. While turkeys are mainly seasonal, the farm raises chickens year-round for eggs and meat. They have different varieties including White Rock laying hens, heritage breeds like Red Rangers and Rhode Island Reds and standard Cornish Cross meat birds. The business enlists all family members to divvy up the responsibilities at the farm while balancing their own full-time jobs. "There's always that dynamic when you are working with family, but we are really good at making it work," says Baffoni, whose wife, Camilla, also works at the farm.
The poultry farm started in 1935 with just a few chicken coops erected by Donald's grandfather, Joseph Baffoni. As business boomed, he built indoor, cage-free chicken coops in barns with plenty of windows so that the fowl could wander around and always have shelter from the heat and the cold. Expansive stretches of power-washed floors are covered with fresh wood shavings and little wooden bins are built along the walls for the hens to lay eggs. "They do better in the summer and winter because they always have shade. We add wood shavings every day to keep them dry and give them bedding," says Baffoni. "The less stress they have, the better they will do."
It's not easy to raise cage-free chickens "Baffoni-style," he says, but it's a choice. They get new flocks of 4,000 chicks from three different hatcheries every two weeks, and move them to different pens as they reach certain stages of maturity. While farms that use cages can have hens lay eggs on conveyor belts, Baffoni's sends workers into pens two times a day to handpick and pack the eggs. "We're here 365 days a year, even Christmas morning," he says. "You don't have to kick an animal to be cruel to it. All you have to do is ignore it. And we are attentive." Baffoni and family members step into the coops three times a day, every day, and the fowl are fed an all-vegetarian, antibiotic-free diet of corn, soybeans, alfalfa, salt and vitamins, a mixture developed by the Baffoni family, the grain mills they work with and nutritionists at the University of Rhode Island.
The "buy local" movement saved the family business in a tough economy, says the farmer. The onsite farmstand sells meat and eggs year-round, and Baffoni's participates in Farm Fresh Rhode Island's market mobile, for which dozens of high-end restaurants place poultry and egg orders each week, including the Ocean House, Chez Pascal, Rogue Island, Nicks on Broadway, Broadway Bistro and many more. But Baffoni's never forgets its loyal customers at Latino markets. "They supported us when buying local wasn't such a movement," says Baffoni.
The popularity of their poultry is so great that the family was able to hire their own USDA inspector to monitor food safety and cleanliness in their onsite slaughterhouse, which allows them to process their own meat. The family can now sell their poultry anywhere in the country. "It gives consumers an extra sense of confidence, knowing someone is always here watching," says Baffoni. "It also allows other small farms to process their chickens here and legally sell to restaurants and customers."
It makes a huge difference when it comes to freshness and compassion. "We can process to order, and your chicken is getting to the end user — restaurant, store or customer, within twenty-four hours," says Baffoni. "Once you process the chicken and pick the eggs, that's the highest nutritional value you're going to get and it's only going to go downhill from there. I also know what we're doing is the fastest, least violent method that we've seen, and as respectful as you can be to the animal."
Buying local is about more than just supporting local families; it's about quality. "Make a point to know your farmer," says Baffoni. "If you are supporting any one of our farms, you're doing your community a service."
324 Greenville Ave., Johnston, 231-6315, baffonispoultryfarm.com.

---
RI Mushroom Company
Fungi farmers Bob DiPietro and Mike Hallock grow exotic mushrooms for chefs and home cooks.
The lights inside the greenhouse at RI Mushroom Company stick to a very strict schedule. Twelve hours on, twelve hours off. Not to save money on electricity, but to mimic daylight. "The mycelia that started in the bag, is what grows on the forest floor, so when it's time for the mushroom to pop up, it goes towards the light," says Bob DiPietro, partner of New England's biggest mushroom farm, located in a warehouse in West Kingston along with two recently acquired facilities in Chatham and Nantucket, Massachusetts. "We're tricking the mushrooms into thinking it's spring or fall and it's time to put out the flowers."
RI Mushroom Company has come a long way since its humble beginnings in the basement of Sweet Berry Farm in Middletown, where it started in a closet. Once the pilot program proved successful, DiPietro and Hallock searched for a larger space and more help. Now they've acquired Nantucket Mushroom Company as part of RI Mushroom Company to offer more varieties, and they've expanded from one greenhouse and 2,500 square feet to four greenhouses and 10,000 square feet, with plans to increase space even more in the fall.
In West Kingston, the unconventional indoor farm is nestled between a local fleece-making company and Proclamation Ale brewery. The sixteen-foot-high, fifty-foot-long greenhouse was assembled by Hallock, and in it, 400 bags spawn three different mushroom varieties: gold oyster in the front, blue oyster in the middle and pioppino in the back. The vibrant yellows stand out against the muted bluish grays and browns. Blossom-like formations — resembling giant popped popcorn kernels — poke through black plastic bags that are arranged in rows on steel shelving. The partners have built an HVAC system that keeps the environment at sixty-three degrees and 98 percent humidity. "But fluctuating, like in nature," says Hallock, and a computer keeps all conditions in check. "I can change and modify the system from my phone if I need to," he says.
They're also growing a proprietary strain of king oyster, maitakes (hen of the wood) and shitakes, which must remain isolated in another greenhouse in Chatham as well as several other varieties that are being cultivated from spores in an onsite lab. "A lot of mushrooms just don't play well together," says DiPietro. A week's harvest totals 1,500 pounds of fungus. There's also a giant walk-in refrigerator that houses locally foraged species as well as some varieties sourced from around the United States and sometimes the world.
Chefs from Rhode Island's best restaurants buy their greenhouse-grown mushrooms and foraged wild edibles acquired through relationships with mushroom experts. Cook and Brown, White Horse Tavern, Tallulah on Thames: the list of buyers is 100 deep, yet the public can also purchase directly from them at farmers markets and at the farm. They also sell through Fertile Underground in Providence and the Alternative Food Cooperative in Wakefield.
The partners are proud that nothing goes to waste in this business. When the mushroom bags no longer produce, they become compost or feed for farm animals. "It's incredible compost," says DiPietro. "The mushrooms will start eating the other organic material." Just as in nature. And whatever mushrooms are leftover from sales are turned over to Steve Cory at Sweet Berry Farm, who produces a line of tomato sauces and simmer sauces that include the mushrooms. "There's a third of a pound of mushrooms in each jar," says Hallock. "It's so popular, we can't keep it stocked."
141 Fairgrounds Rd., West Kingston, 250-3999, rimushrooms.com. –J.C.

---
Indie Growers
Lee Ann Freitas cultivates an impressive herb and vegetable collection.
Lee Ann Freitas of Indie Growers approaches the greenhouse at Mount Hope Farm in Bristol carrying a charantais, a petite French cantaloupe that she grew on one of her leased plots of land. It's her breakfast that morning. She cuts into the juicy, sherbet-hued fruit and holds up a slice like baby Simba in The Lion King. "Just smell it," she says, breathing in the scent with a sigh and then takes a bite. Its sweet flavor is more pronounced than a melon you might buy at Stop and Shop. "Sometimes I think grocery store melons are just a three-D copy," she says.
The Mount Hope Farm greenhouse is one of four pieces of Bristol property Freitas cultivates, this being her fourth winter planting and growing for Indie Growers. She leases the land from Mount Hope Farm, as well as a plot at Weetamoe Farm and a high-tunnel (unheated hoop house) at Stony Hedge Farm. "Unless you have an old family farm, it's impossible to find acres together," Freitas says. "In total, I put together an acre." The Mount Hope Farm greenhouse is heated from the ground up, and friends and volunteers helped her build beds on the ground using repurposed wood. "I think it's the only one in the nation like this right now," she says, which allows her to grow all year long, including winter. She also has another heated greenhouse and a seedling house at her home.
If a food enthusiast or aspiring chef — many of them happen to be Freitas's interns and volunteers — wants to develop his or her palate, the Indie Growers greenhouses and outdoor plots are a goldmine. Countless unusual herbs; mitsuba and perilla (often used on sushi), pineapple sage, lemongrass and half a dozen types of basil and mint (chocolate mint, cotton candy mint, ginger mint, Mexican mint) — "Yea, I have a mint fetish," she says — line the path in scattered clusters. "I don't have any squares," she says. "I let things do whatever they want."
Several James Beard Award-nominated chefs — Champe Speidel of Persimmon and Ben Sukle of birch — come to see Freitas for those tiny bursts of color and flavor that grace their culinary masterpieces. Home cooks can also gain access to some of her gastronomic gems at the Mount Hope farmers market, open year round, but located in the barn during cold weather months. In fall, there'll be Swiss chard, turnips, kale, buttercup squash and greenhouse herbs (she will pick to order, or allow you to pick your own during a tour of the greenhouse).
Freitas takes an all-or-nothing approach to herbs and vegetables. She uses every bit of a plant from the stems to the leaves, the blossoms and even seed pods, which often bring unexpected zest, vibrancy and aroma to a dish. "I grow radishes, and I wait for it to go to seed. It makes these really delicious pods that look like peas and they have a lot of heat to them," she says. "And I also use the blossoms, which are beautiful. I have to look at the plant as continuously making me money and the way to do that is to use every part of the plant."
As she specializes in ingredients for high-end restaurants, you might assume Freitas loves to cook. But she doesn't necessarily like all the work that goes into it. She prefers simplicity. "I pick everything small [beets, carrots, fennel, turnips] so you don't have to peel them, you can just boil or roast them and leave the peel on," she says. "I love Rachael Ray but she's twenty-nine minutes too long."
Freitas is also a promoter of quality over quantity and size, and she thinks we might actually save money if we only bought what we need. "We should rethink the BJ's mentality. How much are you tossing? That is money," she says. "If we just scaled back and looked at things smaller, there's so much more flavor in a tiny carrot than a giant one."
She also appreciates ingredients the way nature intended: Raw. "Anything I can do to just throw stuff together," she says. "We are so concentrated on saying, 'I don't have time,' so why don't we just make it easy on ourselves? Just try it. The first thing I say to all my new interns and employees: your first job is to taste, smell, feel and eat." indiegrowers.com –J.C.
---
Humble Pie Company
Daniel Sheehan bakes perfect pastries for your holiday table.
Where are your pies available this season? We sell mini pies at the indoor Hope Artiste Village wintertime market, hopefully we'll still be doing Mount Hope Farm farmers market, and other locations around the state. They are also available at the Shop at Fox Point and New Harvest Coffee and Spirits in the Arcade.

How can we order larger pies? You can special order the larger ones in advance at the farmers markets, or through our website for pickup. We're taking Thanksgiving orders for pickup a few days before the day. Check the website for more details.
How are you going to approach massive holiday orders? It's going to be new for us. We made it through the holidays last year — Thanksgiving and Christmas — but the newness will be increasing volume. For Thanksgiving, I can't speculate, but it's going to be more than the 100 pies we did last Thanksgiving!
What varieties will you make? Parsnip custard, roasted pumpkin, maple pecan and Dutch apple. We will introduce a couple of new ones that will have limited runs, like a French Canadian pork pie. We'll do the linzer torte again and a mince pie.
Where do your ingredients come from? We get some of our flour from Kenyon's Grist Mill, eggs from Baffoni's Poultry Farm, our nuts come from Virginia and Spanish Peanut Company, and Hill Orchard and Steere Orchard are a couple of our favorite apple providers. Schartner Farms has the best parsnips I've found in our state. We use fresh pumpkins from Schartner Farms, but we bounce around a little bit. We also use Four Town Farm, Salisbury Farm, Little City Growers and Freedom Food Farm.
So you are a local business that is supporting dozens of other local businesses. Yes, and that's really awesome. I love that food chain.
How was working the Newport Folk Festival? It was our busiest time thus far in Humble Pie's career. Each day beat out the last. My favorite memory was selling out on Sunday, and going to dance to Rodrigo y Gabriela. I had all my friends there supporting me as pie vendor. They do it on a volunteer basis, in that instance. When you are working for me, the pie is always free.
Can you detail a day in your life from the time you wake up until you go to bed at night? It's embarrassing, and it's going to change as I train more people. My day starts at 4 a.m., and I wake up, grab a Clif bar and throw on a white T-shirt. It's still white, but it's not chef's whites. I head to the Crossroads kitchen for 4:30 a.m. The day starts with baking for wholesale accounts, and by 6:30 a.m., everything is out of the oven, cooled and packaged in boxes with invoices attached. I hop in the car to deliver to two accounts, New Harvest and the Shop. I do that every day, except Sunday. Then I grab a coffee and chit chat if I can, and come back to the kitchen. My staff comes in at 5 a.m., so they will already be tackling the list of tasks, whether it's working on the dough, processing the fruits and vegetables, or doing farmers market orders. We finish up and use whatever we have on hand to make a staff breakfast. Then at noon we wrap up, because Crossroads staff has arrived and we want to give them their space. The rest of the day is spent answering emails, going to farmers markets or doing book-keeping and picking up ingredients.
Where do you see yourself going from here? By November, we'll be in the middle of our first class for the culinary program at Crossroads. There are plenty of culinary training programs in Providence, but we're choosing to focus on baking and pastry because there's a growing demand for pastry and bread programs in restaurants, and staffing bakeries with hard-working dedicated people is difficult. It's a great pairing for Crossroads, because it will serve their clients, and also help supplement their meal program with fresh baked goodies. The object of the program is to ultimately provide people with sustainable careers and a continuing support network as they enter or re-enter the job market. humblepiepvd.com –J.C.
Multicultural
Hard-to-find ingredients are tracked down easily at these semi-secret shops.
Not Just Spices
836 Hope St., Providence, 351-6555
The name may be Not Just Spices — and that's true — but seasonings are where this shop really stands out. An entire wall is dedicated to large sacks filled with items for Indian cooking, like chili powders and dried chilis, cumin, turmeric and clove powders. There are ginger pastes and garlic pastes, jars of ghee and bulk-sized bags of beans and jasmine rice. If restaurant-goers love Not Just Snacks across the street, they can venture over to the retail shop to recreate favorite dishes at home with a clerk who guides you toward the right ingredients.
Must-try item: With a Shan spice kit for chicken tikka, plus a jar of ghee, fresh garlic and ginger, you can make the specialty on your own.
Davis Dairy Products
721 Hope St., Providence, 331-4239
For fifty-four years, Joslin Davis and family have been slicing kosher meats, slathering fresh bagels with lox and cream cheese and serving up potato and meat knishes on a little corner on the East Side. Loyal customers travel great distances to come to the finest Jewish deli in these parts, a place that would be right at home on any New York City block. They carry varieties of smoked fish, whitefish, gefilte fish, corned beef, house-brined pickles and coleslaw, fresh challah bread and pantry staples like matzo and crackers. Davis also supplies stores like Eastside Marketplace with kosher items and smoked fish, proving that the bigger markets still need mom-and-pop operations like this.
Must-try item: Potato knishes, creamy potatoes wrapped in pastry.
Armando and Sons
265 Pine St., Pawtucket, 727-0707;
895 Elmwood Ave., Providence, 727-0707, armandosmarket.com
Billing itself as "the United Nations of meat," Armando and Sons has multiple meat counters that continuously hop with deft-handed butchers taking orders and offering cooking advice in multiple languages. Beyond the standard selections (chicken, beef, pork, lamb), Armando and Sons regularly features smoked and fresh goat, organs, trotters and tongues. Beyond the meat case, a roving shopper will find a wide variety of Latin American dry and canned goods and a panoply of cane-sugar-sweetened Mexican sodas. A robust selection of produce — nopales, aloe, okra, peppers — will help you to add some green to your plate and balance out all that meat.
Must-try item: Follow your nose to the in-store cafeteria serving up Latin and Jamaican cuisine, made on premises. Try the menudo, a Mexican soup.
Istanbul Gourmet Food and Market
1706 Mineral Spring Ave., North Providence, 353-7800
Spinach pies and baklava are items that require special skill to bake. At Istanbul Gourmet, you can find ingredients to make it happen in your own kitchen, or you can pick up cooked kabobs, hot prepared pies (meat, cheese and spinach) and housemade dessert to-go. Middle Eastern and Turkish grocery items line the shelves — think traditional spices and sauces, Turkish cookies, candies and teas and coffees. Those longing for specific brands including yogurts, cheeses, pita bread and packaged meats will be happy to find a little bit of their homeland here.
Must-try item: Flaky spinach pies with feta cheese, and a square of baklava, layers of filo filled with chopped nuts.
La Poblanita
273 Academy Ave., Providence, 274-4609
The bakery sign outside La Poblanita belies the bounty of fresh meats, groceries and Mexican sundries within this Mount Pleasant market. Baskets of corn husks (ready for tamales), bins of dried peppers and bags of pepitas compete for space with frozen tropical fruits, Mexican spices and a rainbow of south-of-the-border candies. Equally impressive are the store-made tacos: gigantic, delicious and economical. Wash down your taco with one of the fountain agua frescas: jamaica (hibiscus), tamarind or horchata.
Must-try item: La Poblanita carries an extensive selection of Goya frozen fruit. Try adding the mamey sapote (a Latin American fruit), passion fruit or tamarind to your morning smoothie.
Sanchez Tortilleria
802 Atwells Ave., Providence, 331-6469
Corn tortillas are handmade each day and sold to the public, still warm off the press. Packages freeze well, so stocking up is a must. The shop also sells Mexican ingredients for cooking as well as bags of freshly made tortilla chips, and quarts of housemade salsa, crema and mole to-go (when available).
Must try item: The namesake tortillas are folded into tacos stuffed with carnitas, pulled chicken or pork, and available for onsite eating.
Darlington Market
614 Central Ave., Pawtucket, 723-5710
From the outside, this repository of Middle Eastern delights presents as just another Pawtucket convenience store. Inside, however, you can find an extensive selection (and great prices) on tahini, Middle Eastern spices, fresh baklava and pastries, and rare vegetables like the mucilaginous mulukhiyah, the base of a green soup often considered the national dish of Egypt.
Must-try item: Ayran, a kefir-style yogurt drink rumored to support a glowing and youthful complexion.
Asiana
92 Warren Ave., East Providence, 438-9992
Just moments off I-195 sits this tiny treasure-trove of Japanese, Korean, Thai, Vietnamese and Chinese ingredients. In addition to atsuage (deep fried tofu), Kewpie Mayonnaise, udon noodles and a dizzying array of soy sauces, the shop also sells Asian produce (bok choy, lemongrass, napa cabbage and other items), sweet treats (candied fruit and multiple varieties of Pocky — Japanese biscuit sticks in flavors like chocolate), as well as noodle bowls, rice steamers and specialty kitchen tools.
Must-try item: The delicious housemade kimchee has a bracing and spicy kick but doesn't move into four-alarm territory, making it appropriate for most diners.
Chinese American Mini Mart
834 Park Ave., Cranston, 467-7690
Perhaps the titular "Mini" was appropriate for this market when it opened in 1993; now the place is anything but small in spirit, size and scope. Featuring groceries and ingredients used in Chinese, Japanese, Cambodian and Filipino cuisine, the market is an ever-evolving maze of products. If you seek fresh tofu or preserved tofu, prepare yourself for an embarrassment of riches. Likewise, the sauce selection will appeal to the condiment addicts.
Must-try item: If you believe the culinary clairvoyants, Filipino cuisine is the next big thing. Stock up on coconut vinegar, longaniza (sausage), tocino (pork fatback), lumpia (Filipino version of eggrolls) and jasmine rice.
Soares Fish Market
930 Narragansett Blvd., Providence, 941-8700
Large tanks of live lobsters and crabs claim substantial real estate on the shop floor, but don't let the crustaceans steal your attention from the cases of fresh fish at reasonable prices: cod, halibut, salmon and other seasonal varieties. The freezer also contains some gems, like head-on sardines of multiple sizes. If you're too hungry to cook for yourself, sample some of the prepared foods on offer: Portuguese-style squid redolent of paprika, sausage and peppers, or their spiced rice.
Must-try item: Whatever the shop receives daily. In the mood for a challenge? Get one of the surfboard-sized pieces of baccala (dried and salted cod) and set aside several days to coax it back to plumpness.
---
Federal Hill
All Italian, all in one neighborhood.
On nights when cooking isn't in the cards, Costantino's is a one-stop-shop for fresh pasta and prepared Italian cuisine you can play off as homemade. We won't tell. But you might be inspired by all the ingredients beckoning from the shelves.
265 Atwells Ave., Providence, 421-9105, vendaravioli.com.
Chicken, duck and other poultry doesn't get any fresher than at Antonelli Poultry Co., where the live birds are plucked and prepped to order.
62 De Pasquale Ave., Providence, 421-8739.
When it comes to meats, cheeses, dry pasta, balsamic vinegars and great Italian olive oils, Tony's Colonial curates a collection straight out of Tuscany.
311 Atwells Ave., Providence, 621-8675, tonyscolonial.mybigcommerce.com.
Roma has the same accoutrements as all the other Italian grocery stores, along with a hefty prepared foods section, a brick oven for takeout pizza and a bakery with helluva good cannoli.
310 Atwells Ave., Providence, 331-5000, romaprov.com.
Holiday Recipes
Cook Up a Sizzling Turkey or Stuffed Game Hens
Local chefs reveal tried-and-true recipes for your family dinner.
Dawn Brooks-Rapp of Acacia Cafe food truck and kitchen shares her recipe for citrus-and-tea brined and maple butter glazed turkey.
Sometimes you don't need a giant turkey. Matt Gennuso from Chez Pascal and the Wurst Kitchen suggests Cornish game hens stuffed with mushrooms, cloumage cheese and pork sausage.