Folk Lore
As a California kid, novelist Adam Braver dreamed of the Newport Folk Festival. Now living in Rhode Island, he finally makes it to the epic event where Dylan went electric and wonders: Can the festival live up to its iconic past?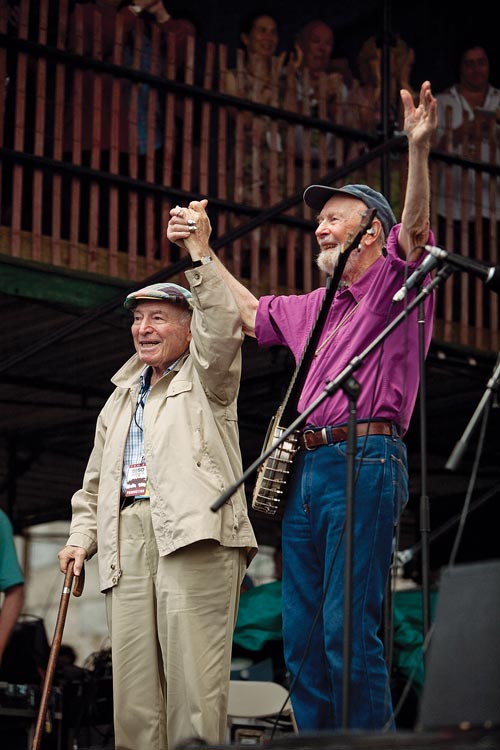 The first time I went to the Newport Folk Festival was in Concord, California.
It was 1998, and the festival had been touring various cities, taking its storied reputation on the road. We all knew it was a little bit fishy. More marketing than tradition. But for me, having been born and raised in California, I was the target audience. A total sucker. I'd been completely enchanted with the festival since I was about twelve. This was due to my infatuation with all things Bob Dylan, and to cherishing the LP, Newport Broadside: Newport Folk Festival 1963, a recording as old as I was. That record captured songs from people such as Phil Ochs, Sam Hinton, Tom Paxton, Joan Baez, the Freedom Singers and of course, Bob Dylan and Pete Seeger. I wore out the grooves. Taught myself the songs on the guitar. Memorized the liner notes. I was completely captured by the idea of politics and music, and the notion of rebellion and change coming through these simple songs, all on a single mythical stage. The festival spoke to everything I wanted to be but wasn't.
In fairness, the Concord Pavilion line-up did try to capture the essence of the tradition, with artists including Joan Baez, Bela Fleck, Wilco and John Hiatt. But the real Newport Folk Festival was more than just an assembly of the right performers. I tried to go with it. I kept saying to my wife, Alisson, "This is the Newport Folk Festival. Can you believe we're actually able to see it?" It was impossible to convince her, especially when I couldn't convince myself. We left early. It would become nothing more than an ironic punch line to a mediocre dinner story.
Summer 2009. Our water taxi heads toward Fort Adams. It's a magnificent August day. The sun is out. The skies are clear. It's been fifty years since George Wein produced the first festival in 1959, and after a brief absence, he has returned with the promise of restoring the festival to what it once was. Coming across the bay toward the fort, I feel the anticipation of something historic. Still, the question remains as to whether attending the festival will be a matter of reliving an era that has since passed, or will it be, as Pete Seeger says, a time to "find some new things that nobody's ever thought of."
Ben Knox Miller of the Providence-based group the Low Anthem is hoping to be one of those "new things." In the summer of 2008, Miller and his band mate, Jeff Prystowsky, attended the Folk Festival as recycling volunteers. They were given the task of digging through trash bins to pull out "inappropriately discarded" cans and bottles. Miller's main sensate memory of that day is of stink, or as Miller says, "being covered head to toe in trash juice." That weekend they proved the adage that the definition of luck is talent and ambition. Miller and Prystowsky managed to get themselves backstage recycling passes, and there, behind the scenes and armed with pockets full of their not-yet-released CD, Oh My God, Charlie Darwin, they slipped the discs into the hands of anybody who might take them, including, fortuitously, festival associate producer Jay Sweet.


One year later, on the first day of the festival, the Low Anthem is about to take the Waterfront stage. It's the smallest of the festival's three stages, set nearest the entrance gates, abutting the harbor. Miller's entire family is present under the Waterfront's tent, including his Aunt Tollie, who has come in from Connecticut to see her nephew's Newport debut because "it's that historic." After the band has finished setting up their equipment, they step off the stage into a backstage area that is a backstage area only in its most literal sense — free space between equipment and stacks of carrying cases. They look nervous, awaiting their introduction. Ben Knox Miller has been anticipating this moment for weeks. Clearly it will be different from the previous year, when he ached at the end of the weekend from hauling trash bags all day. It's not just that he's always been dying to play the folk festival, it's that he feels lucky to be making his Newport debut during the fiftieth anniversary, as it seems to Miller that the folk festival has gotten back to what made it so "special in its heyday, with this cast of great iconic American artists." Miller tries to express what it means to him to be part of a line up that includes Mavis Staples, Ramblin' Jack Elliot and Pete Seeger, but after struggling for words all he can say is that it "blows my mind."
The Low Anthem finally take the stage in front of an overflow crowd that collectively seems to be sharing the anticipation with the three band members. They strap on their instruments and walk up to the microphones. Miller tells the crowd, "We're not really ready at all." He slowly strums his acoustic guitar. Miller, Prystowsky and multi-instrumentalist Jocie Adams look at each other. I wait for their awe to turn to belonging. Finally they begin with the slow falsetto of "Charlie Darwin," and in only moments their three part harmonies easily catch on the breeze that blows off the bay.

At the heart of the festival site, booths snake around the grounds. They sell everything from African drums to clothing, games and handcrafted jewelry. The walkways are jammed with shoppers and browsers.

Anchoring the corner of the craft concourse nearest the Fort Stage, Roger's Tie Dyes is neatly ordered with racks of multi-colored T-shirts, handkerchiefs, shorts. Roger Josephson, who has been selling his works at Newport since 1971, keeps a director's high chair at the corner of his brightly colored booth. During the lulls, when he's not tidying the stall, he sits proudly in his chair, dressed in his own wares and stroking his white beard, keeping an eye on the crowd. Josephson kicks back, enjoying banter and conversation with regulars he's gotten to know over the years. "This," he says, referring to the Folk Festival, "is the gourmet spread."
Josephson travels briefly on the summer festival circuit, always ending his season in Newport. He went to graduate school at Ohio University for political theory, making and selling tie dye as a summer job, until he realized it was the perfect career for him  — "Creativity, road trips, adventures, and NO bosses." Josephson is proud to say that he's put two kids through college and carried three mortgages without having to live a life swallowed by a "bureaucratic attitude." He looks at me as though he's revealed the secret, and, on some level, I think he has.
Nearby, Jim Manson's East Bay Sandal Company booth feels like a grainy, black and white world. The small grass plot he's been occupying for nineteen years transforms into a shop that looks and smells as though it might have come out of the nineteenth century: oiled tables and strap cutters and head knives and hole punches. When he thinks back over the festival years, Manson defaults to the music for his best memories. Dylan. Joni Mitchell. An 8:30 a.m. sound check James Taylor once did just for the vendors.
It was 1985 when Manson and his wife set up a sandal-making shop on Thames Street. After the recession of the early nineties, Manson had to trade in the storefront for a commercial real estate license. But he still comes out to the Folk Festival every year to set up his booth, where he cuts, measures and takes orders for sandals and belts.
I wonder if handmade sandals might be a throwback to another generation, but Manson asserts that the younger crowd still is interested in them — they want to replicate what they've seen their fathers wear (who, according to Manson, also stop by annually to replace worn-out pairs). It's a dual life Manson leads, negotiating between real estate and handmade leather sandals. The following morning, he'll attend a closing. Manson holds up his hands, dyed brown. "I'm going to have to bleach these."
When I was six, Pete Seeger's daughter, Mika, lived with my mother and me in Santa Monica. I have a distinct memory of going to the beach one day with Seeger when he was in town for a United Farm Worker's benefit, barely aware that he sang the children's songs I knew and loved. It was the late sixties, and my mother remembers him being more comfortable with a six-year-old than with a bunch of people in their twenties. I tell him this by phone when I call to talk about the festival. He laughs, but I'm sure he doesn't remember. It doesn't matter. Forty years later, I'm awestruck by hearing a voice that's been so familiar to me my whole life.
In thinking about the festival, Seeger explains his belief that "we're all part of a long chain. And if we do our job right, the chain will go on for thousands of years. If we don't do our job right, the chain could be over in a hundred years or so." Later, while walking throughout the festival grounds, I think a lot about the role and place of music in our times, and I can't help but wonder about where we are in that chain.
Mavis Staples (who just about rocks that weekend's Harbor Stage right off the face of the earth) remembers first coming to the festival in the early 1960s as part of the gospel group, the Staples Singers. To her, all the so-called folk music had seemed foreign. Until a young Bob Dylan took the stage. Her father, Pops, stopped Mavis and her sisters, and said, "Wait a minute, y'all. Do you hear what this kid is singing?" Dylan was playing "Blowing in the Wind," and when he sang lines such as "How many roads must a man walk down, before you can call him a man," Pops, having grown up in Mississippi, knew what Dylan was singing about. It was a musical style Mavis and Pops hadn't fully understood, but it was a language they spoke. "Bobby," Mavis says, "was singing songs our father could relate to, and then he was singing songs that we all could relate to."
Historically, the festival's apex took place during the civil rights era; and, at least from a musical standpoint, it did contribute greatly to the movement. But when considering if there might have been an explicit connection between the festival, the politics and the music, Seeger hesitates. "I often quote Plato's sentiment that it's very dangerous to allow the wrong kind of music in the Republic," he tells me. "I was very conscious most of my life that people who control the country would like to control the music."
But these days it seems as though the relationship between music and politics has a labored ring. It's hard to say if it's a reflection of the business and the artists, or if it's a true cultural change, where music has conceded itself to the role of entertainment. And being at the festival, I can't help but be of two minds. On the one hand, I want to find that bond to music again, the one that the twelve-year-old version of myself believed connected me to the ideas of the larger world through Broadside. On the other hand, in this day and age, it almost makes me queasy when I hear Billy Bragg telling us not to give up, to "remember our power."

The illusion of Bob Dylan is always in the air at the festival. People constantly remind you this is the place where Dylan made his mark. The older artists reference him, such as Ramblin' Jack Elliot talking about being able to spot Dylan by his halo. Younger musicians pay homage to him from the stage, saying they're honored to be sharing the boards that once held Bob Dylan. The band, The Decembrists, even stops mid-set to put on a tongue-in-cheek reenactment of The Day Dylan Went Electric. The ghost or legend of his dramatic goodbye to Newport is in many respects the conflict of the festival — what propels it also confines it.

Dylan was always the star of my Folk Festival dream. The idea of him at Newport felt like one of those protected places of history, a moment when the world was turning into something entirely new. Maybe the moment. My friend Dave Hechler had been at the 1964 Newport Folk Festival when his summer camp, Camp Kokosing, went there on a field trip. He was fourteen years old, and they came to Newport on the back of a flatbed from Vermont and camped on the beaches at night, eating brownbag lunches. During the days, they went out to the workshops at Festival Field, where the performers stood on little platform stages, informally teaching songs and folk traditions. Some already were legends, and some would become legendary. Dave remembers that after he saw Dylan at an afternoon workshop, he walked away knowing his life would never be the same; witnessing how the twenty-three-year-old denim clad troubadour negotiated the world with such wisdom and youthful coolness "violated my expectations of how I thought I understood the world." At fourteen.
Much has been written about Dylan's going electric. Festival founder George Wein talks about this in his apartment in New York. I'm at the breakfast table, and the room is slightly dark, and he's been digging around the kitchen, looking for something to offer me, apologizing for having an empty fridge. Finally he sits down. He's eighty-three years old, and though he moves with a slight shuffle and finds himself having to lean in a little closer to catch some of the conversation, when he talks it's easy to see the determined impresario that started the Newport Jazz Festival in 1959, followed by its spun-off folk cousin five years later. From the festival's beginnings, he explains, Newport was the first to understand that "there was a relationship between the young, more commercial folk people like Peter, Paul and Mary, and the traditional players." But in the case of Dylan, as he ascended to superstardom in a way the folk world had never known, it seemed that he instantly became a fusion of both the young and the traditional. He had become the elder statesmen by his mid-twenties. Wein says it's not an accident that Dylan chose Newport to first play electric, bringing about what he says was "the beginning of the end. We only lasted a few more years, after that it just petered out. Because what Dylan going electric did was to acknowledge the Beatles. It acknowledged for all these young people who believed in and loved acoustic music, who didn't like electronic music, that if their idol, Bob Dylan, went electric, then they could go electric." He was the crown prince of folk, and Newport, at that time, had been the only place where he could abdicate that role. So while that act of both betrayal and defiance may still permeate the air, there is no question that, if nothing else, it in fact set the stage for the contemporary Newport Folk Festival. While the stages still welcome the first generation of folk revivalists, the new version of the younger Newport artist seems very much born out of the post-Newport-electric Dylan. Through their jangled electric guitars and snarled vocals and rapid-fire lyrics, one cannot help but find the irony in the idea that the Newport tradition that Bob Dylan passed on is the very one that resulted from his eschewing the whole thing.
When I was twelve, I didn't understand the idea of folk music as a business, as a product that could be marketed and packaged along with everything else. I live in a different world now, one that's too sophisticated, that's compelled to peek behind the scenes at magic shows. All weekend there's been an ongoing conversation throughout the crowd of what is or isn't folk music. What belongs at Newport and what doesn't. On the second, and last, day of the festival, I shove my way through what might be the most enthusiastic crowd of the weekend. It's back at the Waterfront stage, and another Rhode Island-based band, Deer Tick, is ripping through their set. Although the sun's been out all day, the clouds have started to roll in, bringing threats of rain. But nobody in this audience seems to care; they're completely sucked forward through the tent into Deer Tick's high-energy performance that harkens back more to the late 1960s Sunset Strip than to the golden era of the Newport Folk Festival. And though the style and volume of Deer Tick's set might be disconcerting to the folk purist, somehow it seems right for this moment in time.
Lead singer, John McCauley, leans into the microphone, growling out lyrics, before bouncing backward for a guitar solo, bringing the crowd in with him, and then sending them side to side with each subsequent move. I don't know how to define this within the context of the Newport Folk Festival; I can only say there is no sleight of hand. It's just people talking back and forth through music, undressed with nothing caught in between, which seems to me to be the real folk tradition — the chain Pete Seeger spoke of. Later, I run into McCauley backstage. He's leaned against a pole, a cigarette in his hand and a can of beer in the other. "It may be electric guitars, and bass and drums," he considers, thinking about the afternoon set. "But the songs are still folk songs."