Flan
Wine bar serves up Andalusian flair without pretension.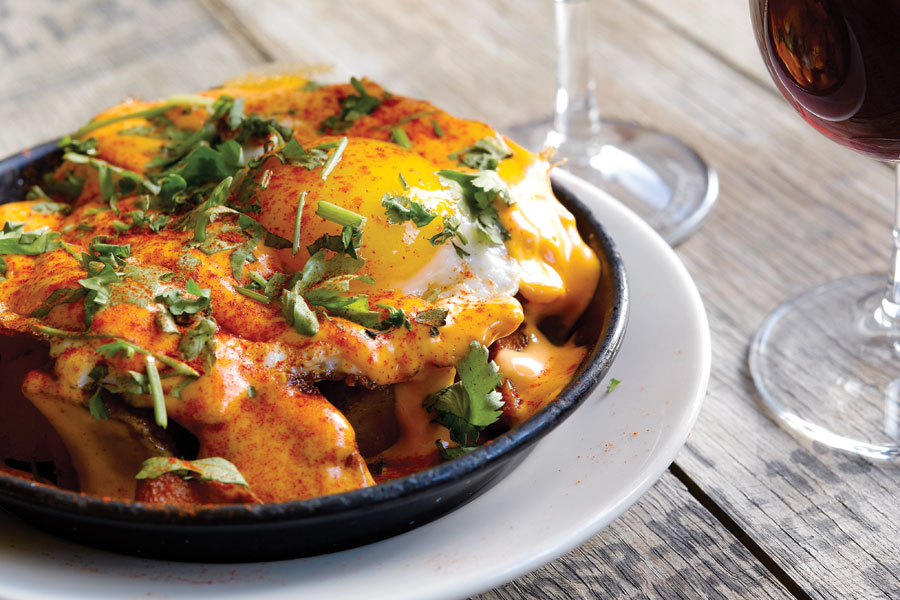 Diego Luis Perez mans the bar.
186 Union St., Providence, 432-6656. Wheelchair accessibility is doubtful; most tables are high. Street parking. Capacity Just more than forty split between the bar proper and the dining room (which is also the kitchen). Vibe Spanish bar in the heart of the Andalusian countryside — so remote that they refuse to give you a phone number, address or anyone's last name. Prices $5-$15.
Flan doesn't have the time or inclination to impress guests. Though, unexpectedly, its laissez-faire approach tends to do just that. A hybrid of the now-defunct Flan y Ajo (a tapas bar) and Bodega Malasana (a wine bar), Flan is about as formal as a college student in summertime: the house is cluttered with random sundries including (but not limited to) power drills, a set of massive stereo speakers hooked to nothing, the occasional animal skull and a collection of leather water bottles hanging from a hook.
Seating in the dining room is a hodgepodge of side tables, wine barrels and one high top, all full with a crowd in its first decade of drinking legally. The bar itself is dim and rustic and myopically focused on one thing: wine. But while other wine bars wallow in civilized, almost elitist attitudes, Diego Luis Perez's venture is all about the grit. Descriptions of wine are as earthy as it gets (La Guzelle is a "total mindf@%k" while a Slovenia Rojac is "forest floor type sh#t"), the regulars breathing in the insolence like ultra-rich oxygen. And while the subdued wooden bar is almost staid, personality is rampant here in everything from the alcohol to the casual small-bite menu.
The simple fact is this: As much as diners might like to think they know what they want, restaurants and bars thrive when they provide what guests can't duplicate at home. In Flan's case, a lot of that elusive charm is in the attitude. Perez brings some of the old dishes around the corner — salty blistered peppers, wedges of spiced potatoes draped with a fried egg, slices of bread with garlicky tomato puree — though the options are not as vast. After all, even tapas are meant to play second fiddle to the booze. But there is still more than enough to eat, on a variety of porcelain plates and under the watchful gaze of a faux Goya's "Red Boy." A few dishes still offer surprises — such as grilled baby back ribs that come with a quick lecture about which starch you can have on the side (hint: whatever they give you). But the house knows what every Spaniard does: Nothing cooked tastes quite as good with a glass of wine as a hefty slice of manchego with a sliver of sweet membrillo. Drinkers tend to go silent at the first bite, eager to down another glass of Beaujolais ("Good juice here!") just to order another plate.
While the dining room customers — whether mature or anti-social — tend to separate themselves into sovereign clusters, the bar is a communal effort. Conversations might extend past the boundaries of a table or a stool and, if the staff is in a particularly sociable mood (fifty-fifty shot at best), they might join in the fray. Whatever happens, it's all good. Everyone's too laidback to pitch a fit and one gets the feeling that high-strung never feels at home here anyway.
Downcity bars, each with its own vibe and a menu to match: The Eddy, Local 121
Flan's house natural wine, Luc and Denis Lattard, a gamay/syrah blend from Archeche, France; Flan's manchego cheese with seasonal house jam, paired with Oyster River Winegrowers Hoboken Station Cider from Warren, Maine.