Five Things We Learned from Oktoberfest Providence
The scoop on flannel season, the best German brews, pretzel necklaces and the inevitable beer brain.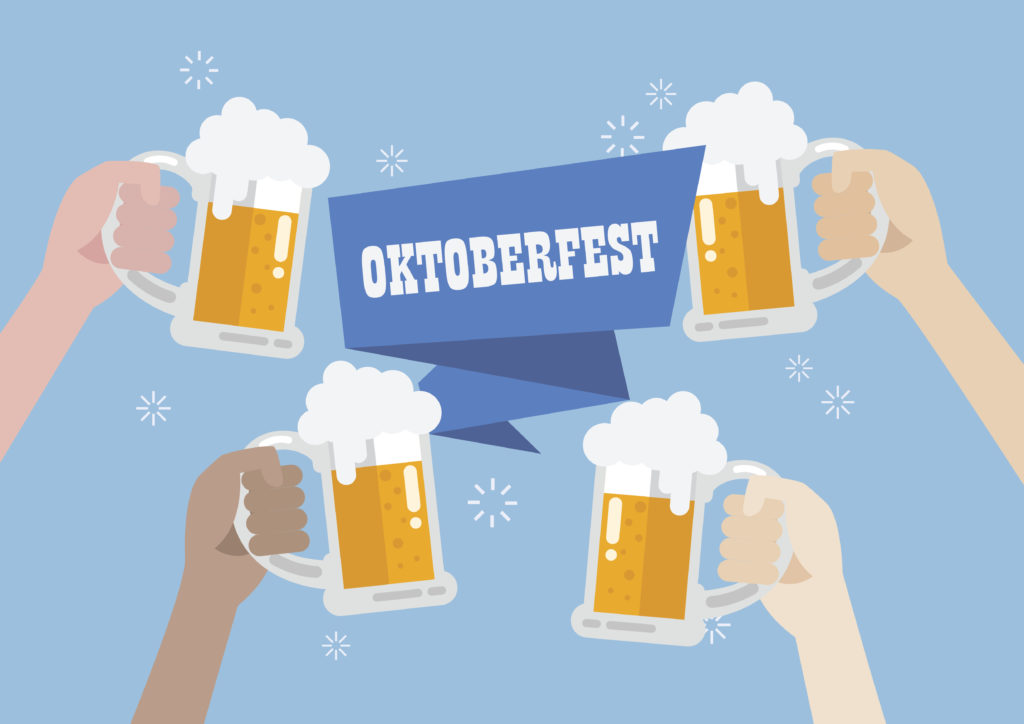 Oktoberfest is a celebration of many things: the coming of fall, lederhosen, bratwurst, dancing and, the main attraction, beer. Here in Providence, we have our own rendition of this famous German day of drunken revelry and we thought it would be fun to see just what goes down. So, without further ado, here are five things we learned at this year's Oktoberfest in Providence.
It's officially time to break out your flannel: While not specifically related to Oktoberfest (the real OOTDs are the lederhosen and the dirndl), this year's festivities saw the formal event known as "the breaking outeth of the flannelth." There were dudes in red lumberjack flannels, girls in green and grey flannels, a smattering of orange flannels and an entire friend group sporting various shades of the same flannel button down, all tastefully opened to reveal a T-shirt underneath, in what must have been a coordinated effort.
German-sounding beer tastes good: Maybe this was just the revelation of a well-known fact to a newbie beer guzzler, but there were some seriously fine German brews on tap. The Warsteiner Dunkle was of particular note, spouting a slight creamy head and a super fizzy body, dark color and a stout-like taste but without the heaviness of a stout. The Warsteiner Braumester was also pleasing, a mild witbier with a good amount of carbonation, but it went down smooth. Last but not least there was the Blue Moon Pumpkin. (I know, it's not German whatsoever and Blue Moon is the coup de gras of just-legal female college students, but hear me out.) It didn't really taste like pumpkin, but having tasted some truly awful pumpkin beers in my day (imagine licking a cinnamon stick then chugging sour cider), that was a good thing. Instead, it was a pleasing amber color, smooth and a tad sweet with a faint whiff of spice.
Beer is heavier than you think: The words "stein hoisting contest" conjure the image of a massive, body-sized stein being hefted by a six-foot-five German dude in lederhosen, a far cry from the reality. Oktoberfest Providence hosted its own stein hoisting contest, where seven lucky contenders had to hold a stein — filled with what the host joked was Natty Light — for as long as they could. The rules: They had to keep their arm straight in front of them. Easy peasy. The contestants' stoic faces belied their eventual pain, as elbows wobbled and beer started to slosh out of the glass steins. Ohhh, first man down. Ahhh, another one bites the dust. And so they fell, like wheat at the hands of the reaper, until only two remained. In a nail-biter, one of the last men standing fell and a champion stein hoister was crowned. His girl batted her eyelashes at his bravado, and his chest remained slightly puffed up for the remainder of the afternoon.
A "pretzel necklace" is not what you think it is: Or at least, it wasn't what my food-obsessed brain thought it was. Perhaps I didn't read up enough on the traditions of Oktoberfest, but in my head a pretzel necklace was a giant, Auntie Annie's-style pretzel so big that you could place one of the loops of dough over your head and wear it like a necklace. (Note: This is what happens when you are too food-obsessed. Reality escapes you.) The reality was a bit disappointing to my wishful sensibilities. A pretzel necklace was a string strung with those little crunchy pretzels that come in a bag.
You might speak nonsense by the end of the festival: Two beers and one brat in, after listening to a few hours of German polka-style music and hearing the word "Prost!" echoing in my ears incessantly, it was time to depart the festivities. Though my companion had three beers (including the questionable brew of the stein hoisting competition — he came in second!) he was more stable than myself. Not normally a lightweight, I didn't feel very overcome by my two brews but upon meeting up with another friend, I realized that a day of beer and brats had left my brain on the pavement. Chatting about niceties, my friend told us the story of how she had rescued a baby squirrel, and how said baby squirrel was brought to the animal hospital where they told her she shouldn't have touched it. "It was so cute though," my friend said, to which I vigorously nodded and blurted out "It was!" as if I had seen the baby squirrel myself. My friends looked at me like:
That was the beginning of the end, and after a few more well-placed gems of verbalized "thought," I realized that Oktoberfest had taken its toll.
Last Call: If you should go to Oktoberfest, whether far or near, have yourself a brat, and a beer. Just know that three down, you'll act like a clown, and you might want to sit down…. Prost! Danke! Bitte bier! I mean, bier bitte! Auf wiedersehen! Gesundheit!