Five Haunted Attractions You Have to Visit
From terrifying labyrinths and fortresses to fields of screams, here's where to plan a local fright night.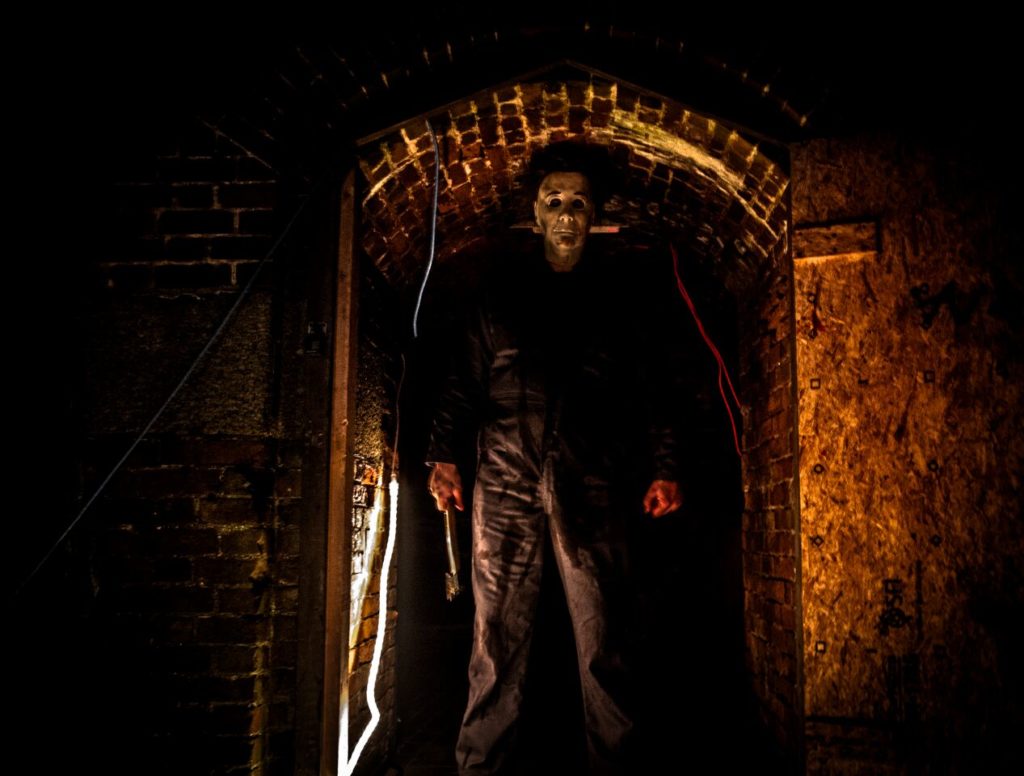 The month of October means more than pumpkin-flavored everything. Cue the screaming, fake blood, adrenaline and sleepless nights. October means Halloween, and Halloween means haunted attractions. Here are five spooky activities in Rhode Island for all the thrill-seekers.

Sick of all the blood and gore associated with Halloween? Visit the Haunted Labyrinth, a blood- and gore-free house with a theme that changes every season. This year, the Haunted Labyrinth takes you to the Camp of No Return. The story is this: the camp director conducted some bizarre experiments and in the process poisoned the lake water. The campers, unaware of what happened, waded in and came out mutated monsters. The camp was since closed…until now. Although the attraction has no blood, it still manages to shock, terrify and surprise guests. The Haunted Labyrinth is indoors and runs rain or shine. Creatures loom at every corner waiting to make you scream. Watch your back and beware of the lake.
The Details: Weekends, Sept. 25–Oct. 31. 7–10 p.m. Admission: $12. Tickets are available online or at the door. 804 Dyer Ave., Cranston, 401-943-8686, hauntedlabyrinth.com
If you like monsters and other creepy things invading your personal space, look no further than the Tunnels of Terror at Fort Adams in Newport. Described as a fight for your life, guests will travel through underground tunnels surrounded by creatures that are determined to create nightmares. It is not advised for children younger than twelve years old. A Kids Fun House is available for the more timid little ones while older guests tempt fate in the tunnels. In the Kids Fun House, children can decorate cookies, make crafts and trick-or-treat. Included in the ticket price is one game of Zombie Hunter laser tag, the Killer Film Fest and a ghost hunt in the Haunted Officer's Quarters, which was recently visited by the TAPS Team from the reality TV series "Ghost Hunters." Guests can investigate the scene and determine for themselves if it is really haunted or not. Available for only two weekends, this haunt will give you the heebie-jeebies for a very long time.
The Details: Weekends, Oct. 16–25, 6–10 p.m. Admission: $15 per person. Kids Fun House: $10 per person. Tickets available online. Fort Adams, 90 Fort Adams Dr., Newport, halloween.fortadams.org
Three screams are better than one. Field of Screams is not for those easily scared. Visitors will venture through the creepy Haunted Insane Asylum, the daunting Dead River Haunted Hayride and the four-D maze, Cirque du Souls, for a night packed with fear. Each area gives visitors a variety of frights to make even the strongest of us quiver. Experience three attractions for the price of one to get your fright fix. Returning for its second year is Zombie Paint Ball, a Halloween experience you wouldn't expect. Guests climb aboard a military transport truck with bolted-down paintball guns and a pod full of paintballs. Fighting as a group, the goal is to take out the zombies before they overthrow the truck. This event isn't included in the three-part haunted attraction and it comes at an additional price.
The Details: Weekends, Sept. 25–Oct. 31, 6:30–10 p.m. General Admission: $18 per person. Zombie Paint Ball: $20 per person. Tickets are available both online and at the door. 179 Plain Meeting House Rd., West Greenwich, 401-397-2600, hauntedhayride.net
How fast can you run? Not fast enough to outrun your fears at Trails to Terror in Wakefield. Trails has two attractions customers can enjoy – Delamorte's Haunted Hayride and the Forest of Fear. This haunt changes themes each year to keep things fresh and scary. This time the hayride theme is Farmageddon, where "all the answers mankind's been searching for" about strange crop circles, alien abductions and more will be revealed. And by "revealed," they mean terrifying creatures will come looking for you and scare the pants off you. The Forest of Fear is a walking experience where visitors trek into the dark woods and through places such as the Chop Shop, the Execution Dock and the Rotting Ruins. The only way out is through each terrifying area. Monsters will appear out of the darkness, ready to show you what it means to be afraid.
The Details: Weekends, Oct. 2–30. 7–10 p.m. Admission is $13 per person for either the Haunted Hayride or Forest of Fear, or $20 to experience both attractions. Tickets are available at the door or by phone. 4235 Tower Hill Rd., Wakefield, 401-792-8188, trailstoterror.com
If Newport is a long drive from your home, don't worry. Slater Memorial Park in Pawtucket hosts its own tunnel filled with horrors. In the 200-foot concrete tunnel, there are a variety of rooms based on different fears that will freak you out and ghoulish figures that will give you goosebumps. The tunnel is not advised for those younger than twelve years of age, but fret not. Outside of the tunnel, there is an outdoor path with a corn maze, cemetery and pumpkin patch to explore.
The Details: Fri–Sat., Oct. 2-31. 6:30–9 p.m. Admission to the Tunnel: $8 per person. 401 Newport Ave., Pawtucket, 401-728-0500 ext. 251, facebook.com/hauntedtunnelri