Five Can't-Miss Events of the Week
April 16–22.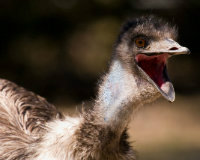 Party for the Planet
Spring has sprung, and the Earth is coming back to life — slowly but surely. This five-day celebration of our favorite planet features educational events on cultures and animals from all over the world. Hear tales about Africa from storyteller Len Cabral, dance to a performance by Inca Son Music of the Andes, check out the Environmental Fair on Earth Day, April 22, and more fun activities. Each day, zookeepers will gather for informal talks about the zoo's wildest creatures, including the African wild dog, the elephant and the red crowned crane. To keep it environmentally friendly, the zoo will not print brochures for any of the events, so be sure to check the schedule ahead of time online.
The Details: April 20–25. 11 a.m.–3 p.m. Adults $14.95, seniors $12.95, children $9.95, younger than two free. Roger Williams Park Zoo, 1000 Elmwood Ave., Providence, 401-941-4998, rwpzoo.org.
PawSox Opening Night Celebration
It's finally here! Welcome the Pawtucket Red Sox home during a game against the Rochester Red Wings. Be sure to arrive early; the first 3,000 fans that enter McCoy Stadium will receive a commemorative PawSox championship poster. Who knows: If you're lucky, you might get it signed by one of the Governors' Cup champions, too. The PawSox will continue their series against the Red Wings from April 17 through 19, but if you have a furry, ball-chasing friend, bring him along to Bark in the Park on April 18. The PawSox continue the home stretch with a three-day series against the Buffalo Bisons from April 20 to 22.
The Details: April 16. Pre-game events start at 6 p.m. game starts at 7:05 p.m. Home games continue through April 22. General admission $9, children/seniors $6. McCoy Stadium, 1 Columbus Ave., Pawtucket, 401-724-7300, milb.com.
Fairy Garden Days
This April vacation, let your imagination soar. Roger Williams Park Botanical Center is offering a week of whimsical events for young and old. Build a gnome home, go on a scavenger hunt, participate in story time or explore the gardens with new friends in search of fresh-built fairy homes. The experts know us well: This year, we have three chances to experience a ladybug release, one of the greatest events for fairies at heart. All are welcome to come in their most magical attire.
The Details: April 18–26. Tues.–Sun. 11 a.m.–4 p.m. Adults $3, children $1, younger than six free. Roger Williams Park Botanical Center, 1000 Elmwood Ave., Providence, 401-785-9450, bccrwp.org.
From the Living Room to the Parlour: Forty Years of Live Music
Love the old Living Room? Some familiar faces are planning a big celebration, and you're invited. After decades of making memories at venerable music venue, the Living Room, former employees Gregory Rourke and Aaron Jaehing joined forces to open their own spot, the Parlour, on North Main Street in Providence. And it's fast becoming one of our favorite venues for live music (read why here). During this two-night extravaganza, bands like Extinction Machine, Neutral Nations, Two Guys and Another Guy, Pistol Shot Gypsy, Hope Anchor and more will be in the house commemorating the place where it all began.
The Details: April 18–19. Sat. 6 p.m., Sun. 4 p.m. Call or visit the website for ticketing information. The Parlour, 1119 North Main St., Providence, 401-383-5858, theparlourri.com.
Southeast New England Film, Music and Arts Festival
SENE Fest offers a little bit of everything indie. In other words, it's six days of independent films, live music, art exhibits and parties. On Monday, April 20, check out documentaries that commemorate the 100th anniversary of the Armenian Genocide, plus a film about a teenage runaway in Alaska and a series of short horror films, all at the Columbus Theatre. On Tuesday, April 21, get your music fix and see The Whiskey Treaty Roadshow documentary short, followed by a rocking performance by the band, snacks and free drinks at the Brooklyn Coffee and Tea House. And on Thursday night, rub elbows with Rhode Island's music and film elite at the Limelight Party, an event boasting appetizers, beer from Sam Adams and an awards ceremony at the Warwick Museum of Art.
The Details: April 20–25. Regular events $10, Limelight Party $15–$20. Various venues in Providence and Warwick, senefest.com