Five Can't-Miss Events of the Week: Sept. 3–9
Rhythm and Roots, Jurassic drive-in, EG art and more.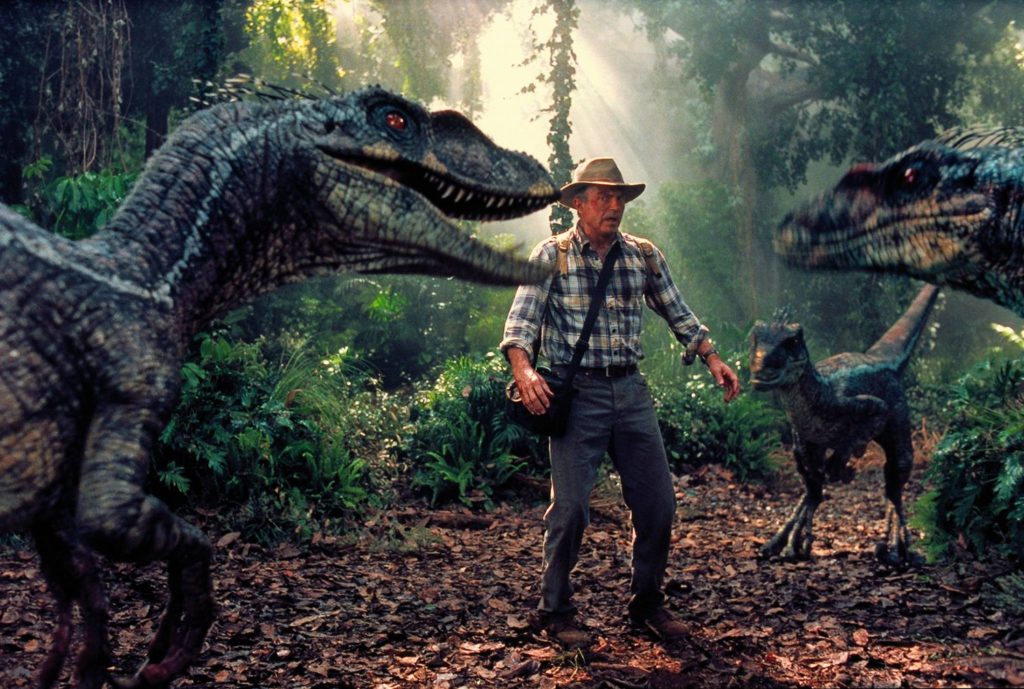 Rhythm and Roots Festival
With multiple stages catering to audiences young and old, the festival is a smorgasbord of dancing, singing and getting your groove on. Kids can listen to storytellers at the Family Stage while musicians from different genres jam out together on the Heritage Stage. This year's big-name acts include the Mavericks, Los Lobos, Steve Riley and the Mamou Playboys and "The Voice" finalist Sarah Potenza. But the Rhythm and Roots Festival is not just about the music. Food and fun will also be in abundance.
The Details: Sept. 4–6. Fri. 4 p.m.–midnight, Sat. 11 a.m.–midnight, Sun. 11 a.m.–midnight. Day tickets are $30–$60 in advance for adults, $20–$30 for teenagers. Ninigret Park, 4890A Old Post Rd., Charlestown, rhythmandroots.com.
Misquamicut Drive-In: Jurassic Park
With the blowout success of Jurassic World, now is the perfect time to see the original screenplay, the movie that started it all: Jurassic Park. And what better way to settle down with a classic than a drive-in movie setting at the beach? Watch the dinosaurs wreak havoc on screen as you lounge in your vehicle, and don't worry: No velociraptors will be sticking their claws through your car windows.
The Details: Sept. 4. 9 p.m. $10 per car. Wuskenau Town Beach Pondside Lot, 316 Atlantic Ave., Misquamicut, misquamicut.org.
East Greenwich Art Festival
Think you've seen all the crafts that are fit to buy? Think again. More than 150 local artists and craftspeople will set up shop at the East Greenwich Art Festival. As you peruse various artisanal wares such as silk-screened T-shirts, jewelry and hand-painted light switch panels, keep an eye out for the outrageous Big Nazo crew; the lumpy, bumpy creatures are sure to make you smile. Kids can also get their kicks at the free children's craft center and play parachute games with the Game Man. Wreath by String 'N' Things.
The Details: Sept. 5–6. 10 a.m.–5 p.m. Free. New England Institute of Technology, 1 New England Tech Blvd., East Greenwich, festivalfete.com.
Newport Murder Mystery: …With the Revolver
It was you, in the kitchen…with the revolver. Play a life-size game of Clue with the actors of the Marley Bridges Theatre Company in the Newport Art Museum's historic John N.A. Griswold House. As you wander through the study, the kitchen or hop over to the living room, keep tabs on who is around, when and where. Was it the sultry lady in red or the nutty professor who did the horrible deed? Find the clues and solve the mystery — before you become the next victim.
The Details: Through Oct. 31. Saturdays at 7 p.m. Adults $30, seniors and military $25, youth $15. Newport Art Museum's John N.A. Griswold House, 76 Bellevue Ave., Newport, newportmurdermystery.com.
Providence Flea
A flea market is the perfect place to find a dress that you can coolly describe to your friends as "vintage." Providence Flea begins with a maze of clothing racks lined with mom jeans, sweaters and silky kimonos. Peruse slowly and buy impulsively. As the fashionable Zooey Deschanel once said, "I go to different flea markets. I have lots of costumes. You never know when you're going to have to dress up like a milkmaid from the 1600s." Continue onwards and you'll find an array of knickknacks and trinkets to peruse through — an eggbeater here, a glass bottle collection there. After buying a vase, some records and a retro dress certain to score compliments, lumber over to the food trucks for an assortment of tasty dishes.
The Details: Sept. 6, 13. 10 a.m.–4 p.m. Free. Providence River Greenway, South Water Street, Providence, providenceflea.com.