Five Can't-Miss Events of the Week: Sept. 22–28
Boot-stomping tunes at Lupo's, soup and dessert for charity, Neighbor Days and more.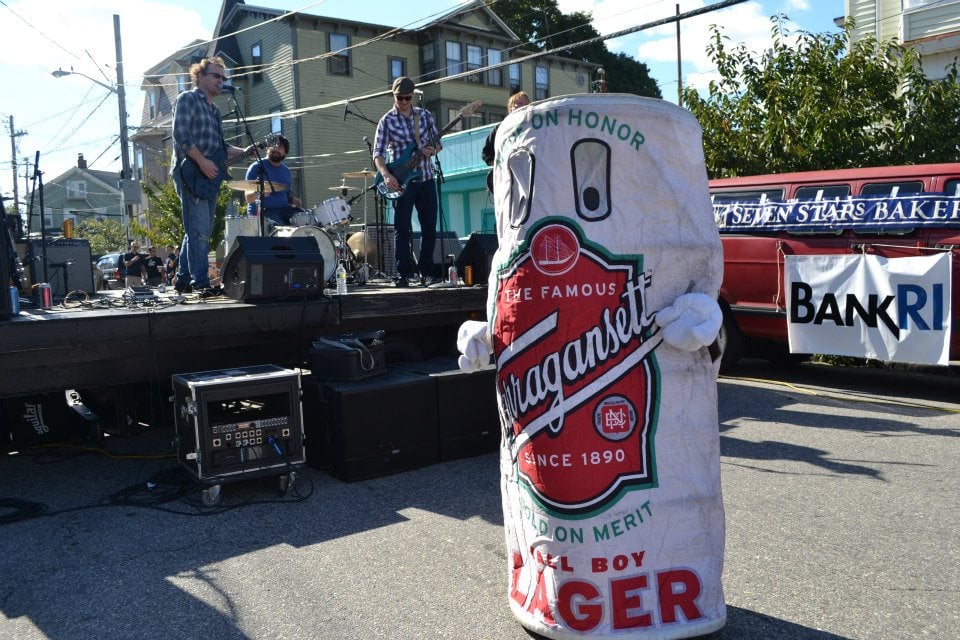 The Devil Makes Three at Lupo's
Somewhere between redemption and ruin, that's where you'll find the Devil Makes Three. After a decade-and-a-half of original releases, the trio offers a selection of expertly framed covers in its 2016 concept project, Redemption and Ruin ­— six tunes in each category. According to American Songwriter, the band injects a "reverent if often feisty attitude" into tunes by Townes Van Zandt, Willie Nelson and Tom Waits. Better still are the soulful, stomping gospel songs, including "What Would You Get (In Exchange for Your Soul)" and Ralph Stanley's "I Am the Man Thomas." See the Devil Makes Three perform these songs and others from the band's catalog at Lupo's, with support from Nashville's Lost Dog Street Band and Rhode Island's own the Huntress and Holder of Hands.
The Details: Sept. 23. 9 p.m. $25–$30. Lupo's Heartbreak Hotel, 79 Washington St., Providence, 401- 331-5876, lupos.com.
Empty Bowls
This fundraiser hits all the right tasting notes on a fall evening: It offers delicious soups made by local chefs, served in handmade bowls (that you get to keep!) crafted by talented local artisans, with proceeds supporting the state's local food resource, the Rhode Island Community Food Bank. Taste-test soups from top-notch restaurants including Oberlin, the Dorrance, Gracie's, Julians and dozens of others, plus breads and desserts to complete the feast. This family-friendly event is cognizant of food allergies and preferences, and attendees will receive a map upon entry that designates where to find gluten-free, vegan and vegetarian options.
The Details: Sept. 23. 5:30–8:30 p.m. $40 in advance, $45 at the door, $150 for VIP admission, which includes priority bowl selection and a complimentary drink. Rhodes on the Pawtuxet, 60 Rhodes Pl., Cranston, rifoodbank.org.
Neighbor Days Block Party
Even if you're not technically a West Side neighbor, you can live like one for a day at Narragansett's sixth-annual end-of-summer block party. The free, family-friendly event, which is hosted by the West Broadway Neighborhood Association, Narragansett Brewing, E and O Tap, the Avery and Ogie's Trailer Park, features a cash beer garden, record and craft vendors and snacks for purchase from local food trucks. Plus, local bands Forest Fires and Hott Boyz will keep the block rocking all afternoon. (Click here to read about an upcoming tour of the West Side's colorful cottages and urban courtyards.)
The Details: Sept. 24. Noon–6 p.m. Free admission; food and drinks available for purchase. Knight Street, Providence, wbna.org.
Out There Art Fair
We're all a little "out there" — and the best art is, too. The second annual Rhode Island Outsider Art Fair, proudly dubbed the Out There Art Fair, is organized by Resources for Human Development Rhode Island (RHD-RI), a nonprofit arts-based studio program that serves adults with a range of abilities. See the work of hundreds of neurodiverse, self-taught artists — a handful of whom have shown their work internationally. Artist organizations from all over the country will present paintings, drawings and sculpture alongside local groups including Providence's Inner Space Outsider Art Gallery, Pawtucket's Flying Shuttles Studio, Jamestown's Outside the Box Studios and Warren's Top Drawer Art at the Brass. Plus, fairgoers can experience RHD-RI's brand-new murals, painted by RHD artists and incoming freshmen from the Rhode Island School of Design.
The Details: Sept. 24. 10 a.m.–4 p.m. Free admission. RHD-RI, 24 Commerce St., Pawtucket, rhdri.org.
Thayer Street Art Festival
Step aside, students — Big Nazo puppets are coming through. The third annual street fair, hosted by Festival Fete, boasts strolling entertainment by Big Nazo, Lizzie James and the Greystone Rail Bluegrass Band and the Beledi Dance Company. Plus, more than 100 local artisans will peddle their wares, from stunning pendant necklaces by Natural Glo Designs to funky kids' finds by Port le Frej. Grab a bite at one of Thayer Street's impressive eateries — East Side Pockets or Nice Slice, anyone? — then create something artsy of your own at the Creation Station.
The Details: Sept. 25. 10 a.m.–5 p.m. Free admission. Thayer Street, Providence, facebook.com.