Five Can't-Miss Events of the Week: Oct. 6–12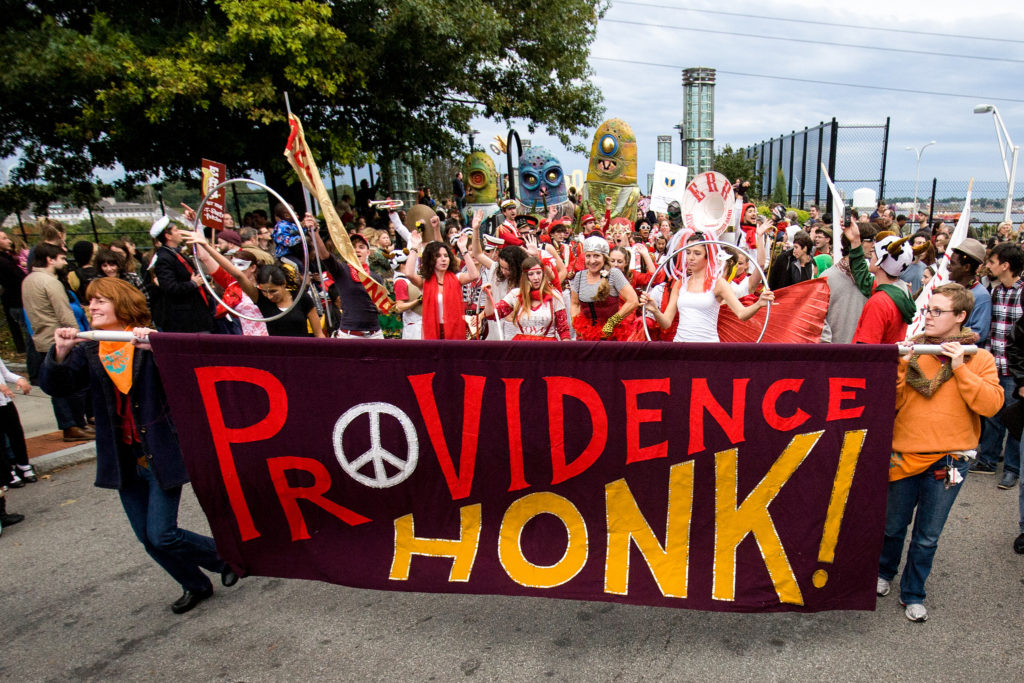 Jack-o-Lantern Spectacular
There's nothing quite like a home-carved pumpkin. There's also nothing quite like the carving techniques featured at the Jack-o-Lantern Spectacular at the Roger Williams Park Zoo. The popular fall event is back again and ready for the masses of pumpkin-loving guests. To attend on any day between Monday and Thursday, tickets may be purchased online or at the zoo admissions desk. However, new this year, tickets for Friday, Saturday and Sunday must be purchased online. Rain or shine, the jack-o-lanterns are available for viewing and this year's theme is like no other before it. American Treasures features complex carvings of American heroes, endangered species and more from our country's cultured past. In addition to the theme, guests will find Halloween-themed pumpkins including an annual favorite, the Laughing Tree.
The Details: Oct. 6–Nov. 6. 5:30–11 p.m. Tickets Mon.–Thurs. $15 for adults and $12 for children ages two to twelve; tickets Fri.–Sun. $18 for adults and $15 for children ages two to twelve. Roger Williams Park Zoo, 1000 Elmwood Ave., Providence, rwpzoo.org.
"Low Fidelity" at POP
From photographs of David Bowie to Andy Warhol, the Talking Heads and Blondie's Debbie Harry, world-renowned photographer Bobby Grossman has captured it all. Forty years ago, Grossman graduated from the Rhode Island School of Design, where he received a degree in illustration. But photography became his medium of choice; he shot his first roll of film in 1976. This month, the Emporium of Popular Culture (POP) and Van Vessem Gallery host an exhibit of Grossman's photos, "Low Fidelity," with a never-before-seen contribution from street artist Shepard Fairey: his rendition of Grossman's original portrait of Debbie Harry. Be the first to see it at the opening reception on October 7, where musician David Johansen performs live with Mark Cutler. In addition to the art and music, refreshments from Trinity Brewhouse and Red's Street Kitchen will be served.
The Details: Oct. 7–Nov. 12. Opening reception Oct. 7, 6–11 p.m. $15 per ticket. Emporium of Popular Culture, 219 West Park St., Providence, stores.emporiumofpopularculture.com.
Scituate Art Festival
Celebrate fifty golden-hued years of the Scituate Art Festival with the town of North Scituate and artists from across the country. In 1967, the festival launched to raise funds to restore the iconic Congregational Church in town. Five decades later, the festival is still beloved by many. Growing from twelve exhibitors in the first year to almost 300 national exhibitors in 2016, the festival boasts many art forms: from ceramics to photography, clothing and more. A dozen local organizations are offering refreshments available for purchase and the variety covers all the bases. Live music is on tap for this event and performers include Kings Row, the Old Fiddlers Club of Rhode Island, Tribeca, the Rhode Island Rednecks, Night Life Orchestra, the Scituate High School chorus and band and No Consensus. Proceeds from this community-wide event go to various causes in the town, including the festival's original muse, the Congregational Church. (Photo credit: oil painting by Bill Chisholm.)
The Details: Oct. 8–10. Sat.–Sun. 10 a.m.–5 p.m.; Mon. 10 a.m.–4 p.m. Free admission. Village Green, 554 West Greenville Rd., North Scituate, scituateartfestival.org.
Steampunk Mansion Mashup
Are you a fan of steampunk or do you want to know more about it? On October 8, visit the Lippitt House Museum for the Steampunk Mansion Mashup. Steampunk is a literary spin-off of science fiction and fantasy. The setting is usually Victorian, but here's the catch: the genre also incorporates modern technologies, which are reinvented to fit a Victorian theme. Lippitt House's event includes steampunk musicians, artists and performers. A cash bar is available and refreshments will be served. The Lippitt House Museum already boasts an ideal Victorian setting, so the rest of the story is up to you. Attendees at previous events dressed in their steampunk finest, though some came as their twenty-first-century selves. To get some fashion inspiration, check out photographs from 2014. Go on: dress up, take pictures and enjoy live music, all while stepping a couple of centuries back in time. (Photo credit: Jen Bonin.)
The Details: Oct. 8. 8–11 p.m. Tickets are $15 online until Oct. 7; $20 at the door. Lippitt House Museum, 199 Hope St., Providence, 401-453-0688, buy tickets here.
PRONK!
The Providence HONK Festival (PRONK) is back again for its ninth year. The annual festival takes place on Indigenous People's Day and uses music, dance and community gathering to bring awareness to injustices and inequality. The music at PRONK consists of brass instruments, beats and voices from all over the nation, no extra technology included. This is an event for all ages — there's an awesome parade down South Main Street at 5:30 p.m. — and PRONK encourages involvement from the youth audience to sing, dance and show off their artistic talents. Through art, PRONK hopes to bring to the surface the social injustices of the world. Embrace the highly anticipated cool weather, march through the streets of Providence, support your community and get your PRONK on.
The Details: Oct. 10. 3–10 p.m. Free. Burnside Park, Washington Street, and South Main Street, Providence, providencehonkfest.org.