Five Can't-Miss Events of the Week: Oct. 27–Nov. 2
Wine and carnies, steampunk charade, vintage Halloween and more.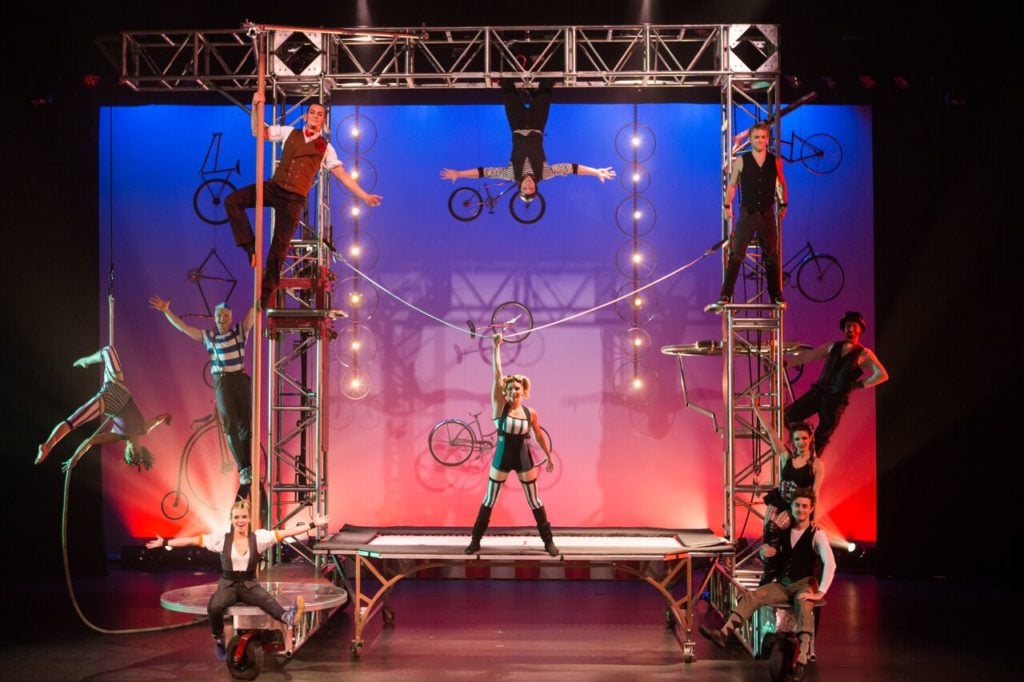 Newport Vineyards: CarnEvil
You may have been to a carnival but have you ever been to a carnEvil? Now's your chance. Newport Vineyards hosts the Halloween CarnEvil: come dressed, come to be impressed. One ticket includes snack food and a drink. You'll be entertained by sideshows, circus performers, tarot card readings and live music by the Silks, a classic rock trio out of Providence with a bluesy tone. This event only admits those who are twenty-one and older and, yes, there will be a cash bar. The Creepy Cocktail menu consists of: killer smoked ribs, fried cheese curds, chicken empanadas, hand pies, fried dough and so much more. There will be prizes for the best costume, so bring your A-game.
The Details: Oct. 28. 7–11 p.m. $75 per person. Newport Vineyards, 909 East Main Rd., Middletown, eventbrite.com.
FirstWorks Presents: Cirque Mechanics
Ever wonder how to escape our technology-obsessed society? See Cirque Mechanics: Pedal Punk and find out. With steampunk culture (a mix between nineteenth-century technology, science fiction and fantasy) in mind, Pedal Punk created a story around how to cycle away from modern technology on its Gantry Bike. The Gantry Bike is a large, self-moving display that is the center of the show; all of the performers revolve around the large machine and perform on it, near it or with it. This story has a twist: It is told through the movement of acrobats, tightrope walkers, cyclists and more talent-rich performers. This may be a performance like you haven't seen; even the New York Times described it as: "Exceptional, evocative, eye-catching and engrossingly entertaining." Join Pedal Punk in escaping technology for a couple of hours at this FirstWorks event.
The Details: Oct. 29. 7:30 p.m. $18–$78. Veterans Memorial Auditorium, 1 Avenue of the Arts, Providence, 401-421-2787, ppacri.org.
Chifferobe Presents: Ghost in the Machine
The historic Lippitt House Museum is a prime venue to host a spooky yet charmed night, presented by Chifferobe Events. Rhode Island School of Design alumni Amy Lovera and Kristen Rhea van Liew will showcase an exhibit inspired by Victorian parlor entertainment; Marc Trachtenberg will be seated at the grand piano; the TropiGals will dance alongside the ladies of the Witchy Wonderland workshop; and a clairvoyant will perform tarot card readings. Enjoy a cocktail in the jack-o-lantern-lit garden and take in the spooky season while it lasts. Don't forget to dress in your finest vintage costume; there will be a contest to see who did it best.
The Details: Oct. 29. 8–10 p.m. $35 plus service fee per person. Lippitt House Museum, 199 Hope St., Providence, brownpapertickets.com.
Tour de Tentacle
Get a team, get a bike and pedal your way over to the Arcade for Tour de Tentacle, the bike scavenger hunt for the Lovecraft-obsessed. This event allows you and your friends to experience Providence like never before. Along the way, you may run into foes, puzzles and obstacles but you must figure out a way to save the city before Providence is destroyed by monsters. This event is organized by the Rhode Island Bicycle Coalition, Lovecraft Arts and Sciences Council and Confluence Placemaking. Have your own bike and a helmet? Great. If you do not, contact DASH Bicycle Shop for discounted rentals. After you save the city from demolition, join the other riders back at the Arcade at New Harvest Coffee and Spirits. One free drink is included with your ticket and Narragansett Beer is available.
The Details: Oct. 30. 2–6 p.m., after party from 4–8 p.m. Tickets are $10. The Arcade, 65 Weybosset St., Providence, eventbrite.com.
A Plastic Ocean
newportFILM hosts a free screening of A Plastic Ocean, a documentary that explores how plastic takes a toll on the creatures of the sea. A Plastic Ocean was filmed in twenty different places across the globe. The diversity and beauty of the sites is just one facet; the toll that plastic takes on marine life is a whole other aspect. The screening of the film is presented by Eleventh Hour Racing, a foundation based in Newport that increases awareness of ocean health, works to find solutions to aid marine life and does it all through the scope of sailing and the marine community. After the screening, guests are welcome to stay for a panel discussion with Dave McLaughlin, Charlie Enright, Keith Ciliano and Denis Nixon — each from a different organization with the same goal: to stop oceanic pollution.
The Details: Nov. 1. 6:30 p.m. Free admission. Jane Pickens Theater, 49 Touro St., Newport, newportfilm.com.