Five Can't-Miss Events of the Week: Oct. 20–26
All Hallow's Eve is nearly upon us, plus a world premiere and good beers.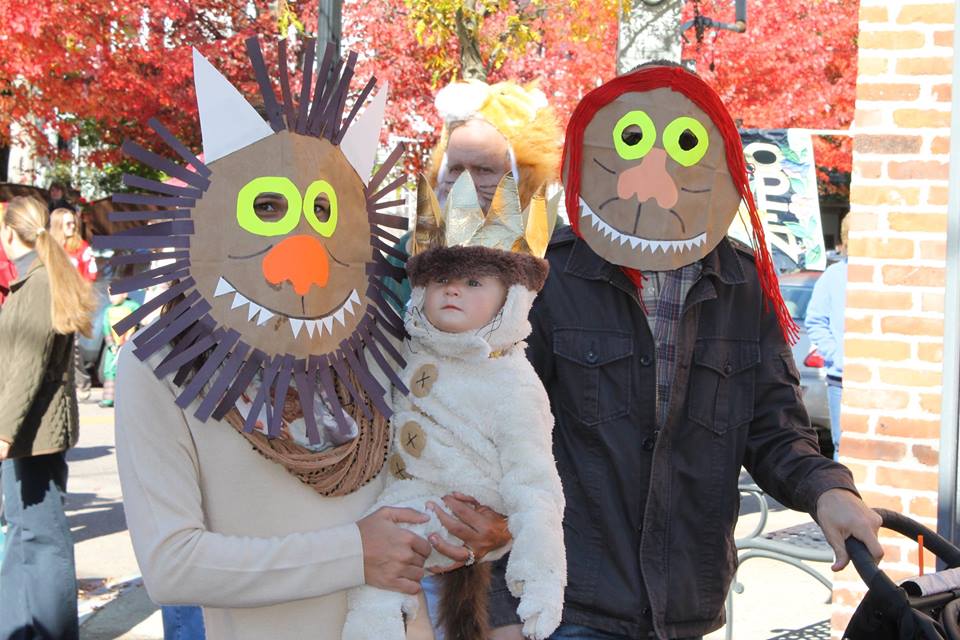 10,000 Things
Right here in Providence, catch the world premiere of 10,000 Things, a play written and directed by Rhode Island's foremost playwright, Erik Ehn, director of writing for performance at Brown University. The story follows two children who waltz into the woods, as told by eight different characters within the production. The show features three main elements: ensemble-based text, movement and shadow puppets. The music is written by Maya Solovey. Together, the characters work to tell an age-old tale while focusing on the issues of today: How to stay grounded in a busy age and how to avoid the (many, many) distractions of the world.
The Details: Oct. 20–29. Call or visit the website for show times. Students $15 plus service fee, seniors $20 plus service fee, general admission $25 plus service fee. The Wilbury Theatre Group, 393 Broad St., Providence, 401-400-7100, thewilburygroup.org.
Brewing Boldness
There's nothing better than supporting a great cause while having a blast. Join Girls on the Run Rhode Island and Foolproof Brewing Company at the fourth annual Brewing Boldness Fundraiser. Girls on the Run is a 501(c)3 nonprofit organization that aims to support girls ages eight to thirteen. By joining Girls on the Run, the girls learn to have a positive outlook, be healthy and confident and learn how to run their lives on their own terms. With a regular admission ticket at Brewing Boldness, guests receive one drink and small bites, including: pizza, pretzels, beef and chicken sliders and more. A VIP ticket comes with two drink tickets, small bites, a Foolproof pint glass and entry into a raffle for a training session with Kaitlyn Goodman, an Olympic qualifier and Rhode Island native. The event features live music by Silent Shoals, food by Pranzi Catering and, of course, local brews by Foolproof. Enjoy a night out while supporting the next generation of strong women in Rhode Island.
The Details: Oct. 20. 6–9 p.m. Regular ticket is $40 and a VIP ticket is $55; purchase either here. Foolproof Brewing Company, 241 Grotto Ave. #1, Pawtucket, gotrri.org.
Fortress of Nightmares
If you like a good scare and think you have the guts to take on several frightening exhibits in one night, check out the Fortress of Nightmares. With a general admission ticket, you gain access to three attractions at the historic (and haunted) Fort Adams: Mayhem Three-D, Paranormal and Tunnels of Terror. In Mayhem Three-D, guests will walk through a maze that requires three-D glasses; the sensory overload will leave you spinning and increases the challenge. During Paranormal, take a breather; no one will jump at you at this one. However, be prepared to see what the popular television show "Ghost Hunters" discovered in the dark corners of Fort Adams. At Tunnels of Terror, see if you and your friends can handle the creepy sound effects, strobe lighting, fog machines and other thrilling surprises along the way. For an elevated laser tag experience, sign up for Turned, a new event added to this year's lineup. For an extra $5 admission, you can battle the zombies and avoid turning into a walker yourself. All proceeds from the event will go towards the nonprofit organization, Fort Adams Trust, which works to preserve the history of Fort Adams.
The Details: Oct. 21–23, 28–30. 7–10 p.m. General admission is $15, Turned laser tag ticket is $5. 90 Fort Adams Drive, Newport, fortressofnightmares.org.
UnBOOlievable Festival
Dress up for Halloween a few days early and head over to the UnBOOlievable Festival at the Roger Williams Park carousel. Trick-or-treaters of all ages are invited to enjoy the carousel, craft vendors, music and, of course, food. Various food trucks, hosted by FoodTrucksIn, will be in attendance in case you get hungry. In addition to the food for purchase, the trucks will provide free candy for trick-or-treaters twelve and younger from 1–2 p.m. Adult guests, there is also a beer garden at the event. If you know a trick-or-treater interested in getting candy, make sure he or she brings a bag to collect the goodies. Don't miss the return of the UnBOOlieveable Festival (or the chance to get candy before Halloween).
The Details: Oct. 22. 11 a.m.–2 p.m. Free admission. Roger Williams Carousel Village, 1000 Elmwood Ave., Providence, facebook.com/events.
Wicked Week-and-a-Half
Wickford Village found a way to lure the Halloween-obsessed to town: host a jam-packed week-and-a-half of fall fun events leading up to the most thrilling day of the year. You, too, can join in on the wicked fun by attending any of the following events. On Oct. 22 from 11 a.m.–3 p.m., kids are invited to Updike Park to decorate a free pumpkin; kids can also have their face painted. The following day at 2 p.m., local historian, Tim Cranston, will host a guided tour titled "Graveyards of Wickford," which steps off at Updike Park. The next event in the series happens on Oct. 27: ladies night from 5–8 p.m. Local shops will offer refreshments and promotions, plus illuminated pumpkins and harbor lights will be on display. On Oct. 29 at 1 p.m., beginning at Updike Park, Ghost Tours of Newport's Victoria McNally will have a gravesite chat about Rhode Island's first vampire, ghost hunting 101 and more. The last day leading up to Halloween, Oct. 30, join in on the Horribles Parade. Beginning at noon outside of St. Paul's Parish House, pint-sized marchers will traipse through town in their Halloween best. Bring a candy bucket so the kids can trick-or-treat throughout the day at participating businesses. On Oct. 31, Wickford celebrates All Hallow's Eve with more trick-or-treating at marked shops in the village.
The Details: Oct. 22–31. Times vary by day and event. Free admission for most events. Wickford Village, Brown Street, North Kingstown, wickfordvillage.org.