Five Can't-Miss Events of the Week: Oct. 1–7
Jack-o-lanterns, Scottish art, haunted tours and more.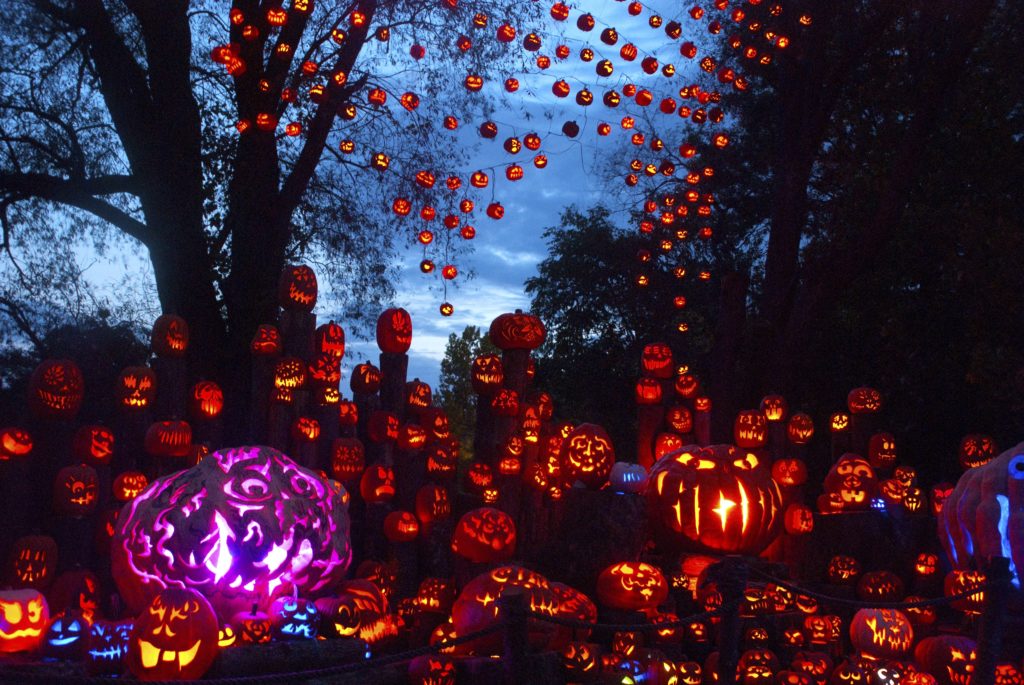 Jack-O-Lantern Spectacular
The grinning faces of your favorite orange squashes dot the zoo landscape once more! This year's theme is "The People's Choice" and features a dizzying array of favorite carvings of Spectacular's past. Whether it's the Golden Age of Hollywood or Charles Darwin trekking through the Galapagos, each pumpkin will be a beacon of glowing enchantment. Follow the trail to the end to see the star of the show, the Laughing Tree, and sign the logbook to cement your attendance at this truly spectacular annual event. (Please note that opening night was postponed from October 1 to October 3 because of the weather.)
The Details: Oct. 3–Nov. 1. Sat. 6–11 p.m., Sun.–Fri. 6–10 p.m. Weekdays: adults $14, children $11, two and younger free. Weekends: adults $16, children $13, two and younger free. Roger Williams Park Zoo, 1000 Elmwood Ave., Providence, 401-941-4998, rwpzoo.org.
Martin Boyce: "When Now is Night"
Scottish artist Martin Boyce's thought process is laid bare in "When Now is Night," a rich display of the unwinding of the creative mind across the blank walls of a gallery. In his first solo exhibition at an American museum, Turner Prize-winning artist Boyce comes to RISD with works that explore the heritage of modern art along with repercussions of design on society — sociological questions made into concrete objects. The exhibition follows Boyce's transformation and growth as an artist, with his finalized art alongside sketches, drawings and an illustrated book of scholarly essays edited by a RISD Museum curator.
The Details: Opening reception Oct. 1. 6–7:30 p.m. Exhibition runs through Jan. 31. Tues.–Sun. 10 a.m.–5 p.m., Thurs. 10 a.m.–9 p.m. Adults $12, seniors $10, children ages five to eighteen $3, children younger than five free. Free admission on Sundays and on the third Thursday of the month. RISD Museum, 224 Benefit St., Providence, 401-454-6500, risdmuseum.org.
The Terrifying Tales of the Brothers Grimm
EPIC Theatre Company presents The Terrifying Tales of the Brothers Grimm, a play set in 1970s Czechoslovakia written by Providence-based playwright Andy Boyd and directed by Kevin Broccoli. Under strict government regulations and the threat of censorship, Czech dissidents attempt to create a play that slips past restrictions. However, officials check in on the play's progress and the actors are forced to improvise or risk losing everything. Prepare to have your hair stand on end as the suspense builds.
The Details: Oct. 2–17. Fri.–Sat. 8 p.m., Sun. 2 p.m. General admission $15, seniors and students $12. Theatre 82 and Cafe, 82 Rolfe Sq., Cranston, 401-490-9475, artists-exchange.org.
Mills and Mysteries Tour
Join Carl L. Johnson and his twin brother Keith E. Johnson — as seen on television shows "Ghost Hunters," "The Haunted" and "Paranormal State" — for an after-dark tour of Slater Mill, the birthplace of the Industrial Revolution. As you wander through the old mill, perhaps a fleeting phantom will catch your eye or a suspicious shape will linger behind you. Learn the mysteries and tales that explain why these spirits still haunt one of Rhode Island's most famous structures. Whether you spot a ghost or not, the tour will leave you with goosebumps and spooky tales to share with your friends. Tours are restricted to ages fifteen and older.
The Details: Every Friday, Oct. 2–30. 7:30–9 p.m. $20. Slater Mill, 67 Roosevelt Ave., Pawtucket, 401-725-8638, slatermill.org.
Harvest Fair
Celebrate harvest time at the Norman Bird Sanctuary, where the Harvest Fair presents two days of delights for everyone. Kids can take a ride on the Mabel Express barrel train, get down and dirty in the mud pit and make crafts as parents peruse goods on sale from local artisans. Local food vendors will add fuel to the festivities, while local beer will be on tap for parents groaning at premonitions of muddy hand prints on everything.
The Details: Oct. 3–4. 10 a.m.–5 p.m. Adults $6, children $3, children younger than three free. Norman Bird Sanctuary, 583 Third Beach Rd., Middletown, normanbirdsanctuary.org.