Five Can't-Miss Events of the Week: Nov. 5–11
Restaurant Week, Comic Con, Fine Furnishings Show and more.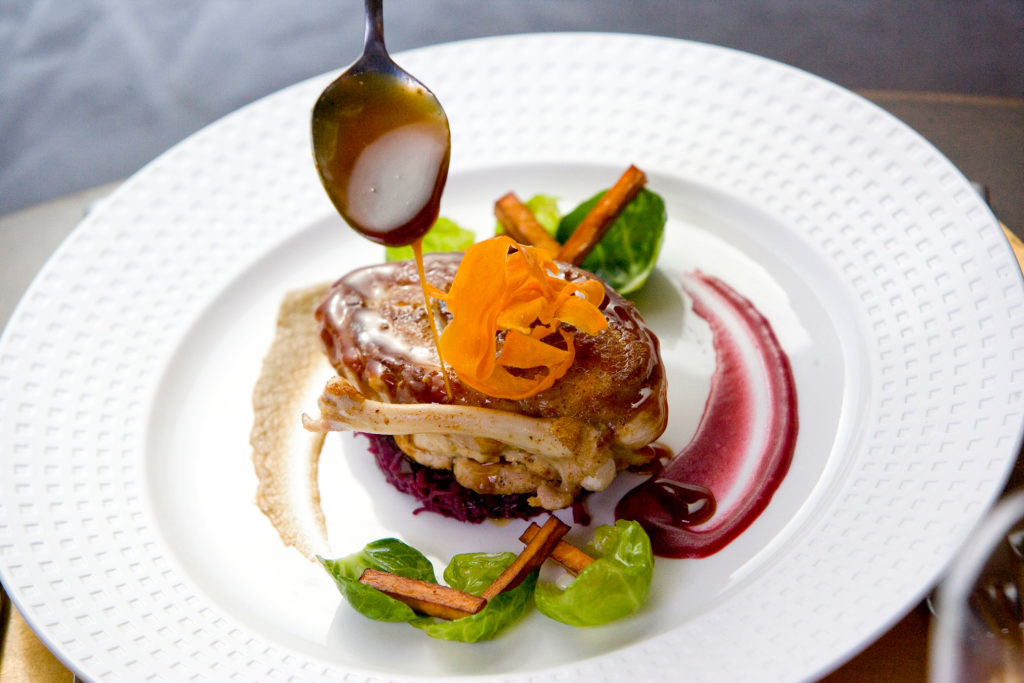 Fine Furnishings Show
Artisans will pop out of the woodwork this weekend, quite literally. The twentieth annual Fine Furnishings Show is back to fill the Pawtucket air with fragrances of rich mahogany. Browse an impressive range of topnotch handcrafted furniture, accessories and fine arts and crafts products, then purchase your heart's desire right off the show floor. Catch product debuts, discover new artisans, experience demonstrations, enjoy live music and grab a drink from the cash bar (show organizers thought of it all). Not to mention it's the perfect time to snag some unusual holiday gifts. Driftwood art by Laura Carpenter.
The Details: Nov. 6–8. Fri. 4–8 p.m., Sat. 10 a.m.–6 p.m., Sun. 10 a.m.–5 p.m. $10. The Drill Hall, Pawtucket Armory Arts Center, 172 Exchange St., Pawtucket, 401-816-0963, finefurnishingsshows.com.
RI Comic Con
If you spot the Joker in Providence this weekend, you can hold off on calling for Batman. Rhode Island Comic Con, the biggest show of its kind in the smallest state, is back for a three-day fest celebrating comics, art and culture. Guest appearances are expected to draw in huge crowds, and the lineup sounds too good to be true. The studly Jason Momoa from "Game of Thrones," Karen Gillan from "Doctor Who," Ron Perlman from "Sons of Anarchy," Tom Kenny who voices SpongeBob SquarePants: The list goes on and on. Fun activities include laser tag, a rock-climbing wall, a mechanical bull, after parties for the big kids and more. Boredom impossible.
The Details: Nov. 6–8. Fri. 3–9 p.m., Sat. 10 a.m.–7 p.m., Sun. 10 a.m.–5 p.m. Adults $29–$40 in advance, $40–$45 day of show. Rhode Island Convention Center, 1 Sabin St., Dunkin Donuts Center, 1 Lasalle Sq., Providence, ricomiccon.com.
Newport Restaurant Week
Stuffies by the sea or a rich lobster dinner, Newport Restaurant Week provides the finest dining without breaking the bank. More than forty-five restaurants within Newport and Bristol counties offer three-course meals at $16 for lunch and $35 for dinner. Whether you hit one of your favorite spots or dare to try a new eatery, each restaurant boasts creative menus certain to make your mouth water. Foodies should seize the opportunity to get out and taste the new flavors of seasonal dishes before Rhody snowstorms trap us all at home.
The Details: Nov. 7–16. Three-course lunch $16, three-course dinner $35. Various restaurants in Newport and Bristol counties, 401-845-9123, discovernewportrestaurantweek.org.
Solid Soul Tour
Musical soul sisters Mavis Staples and Joan Osborne join forces for this highly anticipated national tour. Mavis Staples, gospel-singing icon, has graced the American music scene with her genius for six decades; she topped the charts with her 1972 hit "I'll Take You There" and even performed the single at the White House, not to mention her Grammy win in 2011 for her album You Are Not Alone. Beside her will be Osborne, who dominated Top Forty radio with her tune, "One of Us" and whose album Relish went triple platinum in 1995. The talented ladies will perform their own sets as well as a duet finale.
The Details: Nov. 8. 7 p.m. $37.50–$57.50. Veterans Memorial Auditorium, 1 Avenue of the Arts, Providence, 401-421-2787, ppacri.org.
Spirit of India
Experience the culture of India, no Expedia bookings necessary, at this one-night-only theatrical performance. The Bollywood Masala Orchestra and Dancers of India will take you on a journey from Rajasthan to Mumbai with this bold vision of Indian music and dance. The performance includes seventeen professional artists, plus an appearance by famed Indian musician and Masala Orchestra founder, Rahis Bharti. A blend of Indian and Western instruments will feed audiences the authentic sounds of the nation while offering a fresh perspective on international music and dance.
The Details: Nov. 10. 7:30 p.m. $35 general admission, $30 seniors, $15 children. The Auditorium in Roberts Hall, Rhode Island College, 600 Mount Pleasant Ave., Providence, 401-456-8000, ric.edu.