Five Can't-Miss Events of the Week: Nov. 26–Dec. 2
Story Theatre, pottery sale, Santa at the zoo and more.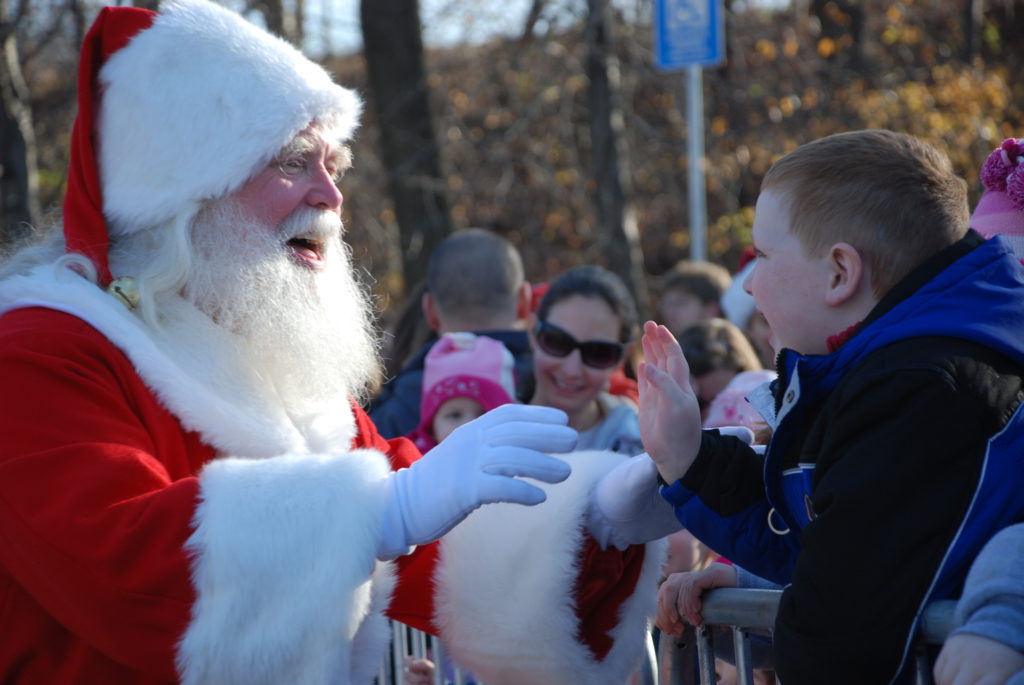 Story Theatre
Gather the family 'round; it's time for a story. Throughout the holiday season, 2nd Story hosts an imaginative celebration of storytelling starring husband-wife folk duo Atwater Donnelly and a troupe of mischievous improvisational performers. The night is inspired by director and improv coach Paul Sills's 1970s Story Theatre, a two-time Tony Award-winning show featuring music and fairytales by the Brothers Grimm. This special event, held in the intimate Downstage theater, is sure to appeal to story lovers of all ages.
The Details: Through Dec. 20. Thurs.–Sat. 7:30 p.m., Sun. 2:30 p.m. Admission $30, younger than twenty-one $20. 2nd Story Theatre, 28 Market St., Warren, 401-247-4200, 2ndstorytheatre.com.
Forty-Fifth Annual Pottery Sale
Quaint Kingston plays host to this great holiday pottery and art sale, which boasts practical gifts by local member artists of the South County Art Association. This is not your grandmother's pottery sale. Find silly, whimsical turns of the wheel with enough personality to keep your gifts fresh and fun. Most recipients on your list would love a hand-thrown bowl or vase for the holiday table. And if clay pots don't catch your eye, an array of small paintings, photographs, textiles and stained glass will also be available for purchase — and all tax-free.
The Details: Nov. 27–Dec. 19. Wed.–Sun. 10 a.m.–6 p.m. Free admission. South County Art Association, Helme House, 2587 Kingstown Rd., Kingston, southcountyart.org.
Christmas at Blithewold
See Blithewold sparkle with spruce branches frosting the interior and the sound of carols filling the air. Christmas at the manor is here, and this year's theme is "A Garden for All Seasons," which celebrates the Van Wickle family's love of nature and is inspired by the stunning gardens at Blithewold. In addition to traipsing through rooms decorated with botanical beauties, reserve your seat at an informal afternoon tea party, a musical performance, a Santa sing-along or a creative workshop. And, back by popular demand, the family-friendly evening event, Christmas Sparkle, returns every Friday night with festive cocktails, hot cocoa, marshmallow roasting, live music and revelry in the enclosed garden and greenhouse.
The Details: Nov. 27–Jan. 3. Tues.–Sun. 11 a.m.–5 p.m. Adults $12, seniors $11, students $10, youth $4, ages five and younger free. Blithewold Mansion, Gardens and Arboretum, 101 Ferry Rd., Bristol, 401-253-2707, blithewold.org.
Holiday Parade at the Zoo
Santa Claus is coming to town! Need specifics? On Saturday, you can find the big man at Roger Williams Park Zoo. Santa arrives in the parking lot in style, with a flourish of activity following his entrance. Trail the fun holiday parade through the zoo, then check in on your favorite winter-weather friends and warm up with the monkeys at the Tropical America exhibit. For an additional charge, children can pose for pictures with Santa, enjoy a tasty treat and participate in fun family activities. Don't forget to bring a new, unwrapped toy to place in the Cardi's Furniture Toys for Tots box to spread holiday cheer to children in need.
The Details: Nov. 28. Parade 9:30 a.m. Zoo is open until 4 p.m. Adults $14.95, children $9.95, seniors $12.95, ages two and younger free. Roger Williams Park Zoo, 1000 Elmwood Ave., Providence, 401-941-4998, rwpzoo.org.
Straight No Chaser
We all remember how, with giddy excitement, we showed our friends the online video of Straight No Chaser's (SNC) version of "Twelve Days of Christmas." It was funny, cute and thoroughly unexpected from an a cappella group; it's not often that "Africa" by Toto is worked into a Christmas tune. Years later, SNC is still serving up quality singing at entertaining shows for all ages. See the performers live at the Vets, where they will sing songs from their new album, The New Old Fashioned, out October 27.
The Details: Dec. 1. 7:30 p.m. $39.50–$59.50. Veterans Memorial Auditorium, 1 Avenue of the Arts, Providence, 401-421-2787, vmari.com.