Five Can't-Miss Events of the Week: May 7–13
Misquamicut SpringFest, Newport Craft Beer Festival, Cannibal Ramblers and more.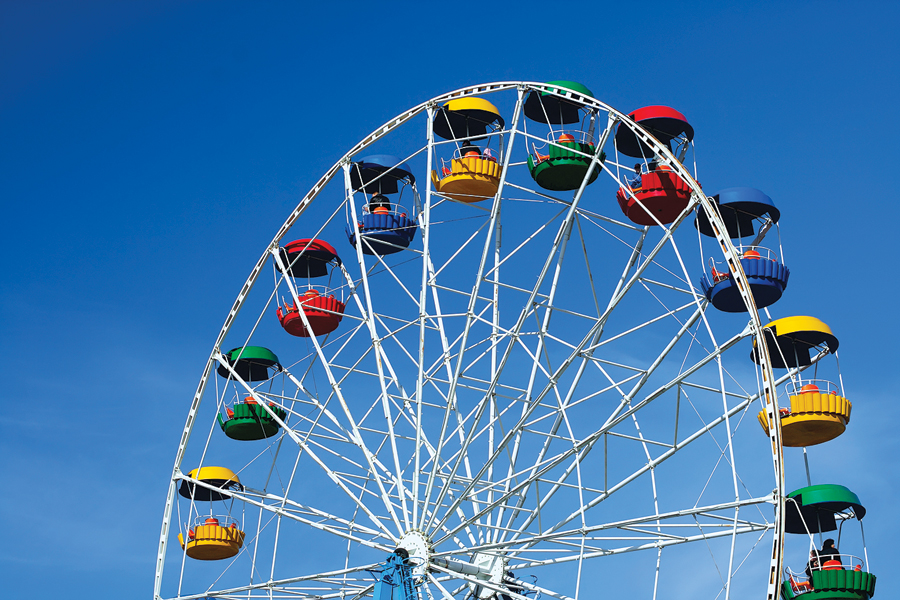 Misquamicut SpringFest
Celebrate spring by bringing the whole family to Misquamicut for some outdoor fun. Take a spin on amusement rides, pet fuzzy farm animals, dance to live music, check out cool classic cars and eat your way through the international food court. Relax at the picnic area with some Del's frozen lemonade and fried dough, or get dizzy on the Tilt-a-Whirl. No matter your taste, age or interests, you'll discover something fun at SpringFest.
The Details: May 8–10. Fri. 5–11 p.m., Sat. 11 a.m.–11 p.m., Sun. 11 a.m.–5 p.m. Tickets are $7 per day; children younger than four are free. Misquamicut State Beach, Westerly, 401-322-1026, misquamicutfestival.org.
Newport Craft Beer Festival
Newport residents have been brewing since before the American Revolution, and the craft is only getting better. Sample a spectrum of regional beers and talk to the folks who made them. Listen to local bands and purchase local food to go along with your tastings. Newport Storm and Pour Judgment Bar and Grill come together for the fourth time for a fun outdoors event that benefits the Rhode Island Brewer's Guild and the Newport Historical Society. And, new this year, the event extends over two days: A sold-out "Very Important Beers" event at Newport Storm Brewery on Friday, and the big, two-session shebang on the lawn of the Great Friends Meeting House.
The Details: May 8–9. Friday event is sold out. Saturday sessions at noon and 4 p.m. $45. Great Friends Meeting House, 21 Farewell St., Newport, newportcraftbeer.com.
Dave Cole: "American Lullaby
"
At first glance, Cole's work may seem like oversized images of childhood in America. Upon closer examination, a teddy bear made of harmful fiberglass has a more poignant message. Brown University's David Winton Bell Gallery presents a look at Dave Cole's work, including his iconic "Music Box," a vintage steamroller that has been transformed into a music box that plays the first stanza of the national anthem. Other well-known works include "Toy Soldier Flag," "Baby Blanket" and "Kevlar Romper." Each piece has its own message about growing up in America.
The Details: Opening reception May 8. 5:30 p.m. Free. Exhibition continues through July 5. List Art Center, Brown University, 64 College St., Providence, 401-863-2932, brown.edu.
Cannibal Ramblers at the Columbus
Members of the blues band Cannibal Ramblers describe their style as "ragged like a rusty knife" on Facebook, list their manager as "Satan" and warn fans that they eat people when they're not near Katz's Delicatessen. Influenced by rock, jazz and more genres, this group of fabulous facial hair means musical business with catchy tunes like "Last Night I Drank Too Much" and "Dirty Hooch." This off-the-rails band, along with Tallahassee, Last Good Tooth and Smith and Weeden, will perform a show like no other at the historic Columbus Theatre in Providence.
The Details: May 8. 8 p.m. Tickets are $10 advance, $12 day of. Columbus Theatre, 270 Broadway, Providence, columbustheatre.com.
Mother's Day at Providence Children's Museum
What better way to tell mom she's great than to make her a handmade bouquet? Be creative this Mother's Day and show mom you care. At the Providence Children's Museum, kids can use tissue paper, coffee filters and other recycled materials to make their very own bouquet, without plucking any flowers from the ground. Plus, moms and grandmothers receive free admission all day.
The Details: May 10. 11 a.m. Admission $9, free for moms and grandmothers. Providence Children's Museum, 100 South St., Providence, 401-273-5437, childrensmuseum.org.