Five Can't Miss Events of the Week: May 26–June 1
Wicked author, free yoga, art tours and more.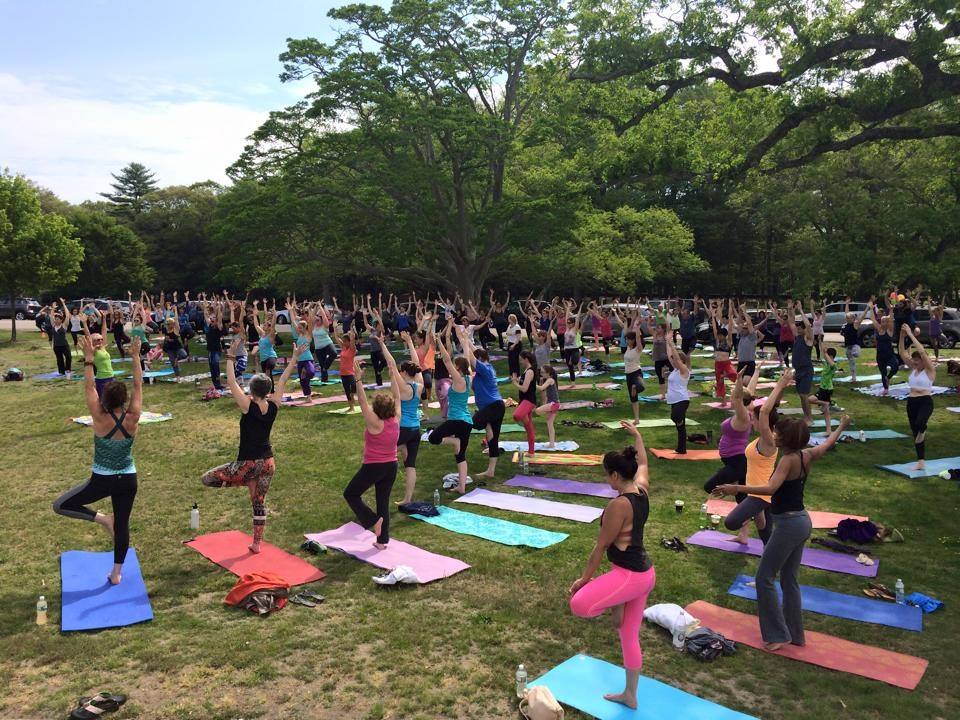 Author Gregory Maguire at JAC
Wicked became a Broadway sensation seemingly overnight — but it actually started out as a novel. Keeping with the theme of the Jamestown Art Center exhibition "Setting the Stage," Wicked author Gregory Maguire will discuss the journey from "page to stage" of his novel-turned-Broadway-musical during an evening hosted by the JAC on May 26th. (Rhode Islander Eugene Lee designed the Broadway set for Wicked; his work, along with interior designer Kyla Coburn, is featured in "Setting the Stage.") Maguire will also perform a reading and discuss his two recent books, New York Times bestseller After Alice, and the Boston Globe Horn Book Honor title, Egg and Spoon. You won't want to miss this wickedly entertaining evening.
The Details: May 26. 6 p.m. General admission $10, JAC members $8, students $5. Jamestown Arts Center, 18 Valley St., Jamestown, jamestownartcenter.org.
Art Night Bristol/Warren
Art Night Bristol/Warren kicks off its fifth season this week, which means summer is on its way. A monthly affair taking place on the last Thursday of the month and running through September, Art Night offers a chance to mingle with the artists and see their works in progress in their own spaces. This season's first Art Night will take place on Thursday, May 26th, from 5:30 to 9 p.m., and the evening's featured venue is the Bristol Industrial Park, 500 Wood Street in Bristol. Amp up the fun by taking a guided trolley tour of the participating artist spaces and galleries. If you decide to get there on your own (its location along the East Bay Bike Path makes it easy to walk or ride), you can still meet and greet the artists, tour the open galleries and studios and enjoy the live music and special performers throughout the night. Featured artists include Tom Deininger, Jim Dowd and Sandi Bonazoli of Beehive Handmade, and Kendall Reiss.
The Details: May 26. 5:30–9 p.m. Free. See website for free trolley reservations. Galleries in Bristol and Warren, artnightbristolwarren.org.
RISD Grad Show
Come see the culminating work of graduates of the number one design school in the country. The RISD Annual Thesis Exhibition opens May 26th with a public reception from 6 to 8 p.m. and remains open daily from noon to 5 p.m. until RISD's commencement on June 4th (when the exhibition will be open 10 a.m. to 6 p.m.). The exhibit will feature projects developed by 225 graduate students over the past two to three years that span an array of media including architecture, furniture design, textiles and jewelry and metalworking on display in custom-constructed galleries in the space — meaning you'll want to go a few times to be sure to catch everything.
The Details: Opening reception May 26. 6–8 p.m. Exhibition continues May 27–June 4. Noon–5 p.m. daily. Free. Rhode Island Convention Center, 1 Sabin St., Providence, risd.edu/thesis.
Gaspee Days Arts and Crafts Festival
For more than fifty years, the Gaspee Days Arts and Crafts Festival has been a Warwick tradition that brings family and friends together outdoors to support local artists and artisans. This Memorial Day weekend, children can participate in activities and games outside while adults munch on local foods from the food court, listen to a handpicked selection of bands perform live and peruse the locally made arts and crafts available for purchase. Whether you go every year or have never been, it's the perfect (and quintessentially Rhode Island) way to spend a long weekend.
The Details: May 28–30. Sat.–Sun. 10 a.m.–5 p.m., Mon. 10 a.m.–4:30 p.m. Free. Historic Pawtuxet Village, Narragansett Parkway, Warwick, gaspee.com/arts.
Free Yoga in the Park
This Best of Rhode Island award-winner is back! Whether you're an experienced yogi or haven't dusted off your mat in ages, Laughing Elephant Yoga wants you to come out and stretch, refocus and rebalance for free this Memorial Day in Goddard Memorial State Park. Bring your little yogi and your (well-behaved) downward-facing dog; grab your mat (a beach towel will work) and get grounded (literally) — just in time to welcome summer.
The Details: May 30. 9–10:30 a.m. Free. Goddard Memorial State Park, 1095 Ives Rd., East Greenwich, laughingelephantyoga.com.