Five Can't Miss Events of the Week: June 9–15
Kubrick on the block, down by the bay, Gaspee parade and more.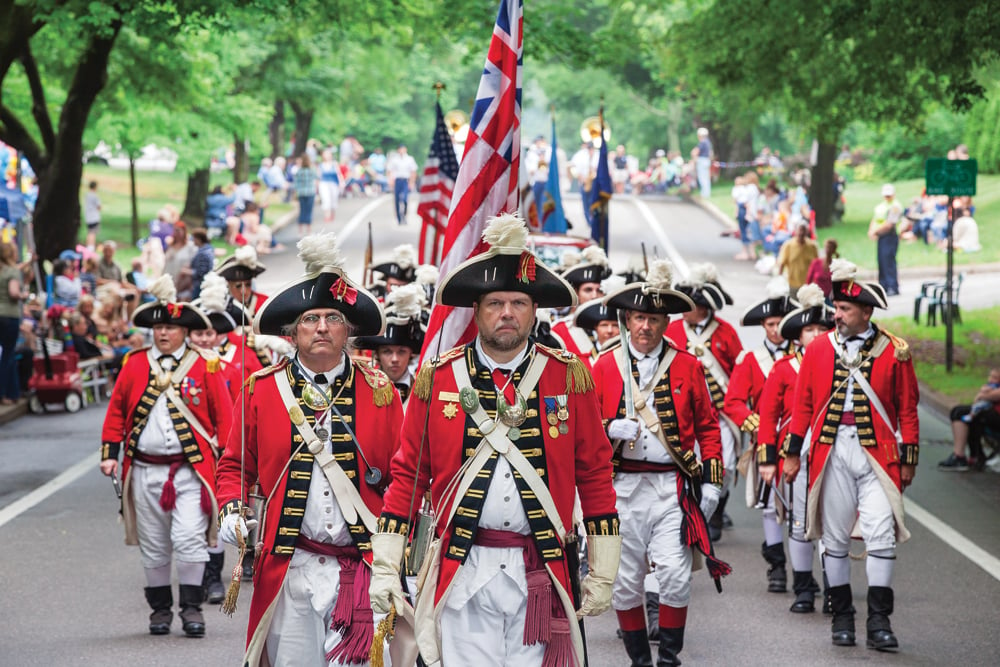 MOTB: A Clockwork Orange
A Clockwork Orange: It's a classic you've either seen or pretend to have seen. It's one of Stanley Kubrick's best-known films for all of the reasons Stanley Kubrick is a well-known director. It's creepy, it's cringe-y, but (even though your eyelids aren't taped open) you can't stop watching because it's so visually striking. Although the film doesn't necessarily scream "outdoor summer movie series," Movies on the Block dares to bring this classic up on the big screen at Grant's Block on Thursday, beginning at sunset (8:15 this time around — the days are getting longer!), but you'll want to get there early to score a spot. Bring blankets and something to snack on — so you won't be biting your nails the whole time.
The Details: June 9. 8:15 p.m. Free. Grant's Block, 260 Westminster St., Providence, moviesontheblock.com.
Taste of the Bay
Taste of the Bay offers the chance to enjoy the best that Narragansett Bay has to offer. Delicious food and drink will not be in short supply — thanks to 2016 guests Julians, Narragansett Beer, Gooseneck Vineyards and Munroe Dairy. Matunuck Oyster Bar and 401 Oyster Company will provide the freshest seafood possible — both specializing in sustainably raised and caught local seafood. Satisfy your sweet tooth with a pastry from Sin Desserts or D'Licious Desserts (the name says it all). Take a stroll and support local artists Tom Martino and Stephen Spencer and save the bay (50 percent of profits benefit Save The Bay, dedicated to protecting and improving Narragansett Bay). Local musicians, including Bob Tomassone, will play throughout the night — making sure that all of your senses are thoroughly delighted.
The Details: June 9. 7–9 p.m. $35. The Bay Center, 100 Save the Bay Dr., Providence, savebay.org.
Gaspee Days Weekend
Celebrating America's "First Blow for Freedom," Gaspee Days Weekend begins with the fifty-first annual Gaspee Days Parade at 10 a.m. on Saturday, June 11, along Narragansett Parkway in Warwick and ending on Broad Street in Cranston. All day Saturday and Sunday morning, the Pawtuxet Rangers will give visitors a feel for military life as a collection of Colonial militiamen (and women!) camp out for the weekend in authentic Revolutionary style. (Read our profile of the Pawtuxet Rangers here.) The weekend continues all day Sunday with children's Colonial games at Gaspee Days Sunday in the Park at Pawtuxet Park and the second annual Blessing of the Fleet at Rhode Island Yacht Club (1 Ocean Ave., Cranston) with a cookout to follow. This two-day festival packs in the fun — offering something for every kind of patriot.
The Details: June 11–12. Daylong. Free. Narragansett Parkway, Warwick, gaspee.com. Photo by Alexander Nesbitt.
Festival of Historic Houses
Providence is full of beautiful, historic houses — and most of them are on Benefit Street, even though it's only a mile and a half long, thanks to the preservation efforts of the Providence Preservation Society. In honor of its sixtieth anniversary, the PPS is looking to show off these properties with the Festival of Historic Houses on Saturday, June 11. This festival offers the rare opportunity to tour more than a dozen historic homes and gardens: late-Colonial-era and early Federal-style buildings turned modern-day living spaces. Festival ticket holders will also have access to two free, guided neighborhood walking tours: a neighborhood history tour and a Jewish history tour, which explore the diverse history behind the prized and preserved buildings in this beautiful neighborhood of Providence. Get your tickets in advance for a discounted rate!
The Details: June 11. 10 a.m.–4 p.m. Advanced tickets: students $25, members $35, general admission $45. Day-of: members $45, general admission $55. Northern Benefit Street, Providence, 401-831-7440, providencehousetour.com.
Play On!
Sometimes adults need to be reminded how to play. That's why the Providence Children's Museum is hosting Play On!, a night of hands-on activities, games, food and — because the event is twenty-one-plus — booze at the museum on Saturday from 7 to 10 p.m. Challenge your friends to a marble roller-coaster building competition or explore the hands-on exhibits like Water Ways, ThinkSpace and Play Power. After working up an appetite, head over to the beer garden and grab a bite from local food trucks Mama Kim's Korean BBQ, Mijos Tacos and Sarcastic Sweets. The night of fun continues with karaoke and a raffle with awesome prizes. (Read more about the festivities here.) Let loose and get your play on!
The Details: June 11. 7–11 p.m. Members $15, non-members $20, $25 at the door. Providence Children's Museum, 100 South St., Providence, childrenmuseum.org.