Five Can't-Miss Events of the Week: June 4–10
PVD/BOS food truck battle, Hope Street Block Party, Chowder Cook-off and more.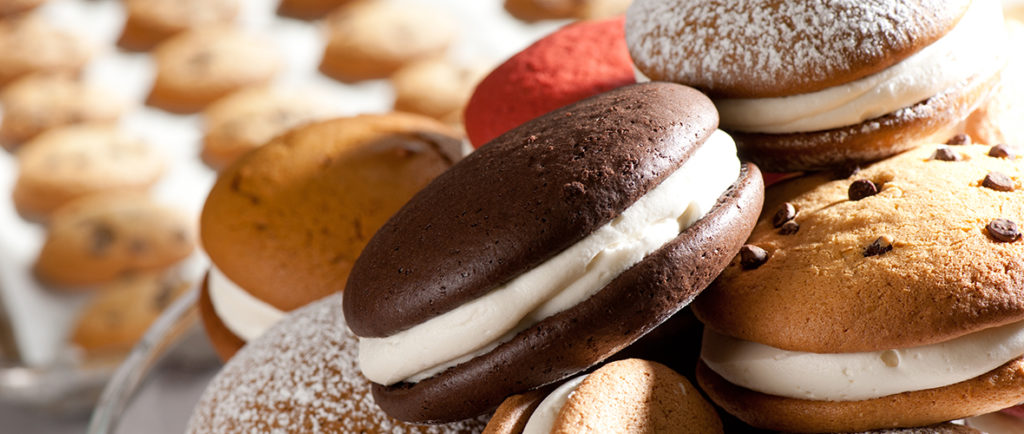 Providence/Boston Food Truck Showdown
Each claims to be the best food truck city in New England, but only you, supreme eater, can be the judge of that. Food trucks from both historical cities will take over India Point Park in Providence, serving the region's best grub on the go. Repping Rhode Island is Fancheezical, GottaQ BBQ Food Truck and Catering, Plouf Plouf Gastronomie, Rhode Rage and Shuckin' Truck. Showdown attendees can also sample fare from Boston's Cambodian, Italian, Asian and Turkish food trucks, but we'll go to the dark side for one thing only: a delicious, airy whoopie pie from the Whoo(pie) Wagon, based in Topsfield, Massachusetts. Photo by Kindra Clineff.
The Details: June 6. 11 a.m.–5 p.m. General admission $5, VIP $20, children younger than twelve free. India Point Park, India St., Providence, eventbrite.com.
Hope Street Block Party
"Block party" is putting it delicately. This big biannual festival shuts down five major blocks on Providence's happening East Side, from Rochambeau Avenue all the way to Seven Stars Bakery. The Hope Street Merchants Association fills the street space to capacity with food trucks, a pop-up playground, games, a face-painting station, a rock-climbing wall and more fun. The musically inclined can sign up for a slot at the PVD Hoot open mic, and the stage-fright-prone can sit back and catch live performances by Providence-based acts Ravi Shavi, the Extraordinary Rendition Band, Chachi Carvalho and others. Participate in a pie-eating contest, help raise funds for Festival Ballet by drinking beer and get some summer style inspiration at the fashion show, organized by Hope Street shops.
The Details: June 6. Noon–6 p.m. Free admission. Hope Street, Providence, hopestreetprov.com.
Great Chowder Cook-off
Chowdah: Every seafood restaurant on the coast of New England claims to serve the best. See how their recipes measure up at the longest-running chowder championship, which draws competitors and crowds from across the country (and world!). Enjoy samples of traditional and exotic chowder and vote for your favorite. Past winners hail from all over the map, from Stefano's Seafood in New Jersey and Davenport's Bar and Grille in Rhode Island to the West Bar all the way in Ireland. In addition to unlimited chowder sampling, the event includes live entertainment, food and bar options and activities for the little ones.
The Details: June 6. Noon–6 p.m. $20 in advance, $25 day-of. Children younger than twelve free. Fort Adams State Park, 90 Fort Adams Dr., Newport, 888-900-8640, newportwaterfrontevents.com.
Native Plant Sale
Create a bountiful garden this summer by choosing plants that thrive in local soil. The Rhode Island Wild Plant Society is hosting its annual native plant extravaganza at URI's East Farm, and green thumbs will want to leave with a little bit of everything. Find a variety of grasses, shrubs and trees, as well as summer- and fall-blooming perennials for shade, sun and wetland environments — all native to the Ocean State. Pick up some bright celandine poppies and pretty purple irises, or get a start on the meadow rue patch of your dreams. All profits support the society's educational programs and events.
The Details: June 6. 9 a.m.–1 p.m. Free admission. URI East Farm, 1 East Farm Rd., Kingston, 401-789-7497, riwps.org.
StyleWeek Swim
Need an incentive to whip your beach bod into gear? Look no further than this annual fashion event, hosted by StyleWeek Northeast. Arrive at Hotel Providence at noon for cocktails and shopping in the Accessories Showcase. Then, take a seat by the runway and view the latest resort wear collections from local designers Jonathan Joseph Peters, Jess Abernethy, Alistair Archer, Amy Stetkiewicz, Antwan Byrd and Artiss Akarra. Expect a mix of poolside fashion for men and women and skimpy-chic bikinis for the body-confident. Stick around after the show for the StyleWeek Swim after-party.
The Details: June 7. Noon–6 p.m. $35. Hotel Providence, 139 Mathewson St., Providence, styleweeknortheast.com.