Five Can't-Miss Events of the Week: June 25–July 1
Secret gardens, art fests, jazzy wine and more.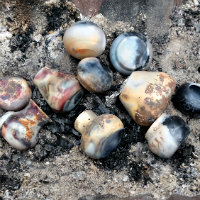 Secret Garden Tours
Who can resist the temptation of a secret garden? See how Newport's wealthy residents organize their plots of perennials at the biannual Secret Garden walking tour. Traipse amongst the tiger lilies, romanticize amidst the roses and learn the history behind the gardens of Newport's Gilded Age. The tour runs rain or shine, and gourmet boxed lunches will be available for purchase. Proceeds from the event support art, music, theater and other cultural programming in Aquidneck Island public schools.
The Details: June 26–28. 10 a.m–5 p.m. Advance tickets $20, tickets purchased at the door $25. 32 Washington St., Newport, secretgardentours.org.
Clayfest
"Look, don't touch!" is usually the phrase of choice when pottery is around, but at Clayfest, poking fingers and sculpting hands are necessary as you learn about and mold your own clay pots. Check out pottery wheel demos by the Newport Art Museum, see a pit fire demonstration by Fat Robin Pottery, browse ceramics vendors and let your kids dig in at the creation station. Find a muse at the exhibition "Fired and Inspired: Ceramics at Rough Point" and use those digits to feast on food truck snacks or your own packed picnic goodies. Photo courtesy of Fat Robin Pottery.
The Details: June 27. 10 a.m.–4 p.m. Non-members $15, Newport Art Museum members $10, children $8. Rough Point, 680 Bellevue Ave., Newport, newportrestoration.org.
Newport Art Festival
Imagine a large art museum with endless rooms of drawings, sculptures and paintings. Imagine the feeling of being overwhelmed by the labyrinth of fine art ending with an overpriced cafe serving cold coffee and dry croissants. Now imagine being able to enjoy art in the sunshine, sans exhaustion and bland food. This dream is a reality and is yours for the taking at the Newport Art Festival. Small, intimate and with an array of art and accessories, activities and tasty fair food, forget your museum-induced exhaustion with a stroll on Bowen's Wharf as the sea breeze caresses your hair.
The Details: June 27–28. 10 a.m.–6 p.m. Free. Bowen's Wharf, Newport, festivalfete.com.
Zoobilee: Feast with the Beasts
Munch with monkeys and graze with gazelles at Roger Williams Park Zoo's Zoobilee: Feast with the Beasts fundraiser. As the animals chow on their feed, indulge in decadent food prepared by the top chefs in Southern New England. In addition to furry, four-legged dining buddies, there will be live music from Boston band, Redline, and the opportunity to bust out the fox trot and — dare I say it — the chicken. Can't make the party? There will be an online auction of all kinds of goodies for a good cause. Proceeds from the event and the auction will support the zoo's environmental education and wildlife conservation programs.
The Details: June 27. 7–11 p.m. Non-members $125, members $100. Roger Williams Park Zoo, 1000 Elmwood Ave., Providence, 401-941-4998, rwpzoo.org.
Summer Concert Series: Gilson Schachnik Brazilian Jazz Trio
Smooth wine, smooth jazz and smooth breezes abound when the Gilson Schachnik Brazilian Jazz Trio visits Sakonnet Vineyards. Listen to Bossa Nova-infused jazz as you sip vino and mull over purchasing a vacation home in Sao Paolo. The Gilson Schachnik Brazilian Jazz Trio features pianist and Berklee instructor Gilson Schachnik, bassist Dave Zinno and flutist Fernando Brandao. Tapas, flatbread pizza, desserts and other treats will be available for purchase at Carolyn's Cafe.
The Details: June 28. 1–4 p.m. $10 cash per carload (includes $10 wine voucher). Carolyn's Sakonnet Vineyards, 162 West Main Rd., Little Compton, sakonnetwine.com.