Five Can't-Miss Events of the Week: July 30–Aug. 5
Al fresco films and music, WaterFire, artsy heads and more.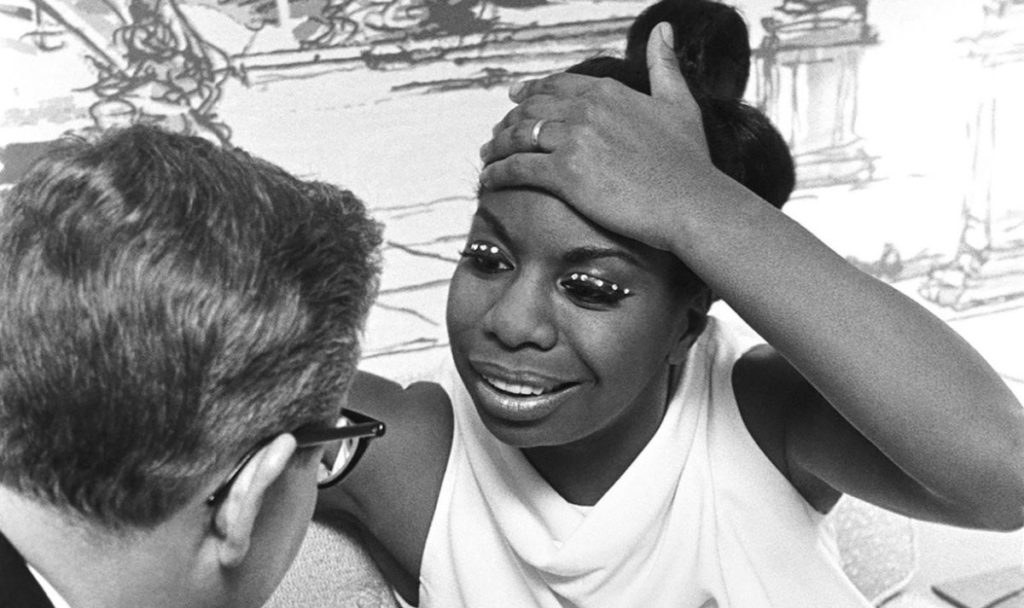 Burnside Music Series: String Builder
Sip an icy drink, frolic next to the park fountain and tap your toes to some acoustic melodies. Treat yourself to an evening at Burnside Park and catch Rhode Island's neo-traditional folk family band, String Builder. The band was formed in the late 1990s by brothers Alec and Joel Thibodeau — the former a celebrated local artist and the latter the frontman of nationally known indie band and Newport Folk Festival alum, Death Vessel. Complete your night with a beer or sangria from Trinity Brewhouse, mouth-watering grub from Rhode Island's fine food trucks and nothing but folk-friendly vibes.
The Details: July 30. 4:30–7 p.m. Free. Burnside Park, 2 Kennedy Plaza, Providence, 401-331-5544, kennedyplaza.org.
newportFILM: What Happened, Miss Simone?
Nina Simone, an American singer, songwriter, pianist and Civil Rights activist, lived a life of tremendous success and tortured struggle. This revealing documentary digs into the details of Simone's life, including never-before-heard recordings and rare footage of the often-misunderstood artist. Her story will largely be told in her own words, along with interviews with Simone's daughter, collaborators and friends. Arrive early for live music by La Mechante et le Connard, then hear an introduction to the film by Newport Jazz Festival producer George Wein. After the screening, stick around for a discussion with film director Liz Garbus, moderated by The Hollywood Reporter's Tatiana Siegel. Be sure to bring your own picnic or purchase a treat from Tallulah's Taco Cart, Boru Noodle Bar or Tricycle Ice Cream.
The Details: July 30. Music 7:15 p.m., film 8:30 p.m. Suggested donation $5. Doris Duke's Rough Point, 680 Bellevue Ave., Newport, 401-649-2784, newportfilm.com.
"Heads Up: Recent Gives to the Collection"
Do you ever get that feeling that someone is watching you? At this new RISD Museum exhibit, all eyes will catch your every move. Celebrating many recent gifts to the museum's collection of prints, drawings and photographs, "Heads Up!" features thirty-five portraits and representations of the head by well-known artists. The collection includes works by Betye Saar, Jim Dine, Nicole Eisenman, Sally Mann, Susan Rothenberg and Weegee. In addition to the recent gifts, RISD Museum's robust prints, drawing and photographs department is home to more than 25,000 works dating from the fifteenth century to today.
The Details: July 31–Jan. 10. Tues.–Sun. 10 a.m.–5 p.m., Thurs. 10 a.m.–9 p.m. Open until 7 p.m. on Saturdays through Labor Day. Adults $12, seniors $10, children ages five to eighteen $3, children younger than five free. Free admission on Sundays. RISD Museum, 224 Benefit St., Providence, 401-454-6500, risdmuseum.org.
WaterFire Featuring Festival Ballet
Fiery dance in front of actual flames: It's a near-combustible combination. This Saturday's full-basin WaterFire lighting, which boasts more than eighty floating bonfires installed in Providence's three downtown rivers, will also include a free program by Festival Ballet Providence with four memorable dances. Students from the organization's summer intensive program kick off the night with a dance from Swan Lake. Next up is choreographer Jose Limon's A Choreographic Offering, set to Bach, then the show takes a jazzy turn with Bossa Nova Baby featuring music by Elvis Presley. The night concludes with excerpts from The Firebird, a Russian fairytale choreographed by Festival Ballet's own Mihailo Djuric, and a finale and torch procession with honorees from Rhode Island Defeats Hep-C. Photo by Emily Gauvin.
The Details: Aug. 1. 7:30 p.m. Free. Waterplace Park Stage, Francis Street, Providence, waterfire.org.
FLICKERS Rhode Island International Film Festival
FLICKERS is back for its nineteenth season, ready and waiting to present the newest voices in independent film. This year, the organization will screen more than 260 of the best in kids' films, shorts — think: LGBTQ, veteran, women, horror, French and romance shorts — plus full-length feature films. In addition to screenings, event-goers can attend filmmaking workshops, walking tours, meet-and-greet industry events and seminars all across Rhode Island. Don't miss the official festival block party on August 8 at the Dark Lady in Providence. Film still, pictured at left: Help Us Find Sunil Tripathi, a documentary by former CNN journalist Neal Broffman about the Brown University student who disappeared a month before the Boston Marathon bombings in April of 2013. In an online witch hunt, Sunil was misidentified as a suspect before the true bombers were named by the FBI. Screens on August 8 at Brown University.
The Details: Aug. 4–9. Pass prices and show times vary. Various venues in Rhode Island, 401-861-4445, film-festival.org.