Five Can't Miss Events of the Week: July 21–27
newportFILM, Lucius, Balloon Fest and more.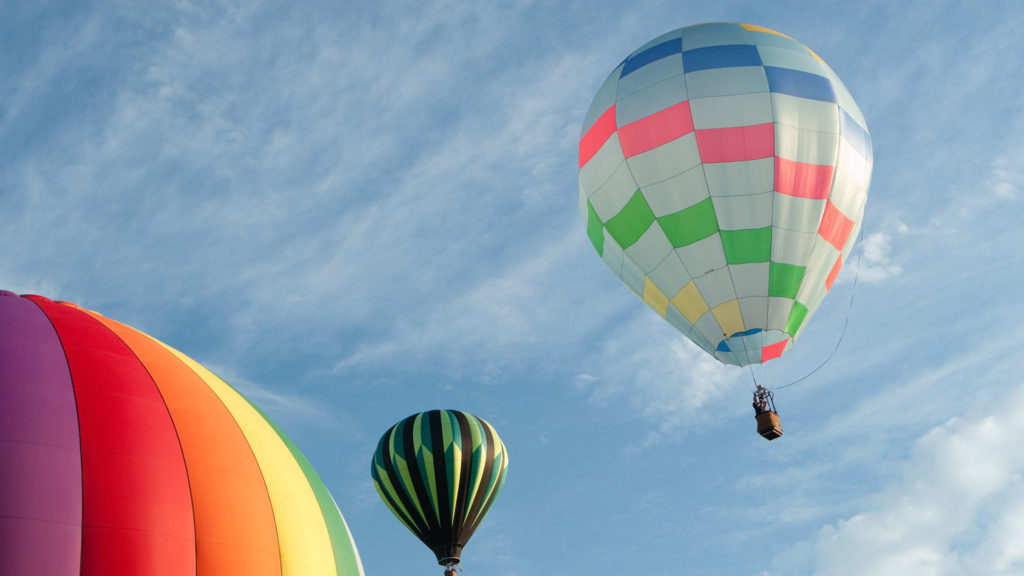 Life, Animated
It's time to take that picnic basket out of the cupboard and head down to Newport because you won't want to miss this week's newportFILM documentary, Life, Animated. Follow the remarkable story of Owen Suskind, who, at age three, was diagnosed with regressive autism and lost his ability to speak. In time, he discovered a new way to communicate with the help of his favorite animated Disney films. Munch on free popcorn courtesy of St. Michael's Country Day School and enjoy your favorite sweet treat from Tricycle Ice Cream as you watch this inspiring story unfold. Stick around after the film for a conversation with Owen's parents, Pulitzer Prize-winning journalist Ron Suskind and his wife, Cornelia, moderated by the Hollywood Reporter's Tatiana Seigel.
The Details: July 21. 8:30 p.m. Suggested $5 donation. St. Michael's Country Day School Lawn, 180 Rhode Island Ave., Newport, newportfilm.com.
Summer Concert Series: Lucius with Math the Band
There's no better way to experience summer in the city than with a free outdoor concert. Kick off the weekend this Friday night by listening to the Brooklyn-based indie pop band, Lucius, and Providence's own synthesizer-punk collective, Math the Band, at Waterplace Park. The summer-long concert series is hosted by 95.5 WBRU and is sponsored by Dunkin' Donuts and Narragansett beer. Whether you're rocking out on the stadium-style seating in the park or swaying to the music in your kayak in the river behind the stage, you'll be feeling festival vibes this weekend.
The Details: July 22. 7 p.m. Free. Waterplace Park, Francis Street, Providence, wbru.com.
South County Balloon Festival
Hold on to your hats! This weekend, fly high with the South County Hot Air Balloon Festival, where, after a fun day filled with barbecue, carnival rides, live music and more, you can watch the glowing sunset while gliding across the sky in a hot air balloon. If heights aren't your thing, there's plenty to do on the ground. While digging into your favorite barbecue treat, watch the Cannon Lady soar through the sky, then catch a fireworks show later in the evening.
The Details: July 22–24. Fri. 4–10 p.m., Sat. 11 a.m.–10 p.m., Sun. 11 a.m.–6 p.m. Adults $10. youth $5. Children five and younger free. Family four-pack $25. Free parking. University of Rhode Island Athletic Fields, Kingston, southcountyballoonfest.com.
Newport Bridgefest
You love the Newport Folk and Jazz Festivals, you gear up for them all year, but what about those days in between? Don't worry: The City by the Sea has you covered. Stick around between the two festivals and get your groove on during Newport Bridgefest, a few days of nonstop melodies to satiate your appetite for music. Hang around this seaside town and start the week off with a free acoustic jazz session with Steve Deconti at OceanCliff on Monday. Spend Tuesday night listening to live jazz at Jo's American Bistro, or merely stroll the waterfront and catch the buskers at Bowen's Wharf. With these performances and so many more to choose from, we can't think of a better way to bridge the festival gap.
The Details: July 25–28. Visit the website for show times and ticket information. Various locations throughout Newport, newportbridgefest.com.
Providence Fringe Festival
Calling all fans of the arts! Whether you're into ballet, theater, concerts or watching puppets hanging from a trapeze (seriously), head over to Providence next week and experience all different brands of talent unfold before you. Watch ballerinas glide across the stage in Verge, which follows three young girls on their journey to become professional dancers, or rock out to Bard the Band, a group that transforms Shakespeare's famous words into contemporary melodies. Click here to read more about FringePVD.
The Details: July 26–30. Visit the website for show times. Most tickets are $5–$10. Various locations throughout Providence, fringepvd.org.