Five Can't Miss Events of the Week: Jan. 14–20
MLK reading, LEGO in action, Bowie tribute and more.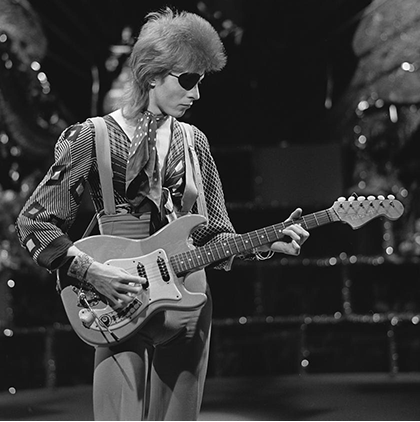 MLK Dramatized Reading
More than fifty years ago, Martin Luther King Jr. wrote a letter in Birmingham City Jail in the margins of a newspaper. In those margins was a response to a handful of white church leaders who felt his marches were "misguided" and "unwise." The letter was also a reflection of his deep-rooted beliefs and it implored all people who didn't want to take action. Leading up to Martin Luther King Jr. Day, director Ricardo Pitts-Wiley presents a dramatized reading of that letter at Mixed Magic Theatre in Pawtucket. Using young actors Rudy "Ru" Cabrera, Catherine Braxton and Rodney Witherspoon to perform the reading, Wiley sends King's fifty-year-old words through the mouths of millennials, folding the struggles of the '60s into those of today.
The Details: Jan. 15–16. 7:30 p.m. Jan. 17. 3 p.m. Admission is $15 per person. Mixed Magic Theatre, 560 Mineral Spring Ave., Pawtucket, 401-305-7333, mmtri.com.
FIRST LEGO League State Championship
Bear witness to the power of tiny plastic blocks. Forty teams of elementary and middle school students will send handmade LEGO robots across a rough, unforgiving terrain to collect the most points in less than three minutes. The course is challenging and only the fittest robot will stand tall above the rest. See the competition in person at Roger Williams University's Field House on January 16 for free. FIRST Lego League is a global program that challenges young kids in STEM learning through robotics and research projects. Only 300 students in the FIRST LEGO League have made it to the championship held on Saturday, ensuring a day of family-friendly entertainment that marries science and good ol' LEGOs.
The Details: Jan. 16. 11 a.m.–4 p.m. Admission is free. Roger Williams University, 1 Old Ferry Rd., Bristol, 401-253-1040, risf.net.
Funda Fest 18
In Zulu and Kiswahili, the word "funda" means "to teach and learn." There will be a lot of that going on at Funda Fest: a Celebration of Black Storytellers starting this Saturday. The impressive lineup of events kicks off in Westerly with a free family storytelling concert. A character named Mr. Deep Positivity busts out some encouraging rhymes about Dr. King's "Dream" speech followed by stories from the RIBS members. On Sunday, January 17, travel to Providence in the afternoon for some smooth jazz and creative poetry at the Madam's Backyard Bash event at the Southside Cultural Center. Friday offers a spoken word event by Rudy Ru at 7:30 p.m., followed by a rousing Liar's Contest at Mixed Magic Theatre in Pawtucket. Entering is easy; all you have to do is tell the biggest lie and you could win a prize. The fun continues on Saturday night with a storytelling concert for adults in Providence featuring Queen Nur, the president of the National Association of Black Storytellers, as well as spoken word artists from WORD and guest speakers. Funda Fest concludes on Sunday in Newport with a family storytelling concert.
The Details: Jan. 16–24. Times, locations and events vary per day. Visit ribsfest.org/ribsfest for the full schedule.
The Quahogs' CD Release
Gear up for an epic time at the Quahogs' CD release party this Saturday at the Columbus Theatre. The Providence-born band launched in June of 2011 and has since released two albums: Traveler's Log in 2013 and the EP, Spasms, in 2014. The New Year brought a new album for the band called Sunny Waste, which drops at the party. The band borrows aspects from a range of genres, including folk, blues and country, and sources inspiration from rock-and-roll greats the Rolling Stones, Nirvana and the Doors. On Saturday, the band shares the stage with opening acts Smith and Weeden and Hott Boyz. Guests of all ages are welcome, but you must be older than twenty-one to drink. It's a cash-only bar featuring tasty local beer, so come prepared.
The Details: Jan. 16. Doors open at 8 p.m., show begins at 9 p.m. Admission is $10 in advance and $12 at the door. Tickets can be purchased online here. Columbus Theatre, 270 Broadway, Providence, 401-621-9660, columbustheatre.com.
Diamond Dogs Sunday: A Tribute to David Bowie
This week we lost a great man and a musical superstar. Instead of sharing the tragic news on Facebook and listening to the hits alone, keep David Bowie's legacy alive with other fans at Fete Music Hall this Sunday. Watch as Rhode Island's diverse, talented music community joins in honor of a man who not only changed the music scene, but also inspired countless lives. (Even the arachnologists love him: In 2009, a creepy, crawly, yellow Malaysian spider was named after Bowie.) The free event will host a slew of local artists, including the Silks, Alec K. Redfearn and Rafay Rashid of Ravi Shavi, who will perform favorite Bowie covers. The chameleon himself will make an appearance; Bowie music videos will loop all night on Fete's big screen.
The Details: Jan. 17. 7 p.m.–midnight. Admission is free. Fete Music Hall, 103 Dike St., Providence, 401-383-1112, fetemusic.com. Photo by the Netherlands Institute for Sound and Vision.