Five Can't-Miss Events of the Week: Dec. 3–9
RISD sale, a celebration of cultures, Christmas at Bowen's Wharf and more.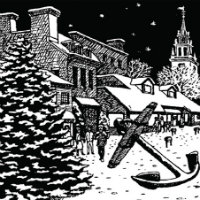 Foundry Sale
If you're tired of the same old, same old gifts in retail and want something special to wow a friend or family member, the Foundry Sale is where to look. With more than fifty artists producing works of art for the sale, there are numerous memorable gifts to be found in metal, leather, photography, ceramics, glasswork and more. Lynne Lovely's stained glass is truly something beautiful to behold, and Kingsley Weihe's earthy ceramics would brighten up any home. Be sure to swing by Mike Bryce's paintings on the way out if you're looking for a simple, elegant pleasure to gift yourself this season, and pick up a funky piece of art for your favorite kid by SepiaLepus Illustrations.
The Details: Dec. 3–6, 11–13. Times vary by per day. Admission is free. Armory Center for the Arts, 172 Exchange St., Pawtucket, foundryshow.com.
The Heidi Chronicles
Trinity Repertory Company is a seasonal staple with its performance of A Christmas Carol, but this holiday season Rhode Island's state theater also brings Wendy Wasserstein's play The Heidi Chronicles to life. The 1989 winner of the Pulitzer Prize for drama, The Heidi Chronicles follows a girl named Heidi's life from her teen years in the '60s to her adult life in the '80s. Directed by Vivienne Benesch, the coming-of-age play will run for one month. Whether you're a theater enthusiast or simply enjoy great entertainment, Trinity Rep will impress you from the very first scene.
The Details: Dec. 3–Jan. 3. Show times and ticket prices vary. 201 Washington St., Providence, 401-351-4242, trinityrep.com.
Celebration of Cultures
Roger Williams Park Botanical Center is a picture of diversity. New England's largest indoor public display gardens boast more than 150 species and cultivars of plants. On Saturday, the balmy tropical paradise will celebrate Rhode Island's own rich diversity. Bring a canned good for the Rhode Island Community Food Bank and enter into a world of Bollywood and Latin dance, Congolese drumming, storytelling, family activities and more. Learn about different cultures while sharing air with poinsettias, palms and rare flowers. Grab a snack from a food vendor, then take a tour that connects plants to culture.
The Details: Dec. 5. 11 a.m.-2 p.m. Free with canned good donation. Roger Williams Park Botanical Center, 1000 Elmwood Ave., Providence, web.uri.edu/ceoc.
Bowen's Wharf Tree Lighting
We all have those special holiday traditions we hold dear: drinking hot chocolate under warm blankets, roasting chestnuts, leaving cookies out for Santa. For the forty-fifth year, Bowen's Wharf invites everyone to join in their holiday tradition: the annual Christmas tree lighting. Alongside mayor Frosty the Snowman, Santa and Mrs. Claus will join in the festive night. Finally, the night wouldn't be complete without a Christmas carol sing-along. Restaurants and shops are open before and after the event if you want to dabble in some holiday shopping while you're out of the house.
The Details: Dec. 5. 4:30–6 p.m. Admission is free. 13 Bowen's Wharf, Newport, 401-849-3478, bowenswharf.com.
RISD Alumni and Student Holiday Art Sale
In the midst of the busy holiday season, all shopping trips tend to blur together. The RISD holiday art sale stands out in that blur. The sale features more than 200 unique RISD current and alumni student creations including apparel, jewelry, glass and fine art. Love keeping your palms warm but want your fingers free? Elyse Allen's fingerless gloves do that, and with blue-studded style. Perhaps mom wants to update her purse? Betsey Williamson's blue-green fringe bag will set her apart from the rest. And for the best-behaved person on your list, behold: stunning jewelry made by Felicia Cinquegrana. Whether you just pop in or stay the whole day, the RISD art sale is certainly a stop on the holiday shopping list.
The Details: Dec. 5. 10 a.m.–5 p.m. Admission is $8 per person, but free for current RISD students and children younger than fourteen. Rhode Island Convention Center, 1 Sabin St., Providence, risdalumnisales.com.