Five Can't-Miss Events of the Week: Aug. 27–Sept. 2
Arts fest, summer moon, Colonial protest and more.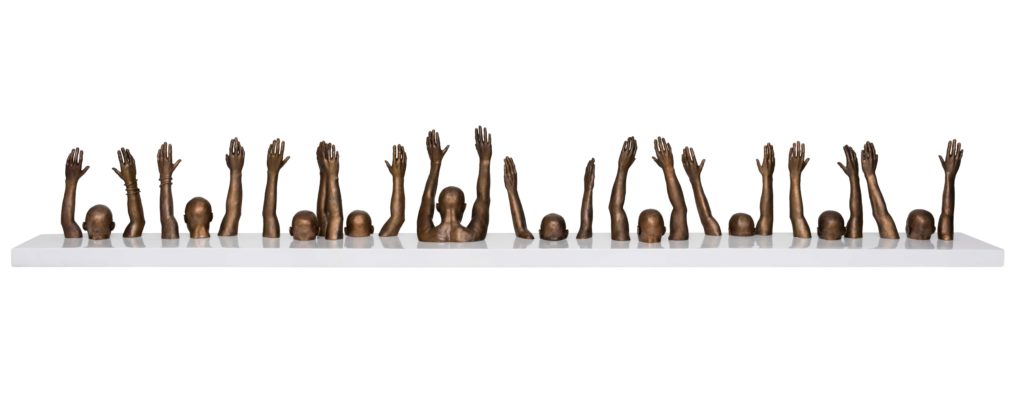 Pawtucket Arts Festival
Experience a whole month of creativity in the city of Pawtucket. The annual festival kicks off under the tent on the grounds of Slater Mill with the seventeenth annual Taste of the Valley and Blackstone River Party. Revel in an evening of tasty food samplings, live music, dance, refreshments and more. Don't let the party stop there; leap out of bed the next morning for the S.A.M. Fest on Saturday and Sunday. Shop art vendors, catch a film, sway to live music and explore Slater Mill. The fun continues through September with a fall festival and an arts marketplace, plus an array of musical and theatrical events all month.
The Details: Aug. 28–Oct. 2. Event times and ticket prices vary. Venues in Pawtucket, 401-728-0500, pawtucketartsfestival.org.
Hank Willis Thomas: "Primary Sources"
If you haven't heard of Hank Willis Thomas, you can find his work at the Modern Museum of Art New York. And the Guggenheim. And the Whitney. Basically, the man is an art god. Discover the acclaimed contemporary artist's sculpture and photographs, which challenge constructions of race, gender and identity, at Brown University's Bell Gallery. Thomas is best known for manipulating historical artifacts into primary sources that speak to the societal conflicts of today. The artist also incorporates hand gestures into his pieces, particularly those that represent protest. Mark your calendar for the opening reception and artist talk on September 11.
The Details: Aug. 29–Oct. 5. Fri.–Wed. 1–4 p.m., Thurs. 1–9 p.m. Free. Brown University's David Winton Bell Gallery, 64 College St., Providence, 401-863-2932, brown.edu.
Moonrise on the Seekonk
Celebrate the last full moon of the summer at a free, family-friendly outdoor event hosted by the Blackstone Parks Conservancy, with support from the Partnership for Providence Parks and Urban Wildlife Refuge Partnership. Pack a picnic and blanket or chairs, dress in long pants and closed-toe shoes and head to Blackstone Park — a little-known gem of a place overlooking the Seekonk River on the East Side of Providence — for trail walks, games and moon crafts for kids. At 6:30 p.m., dance to live tunes by Joe's Backyard Band, and at 7:30 p.m. watch the full moon rise over the Seekonk for the last time this summer. Howling is encouraged.
The Details: Aug. 29. 5 p.m. Free. Blackstone Park, across from the Narragansett Boat Club, 2 River Rd., Providence, blackstoneparksconservancy.org.
Stamp Act Protest and Party
It'd be pretty cool to start a revolution, don't you think? Dust off your breeches and waistcoats, head to Newport and make it happen. Watch Colonial history come to life during the Newport Historical Society's Stamp Act Protest, which celebrates the 250th anniversary of the original Stamp Act Riot, a protest of the first direct tax imposed on the colonies by the British government. The large-scale reenactment allows participants to meet with craftspeople, sailors, rabble-rousers and prominent historical families. Women can mingle at an upper-class ladies tea, children can play eighteenth-century games and all are welcome to parade along with the thrilling protest. Finish the day by partying like it's 1765 at the Stamp Act Party — beer and cheese for the patriots and tea for the loyalists.
The Details: Aug. 29. Protest 1–4:30 p.m. Free. Stamp Act Party 5–7 p.m. $25. Washington Square, Newport, 401-846-0813, newporthistory.org.
WaterFire
Nothing captures the heart and soul of Providence quite like WaterFire, which transforms the city into a powerful work of art. Barnaby Evans's award-winning installation sits upon three downtown rivers, creating more than eighty flaring bonfires that flicker along to enchanting music. This event attracts millions of visitors each year to Providence, not only bolstering our creative capital but also serving as a testimony to the influence of public art.
The Details: Aug. 29. Sunset 7:26 p.m. Free. 1 Citizens Plaza, Providence, waterfire.org.