Five Can't-Miss Events of the Week: April 23–29
Running with the roller-bulls, Urban Vintage Bazaar, Beer Fest and more.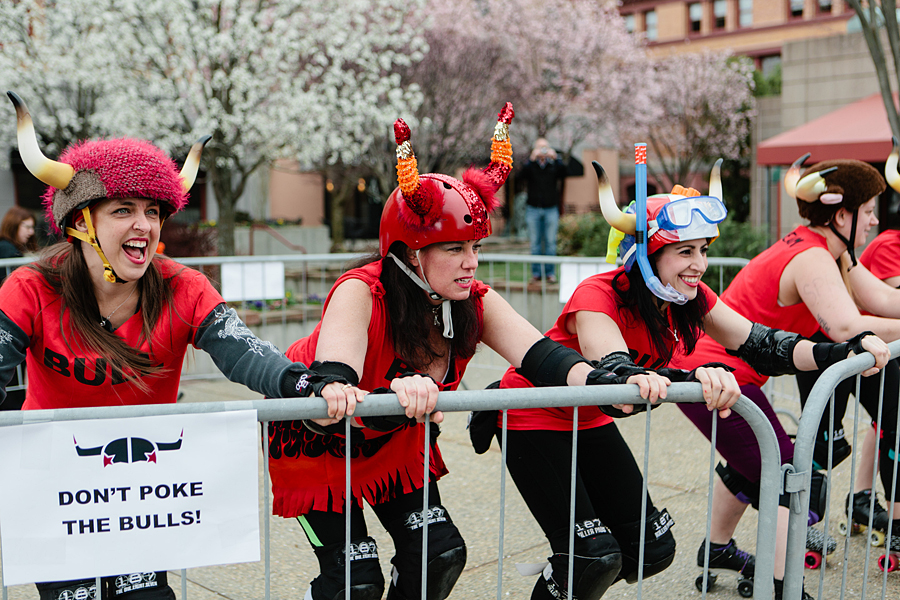 Get Gored for Good
In this creative take on Spain's Running of the Bulls, you're the red cape. Run or walk through downtown Providence with "roller-bulls" at your heels — i.e. fierce Providence Roller Derby league members wearing horns on their helmets, ready to swat participants with red paintbrushes. Go at your own pace on the two-mile route, then join friends and Derby gals at Burnside Park for an outdoor party with local food, drinks and live music. All proceeds benefit the Amos House, a nonprofit agency that provides transitional housing, meals and workforce training to the homeless and poor of Rhode Island.
The Details: April 26. 11 a.m. Adults $35, youth $20. Waterplace Plaza, Providence, 401-272-0220, getgoredforgood.org.
Urban Vintage Bazaar
Itching to spruce up your spring wardrobe? This annual sale, in its new location at the Arcade, boasts tons of throwback goodies to rejuvenate your style. Find clothing, furniture, accessories, artwork and other old-fashioned surprises. Shop chic dresses from Archetype Vintage, including the green stunner at the left, or pick up a new-to-you retro swimsuit from Vintage Haven. Then, browse goodies from Off the Record Antiques, which specializes in typewriters, telephones, sewing machines and other vintage gear that you'll put to good use today. Shhh: If you listen closely, you can hear the tap-tap-tap of Off the Record's turquoise-blue Smith-Corona — the typewriter of your dreams.
The Details: April 25. 10 a.m.–4 p.m. Free. Arcade Providence, 65 Weybosset St., Providence, 401-274-1700, facebook.com/urbanvintagebazaar.
Great International Beer Festival
Beer, pizza, thousands of new friends: This semiannual spectacle is where high-fives thrive and beer bellies get the respect they deserve. During two sessions, thirty-six local and national breweries — from Foolproof and Grey Sail to Berkshire Brewing and Harpoon — will dish out more than 250 samples, so it's safe to say you'll discover your new favorite brew in one swoop. Halfway through your tasting trek, stop off for bites from Pizza Pie-er and listen to live entertainment from local bands the Rock (afternoon session) and the Network (evening session). Then, get back to sampling and feel good knowing that some proceeds benefit local nonprofits, including the Rhode Island Community Food Bank.
The Details: April 25. Sessions at 1 and 6:30 p.m. $49 in advance, $52 at the door. Rhode Island Convention Center, 1 Sabin St., Providence, 401-458-6000, beerfestamerica.com.
Pawcatuck River Duck Race
Make way for lucky ducks. This annual event, now in its seventeenth year, offers one mellow-yellow afternoon that's fun for the whole family. Arrive early for children's games, face painting, a moonwalk and more in downtown Westerly. Then, stake out a prime waterside spot where you can watch more than 20,000 rubber ducks bob towards the finish line in the Pawcatuck River. Sponsor your own little guy for $5, cheering as it floats by, and be entered to win one of ninety covetable prizes, including gift certificates to local spas, restaurants and shops and a grand prize trip to Disney World. Proceeds from the race benefit more than fifty local schools and nonprofits in the greater Westerly area.
The Details: April 25. 11:30 a.m.–2 p.m. Ducks $5, corporate duck $150. 37 Main St., Westerly, 401-596-7761, public.westerlychamber.org.
RI Music Hall of Fame Induction Ceremony and Concert
George Wein. Mark Cutler. Brenda Bennett. Duke Belaire. The public is invited to celebrate Rhode Island's most beloved musicians at the Rhode Island Music Hall of Fame ceremony and concert. First up, see the unveiling of the 2015 exhibit in the Rhode Island Music Hall of Fame Museum. After the ceremony, head next door to the Met for performances by some of the inductees, including the Schemers and Raindogs, Brenda Bennett, the Ascots and the Others, plus an all-star jam session with Marty Ballou and Marty Richards.
The Details: April 26. 2 p.m. Ceremony free; concert $20 in advance, $25 at the door. Hope Artiste Village, 1005 Main St., Pawtucket, 401-729-1005, rhodeislandmusichalloffame.com.