Fish and Chips at Enders Island
On Friday evenings during Lent, head to Enders Island in Connecticut for fish n' chips and meditation.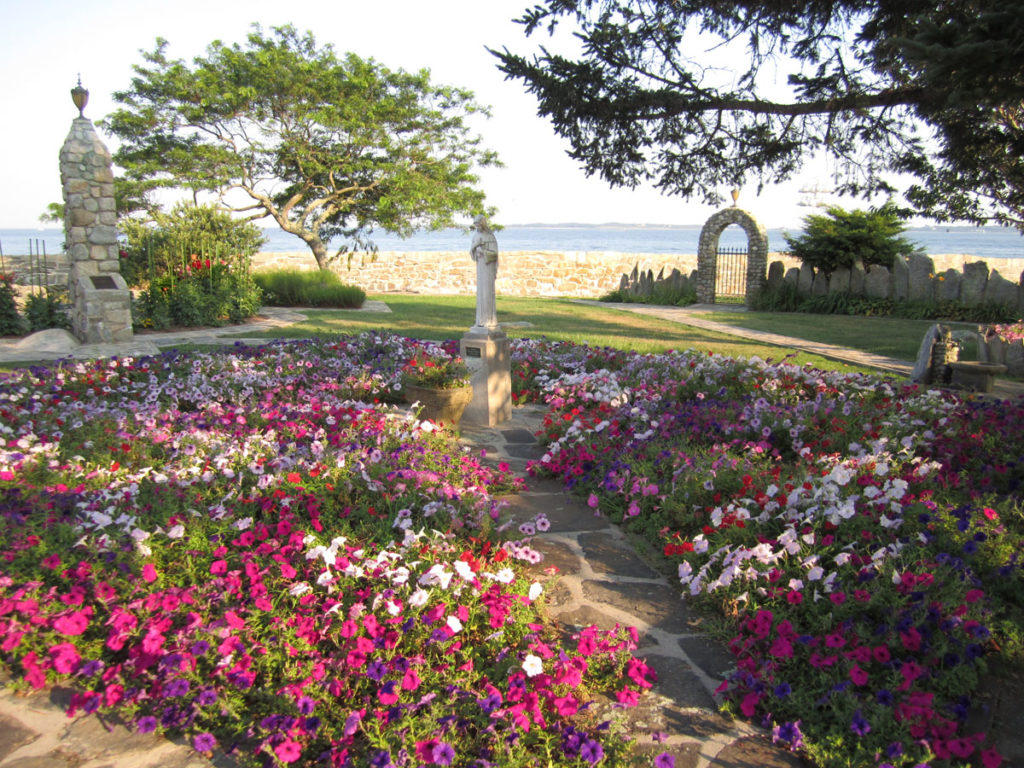 I stared out the car window of our 2001 dusty blue Toyota minivan as pine trees blurred by. My family was taking my sixteen-year-old self to Enders Island in Mystic, Connecticut, for a fish and chips dinner and stations of the cross, and teen me wasn't having it.
"Why are we driving to Connecticut to get fish and chips!?" I whined. Plus, Enders Island sounded like some sort of old, musty Lord of the Rings hobbit hole and stations of the cross was just long and boring—totally not worth the forty-five minute drive to Mystic from West Greenwich (cue the teen eye roll).
I pressed my head against the window and fell asleep, the dying sunlight making me see red beneath my closed eyelids.
I woke up to see ocean on all sides, save for the narrow strip of asphalt road we were driving on.
Images from endersisland Instagram
"We're here!" my mom said cheerfully. "Hmph," I grumbled. I unfolded my legs and got out of the car. I didn't want to admit it, but it was beautiful, in a simple way. The island was small, with stone chapels and buildings dotting the land like ancient ruins, and with spring's earliest flowers just beginning to color in the landscape. A cool breeze blew and I shivered, secretly glad to go inside the quaint stone chapel. The smell of incense curled through the quiet space and wood beamed ceilings and white-washed walls created clean, almost boat-like lines. I sat by my family in a creaking pew and the stations began.
My mind wandered from the service to the simple stained glass windows to the smell of fried fish wafting in from outside.
But I calmed down a bit, swallowing some of my pride with each chant, and when stations finished, hopped up, ready to get me some fish and chips.
The quiet of the chapel ruptured with chatter, and people happily meandered over to another small, humble building on the grounds. Huge hunks of crispy fried fish were served up alongside thick, wedge-like chips. I splashed some malt vinegar on and relished the flavor contrasts, the simple pleasure that is something fatty and fried paired with something acidic and bright.
Image from Wikimedia Commons, LearningLark
The day seemed brighter too, even as the sun dipped low and the stars began to emerge from their dark home.
It's now a tradition for us to go to Enders Island each Lent, to cleanse and meditate spiritually before hefting back to reality with greasy fish and chips. It's well worth the short trip, even if you skip the stations and even if you have to drag a petulant teen with you. Who knows, maybe they will change their mind about it, as I did.
Enders Island, besides offering fish and chips on Fridays during Lent, also offers an array of fascinating classes, from learning Gregorian chants to Pysanky Easter egg decorating to making your owned stained glass. See their website for times, prices and more information. 
(For more (closer to home) joints serving up fish and chips, check out our Insider's Guide blog here.)
1 Enders Island, Mystic, CT 06355, (860) 536-0565, endersisland.com.