Fire Works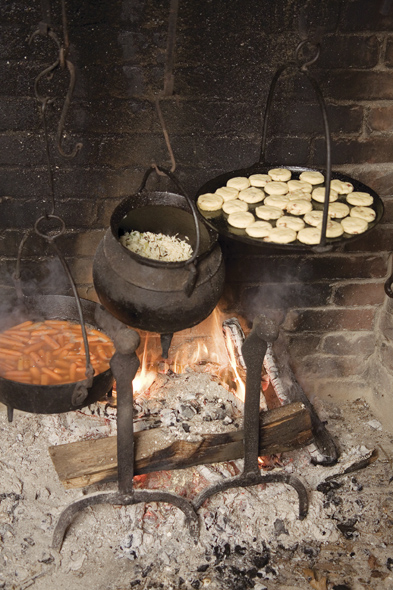 WHEN WE LIT THE BEEHIVE OVEN with a strand of spaghetti, Ted and I sensed we were in for an evening a bit out of the ordinary. Later, after the fire had burned down, the embers were raked, and the steel door was removed, we pulled Thomas Jefferson's rich, brandy-laced bread pudding out of that beehive. It was the end of two-and-a-half hours of stoking, poking, raking, chopping, mixing, shoveling, sniffing, stirring…well, cooking, colonial style. And it was anything but ordinary.
At Woody Hill Bed and Breakfast in Westerly, eleven modern-day cooks—along with the spirit of Jefferson and fueled by a spirited Fish House punch from George Washington's time—had gathered in a cozy keeping room for a highly spirited evening of hearth cooking lessons. Ellen Madison, innkeeper and keeper of the hearth, offers these very special hands-on classes just a few times a year (next date: February 10). Our group prepared ten dishes, inspired by her extensive collection of antique and reproduction cast-iron pots and pans, by historic and contemporary recipes, and by seasonal New England ingredients. Really, though, it's all about the fire.
Ellen Madison grew up in Westerly, the eleventh generation of her family to live there, and the fourth generation to live on the land where, in 1972, she built her colonial-era reproduction house overlooking acres of beautiful hay fields.
A former English teacher in the Ledyard, Connecticut, schools, she never intended to run a bed and breakfast.
In high school, Ellen was a babysitter at several local inns and motels. Years later, one of the motels was full during the busy summer season, and the owner asked if Ellen had a spare room in her house for some last-minute travelers. "The house wasn't finished," she recalls. "I didn't even have the doors yet! But I wanted to help, so I made room for his guests and hung a blanket over the doorway. It was very casual, but they were so grateful for a place to stay. By 1980, I was taking in guests pretty regularly. The owner of the Shelter Harbor Inn suggested I offer breakfast. I thought he was crazy, but I tried it. I ate a lot of cantaloupe that year, as I figured out by trial and error how to plan the breakfast part."
Eventually she built on to the house, transforming it into a three-bedroom inn. And in 1994, she added the keeping room, complete with paneled walls, wide-board floors, twelve-over-twelve windows, tavern cage bar, and a large cooking hearth and beehive oven.
Long interested in hearth cooking, Ellen had taken lessons from Cindy and Bill Clark, owners of Randall's Ordinary, a restaurant in North Stonington, Connecticut, which closed after it was bought by the Mashantucket Pequot Indians (of nearby Foxwoods fame). "When the tribe bought the restaurant, they discontinued the education part," Ellen says. "I'd always enjoyed having friends in for hearth cooking. And once in a while, my guests would get wind of it and ask if they could join us." With the Clarks no longer offering cooking classes, Ellen decided to design lessons for her guests and the general public.
Her menus draw from historic and modern recipes, but these classes aren't about the food. They're about technique: how to use the hearth and oven, regulate the fire, and take advantage of the style and shape of the various types of cast-iron pots and pans.
After a brief introduction to our tools for the evening, including nineteenth-century hay hooks and twenty-first-century ovenproof mitts and fire extinguishers, each participant volunteered to prep and cook one of the recipes. The menu, which varies with each class, combined historic and contemporary dishes: butternut squash soup, pork roast, cranberry relish, pear chutney, skillet corn bread and corn meal biscuits, honeyed carrots, herbed wild rice (with herbs from the garden), almond cake, and that sinfully delicious bread pudding.
The quiet of the keeping room gave way to rat-a-tat chopping (no food processors here!) and the occasional "Where's the pepper? Which pot should I use? Is the fire hot enough? Does the cornbread look done?" As we went along, Ellen described the characteristics of each type of cooking vessel (spider, gypsy kettle, hanging griddle, Dutch oven). She reminded us to feed the fires and preheat our pans slowly to avoid thermal shock. Some dishes dangled from a long iron rod over the flames, others nestled in the base of the coals. At one point, I counted six different pots and pans in the fire, each the responsibility of a different cook jockeying his or her pot into position at the hearth. "Time to turn the roast!" Ellen would call out, and whoever was nearby cranked the handle on the tin reflector oven.
My cooking companions had traveled from as far away as New York City and Cape Cod, and included several people with a serious interest in cooking and history. After a career in government, Lou Sakin worked for Trader Joe's, doing wine and food pairings. JoAnn Roselli, a baker, came for her third Woody Hill visit with her nieces, Susan and Deborah La Russo.
Carolyn McMorrow, president of the Wareham Historical Society and a retired restaurant owner, and her husband, David, live in a 1683 house with ten fireplaces, including a cooking hearth and bake oven. "I wanted to get a feel for cooking in the oven," Carolyn tells me, "how to judge the temperature, how to use the different cookware. Now I'm ready to try this at home. I do have a reflector oven, but I'm looking around for a few old cast-iron pieces."
Debra Vanderwerf, who came with her eleven-year-old daughter, Moriah Arnold, has taught hearth cooking for the Concord Museum and owns a 1764 farmhouse with a beehive oven she has yet to use. "I love doing hearth cooking," says Debra, "but I really wanted to gain more confidence about how to work in and around the fire. I definitely learned some new tricks. Using hay bale hooks to move the pots around is a great idea—I'd never thought of it. And I love that we each got to make one of the dishes, but then at the end we got to taste each other's."
With all of the dishes finished, we re-laxed in the gentle light of the keeping room. In the house set back from the road, surrounded by darkness unimpeded by car headlights or street noise, we imagined ourselves weary travelers who'd come to rest at a 1700s New England tavern. As the fires burned down, we opened a bottle of chardonnay from nearby Langworthy Farm Winery and shared the results of our cooking along with the kind of congeniality that comes from spending time in the kitchen together. Ellen answered our questions about how to clean the cast-iron pots, how to revive old pots found at yard sales and antique shops, and how to use modern metal or glass cooking vessels to cook in your own fireplace.
Everyone pitched in to clear the tables and wash the dishes and, with a copy of the recipes in hand, Ted and I trundled off into the darkness, envying the lucky overnight bed-and-breakfast guests who'd enjoy our leftover bread pudding the next morning.
Hearth cooking lessons at Woody Hill Bed and Breakfast, Westerly; www.woodyhill.com, 322-0452. To contact Lydia Walshin directly, e-mail lydia@ninecooks.com.