Find Gorgeous Vintage Goods at the Vault Collective
Now you can get your vintage clothing fix from eight dealers all in one place in Providence.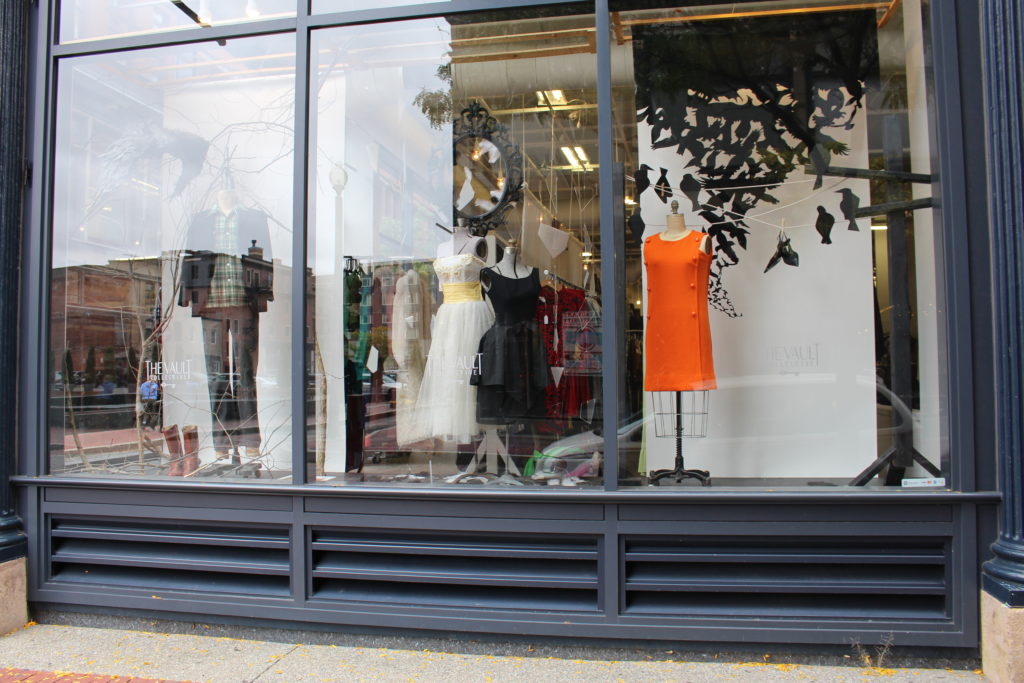 Looking for a '60s-era mod shift dress, floral skirts from the '40s or a flashy sequined number for a Gatsby-themed party? Now you can get your vintage clothing fix from eight dealers all in one place in Providence. The Vault Collective has opened a pop-up shop located at 235 Westminster Street in the former Craftland location (Craftland has moved down to 212 Westminster Street at the corner of Eddy).
The Vault Collective is open Mon.−Sat. from 10 a.m.−6 p.m. and Sundays from 11 a.m.−5 p.m. through February 28. Each vintage collector has his or her own section in the store, which they populate with one-of-a-kind items they've procured from estate sales, auctions or through personal acquaintances. From Ferragamo shoes to decked out mannequins sporting retro looks and pill box hat displays, each collection is arranged into visually stunning vignettes. All of the dealers also have Etsy stores, and sell the same merchandise online, meaning it can disappear quickly and be shipped to collectors all over the United States. "There's a high turnover and no holds so if you see something you like, you should get it right away," says Vault Collective owner Ruth Meteer. We can attest to that as we visited twice within two days and window displays had already sold garments straight off the displays.
The idea for the Vault Collective started with Meteer, who began by selling her vintage clothing under the label Gypsy Vintage and Designer at the Urban Vintage Bazaar and SoWa Open Market in Boston. Many of the collectors she met also sold at the Providence Flea and the annual Rock and Roll Yard Sale. Most dealers worked out of their homes. "Rather than storing all of their merchandise in closets and under beds, now they can store them here," says Meteer. "We also have a photo studio and co-working office space where they can take photos for their Etsy pages and run their online shops."
Meteer is an avid collector, and her favorite piece hangs in the middle of the store: A '70s-era floor-length, one-shoulder Lanvin gown in an op-art print in bright red, green, orange, purple and black with a one-inch-wide exposed zipper down the side. "I got a call from a guy who was cleaning out his mother's house. She had died twenty years before, and the second floor of the home was filled with all of her clothing," says Meteer. "She was a dancer in the '50s and '60s and she had all of these high-end pieces that were only worn once or twice." The gown is Meteer's favorite, but it's one size too big, so she's looking to send it off to a happy home. Her other pieces include cropped sweater tops, a cropped vest with fringe and high-waisted floral skirts.
The other collectors featured at the Vault include Uptown Vinyl and Men's (lots of fun printed Nordic-style sweaters, lumberjack plaid coats, corduroy vests and leather cowboy boots), Archetype Vintage (high-end designer vintage goods; we spotted a Herve Leger bandage dress on the rack), Pretty Old Vintage Goods, Mardy Stark, Vintage on the Rocks, Galyean Vale Home Goods and Eleven Twenty Eight. 235 Westminster St., Providence, 401-250-2587, thevaultri.com