Farm Fresh Recipes
Two Rhode Island chefs share their favorite methods for cooking a few late summer/early fall picks.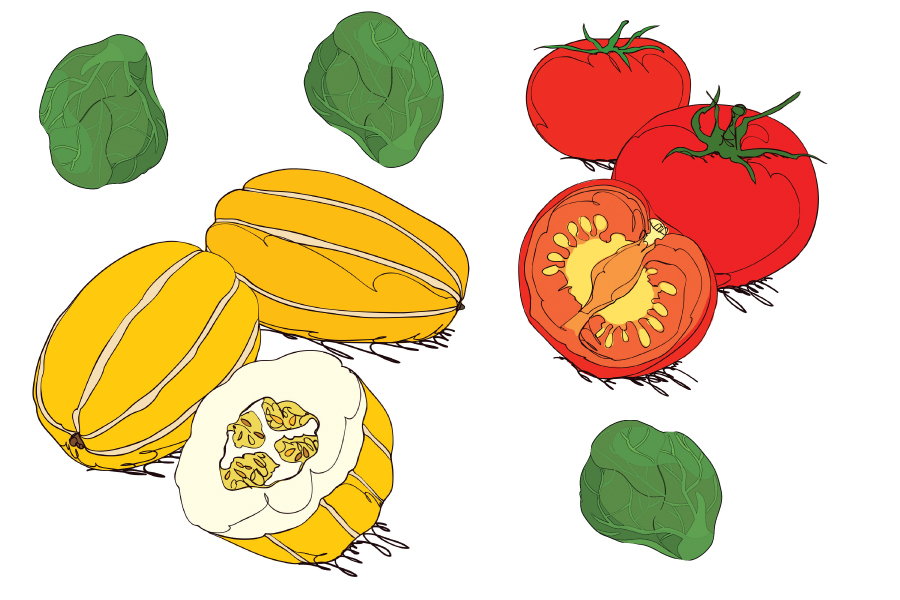 What does autumn mean to you?
Changing leaves, chilly weather, mom's pumpkin pie warming in the oven…how about Brussels sprouts? As fall descends on farmers markets, keep an eye out for the latest crop of seasonal vegetables, which includes Brussels sprouts, peppers, sweet potatoes and pumpkins, among others. Why buy in-season? Out-of-season vegetables often reach supermarket shelves after days of shipping. Grown in hothouses, harvested early and refrigerated, these vegetables have lost much of their natural flavor and texture. The various chemicals used to keep them fresh can also be a turn-off. When you buy in-season vegetables fresh from a farmers market, you're getting fully ripe, juicy tomatoes harvested yesterday. Not to mention, vegetables are far cheaper when they're in season, and local family farms will thank you for the support.
---
Spaghetti squash
It's got magnesium, calcium and doses of manganese, an important mineral for producing healthy bones and tissues. Squash is also a great way to get fiber without the high calories and carbs of processed grains.
Heirloom tomatoes
One of the most heart-healthy foods, tomatoes are a rich source of vitamins A, C and lycopene. These all protect tissues and mediate the effects of stress and aging. About 40 percent of Americans get too little vitamin A and one-third of the vitamin C they should, according to the Department of Agriculture.
Brussels sprouts
Just one serving of Brussels sprouts and you've met your daily requirement of vitamins C and K. These green veggies also provide fiber, reduce cholesterol and keep your digestive system working smoothly. Other nutrients include protein, iron and potassium.
---
Spaghetti Squash 'Pasta' with a late-season heirloom tomato and basil sauce
From Chef Eli Dunn of Eli's Kitchen, Warren
5 lbs of spaghetti squash (one large or two smaller)
2 lbs of late-season heirloom tomatoes (preferably the blemished ones you don't want to eat raw)
3 cloves of good garlic, thinly sliced
½ tsp chili flakes
½ cup olive oil
handful of basil
salt and pepper
good Parmigiano Reggiano (not necessary, but delicious!)

Preheat the oven to 375 degrees.
Cut the spaghetti squash in half lengthwise. Scoop out the seeds and coat the inside evenly with ¼ cup olive oil. Season liberally with salt
and pepper and place on a well-oiled sheet pan, cut-side down. Roast for forty to forty-five minutes or until the squash feels tender when pinched.
As squash roasts, bring a large pot of salted water to a boil. Remove the stems from the tomatoes and cut an "X" in the bottom of each. Carefully lower tomatoes into the boiling water and blanch for sixty seconds. Carefully remove tomatoes with a slotted spoon and toss into a bowl of ice to stop the cooking. When cool enough to handle, peel the skin away from each tomato. Core the tomatoes and remove the seeds. Roughly chop the remaining tomato flesh and set aside with the remaining juices.
Heat a large skillet over medium heat. Add remaining ¼ cup olive oil to skillet. Fry the garlic slices and chili flakes in the oil until they release their aroma and turn slightly golden brown. Add the chopped tomatoes and their juices to the skillet. Season with a little salt and simmer for ten minutes. Tear the basil into pieces and add to the sauce with a little more salt and pepper if desired. Cook for another five minutes. Keep warm.
Remove the squash from the oven and turn each half over. Let cool for ten minutes. When cool enough to handle, shred the squash with a fork until all the flesh is removed from the skin. Season squash 'pasta' with salt and pepper and divide amongst two-to-four plates. Serve with sauce and Parmigiano Reggiano.
Roasted Brussels Sprouts with pomegranate, yogurt, and soy vinaigrette
From Chef Jake Rojas of Tallulah on Thames
Brussels Sprouts
1 ½ pounds Brussels sprouts, trimmed and
cut in half
¼ cup grapeseed oil
2 tsp fennel pollen, divided
kosher salt and freshly ground black pepper
Soy Vinaigrette
¼ cup light soy sauce
¼ cup Sherry De Jerez vinegar
2 Tbsp agave nectar
Yogurt
½ cup Greek yogurt
2 Tbsp honey
Garnish
½ cup cilantro leaves
1 lime

Pre-heat oven to 400 degrees. Place Brussels sprouts in a bowl and toss with oil, 1 tsp fennel pollen, salt and pepper. On a sheet pan lined with foil, spread in an even layer including all the loose leaves. Roast the Brussels sprouts for twenty to thirty minutes until tender, then switch oven to broil and cook till slightly charred and crispy.
For vinaigrette, combine all vinaigrette ingredients in a bowl and whisk. Remove Brussels sprouts from the oven and drizzle with the soy vinaigrette. Toss.
In a small bowl, mix yogurt and honey till desired sweetness.
In a small serving dish, add Brussels sprouts tossed in the soy vinaigrette, drizzle yogurt over top, sprinkle with Pomegranate seeds and garnish with cilantro leaves, remaining fennel pollen and lime juice. Serve.