A Tour of Every Family's Dream Backyard
It even includes an architect-designed treehouse.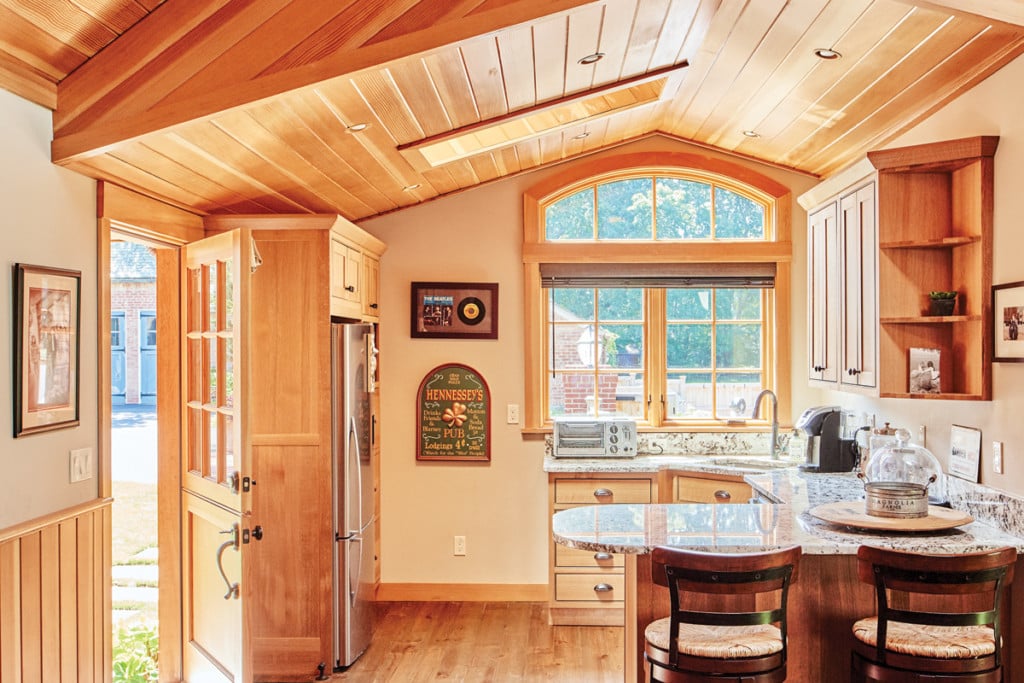 Hanging Out
"Work hard, play harder" could be the motto for the East Bay family that commissioned this unusual backyard retreat.
"(The owners) just kept saying to me, 'It has to be fun,' " says architect Patrick Connors, partner at Brewster Thornton Group Architects in Providence.
Fun was certainly key, since the homeowners envisioned a place where their two teenaged children, who are very active in sports, could gather with their friends and teammates after practice and on weekends.
The couple and Connors, along with contractors Gasbarro Design Build and Oden Home Improvement, set out to design a recreational compound complete with a treehouse (because what's more fun than that?). The goal was to give the teens plenty of space to entertain both indoors and out, while giving mom and dad a place to host their friends as well.
Located behind the main house, a 1930s country manor with lots of brick and ivy, the new addition complemented the house while also giving off a more relaxed vibe.
"We didn't want anyone hanging out there to be worried about kicking their feet up or throwing a sweatshirt on the back of a chair," Connors explains.
The resulting cedar structure exudes an Arcadian, lodge-like feel while still maintaining an air of sophistication.
Sky High
Despite their simplistic associations, much must be considered when building a treehouse. Connors and his team took great pains to make sure it was done right.
"I never had to document a tree before. It was a fun thing to measure and produce plans around all of the branches," he recalls with a laugh.
Tapping the talents of the Treehouse Brothers of Higganum, Connecticut, the final product includes a loft bed, electricity and killer views of nearby Narragansett Bay.
The treehouse looks out over the guesthouse and game room, which is where the majority of the project's work was focused. A renovation and expansion of an existing cabin on the property, the guesthouse was updated to include a master suite and kitchenette, while the game room — connected to the guesthouse by a covered breezeway — offers more seating for guests as well a choice of arcade games to play. Fir ceilings, oak floors and cabinetry throughout the space keep the cabin-like feel consistent. Below, an ipe wood rooftop deck, accessed by an enclosed spiral staircase, gives the adults their own treetop area to entertain.
Meet Me Outside
Flow was a major consideration in the project's design. In thinking about pool access, the team decided that a cabana, added on to the pool side of the garage so that guests would have a convenient place to change or grab drinks on their way outside, made sense.
Once outside, guests can choose to gather around the pool, which was relined, landscaped and outfitted with a firepit or head to the Parisian cafe tables under the pergola. On nights when the family is hosting team dinners, as many as forty teens can be found scattered throughout the pool area and playing games on the adjacent lawn. To keep boredom at bay, the couple also installed a sports court next to the new guesthouse, which can be converted for tennis, roller hockey, basketball or whatever new game the teens dream up.
When the couple have their own friends over, guests head just beyond the pool to another outdoor dining area complete with a bluestone bar and built-in grill. When the sun sets, outdoor lights give the tree-lined space — with its bamboo grove and koi pond — a magical glow.
Tying so many disparate elements together would challenge even the most seasoned architect, but Connors says he relished the opportunity to think like a kid again.
"As an architect who got his formative years building forts, it was a fun project to work on."