Fall River's Portugalia Market is a Taste of the Old Country
This sophisticated destination, in the heart of the city, abounds with cheeses, seafood and other treats.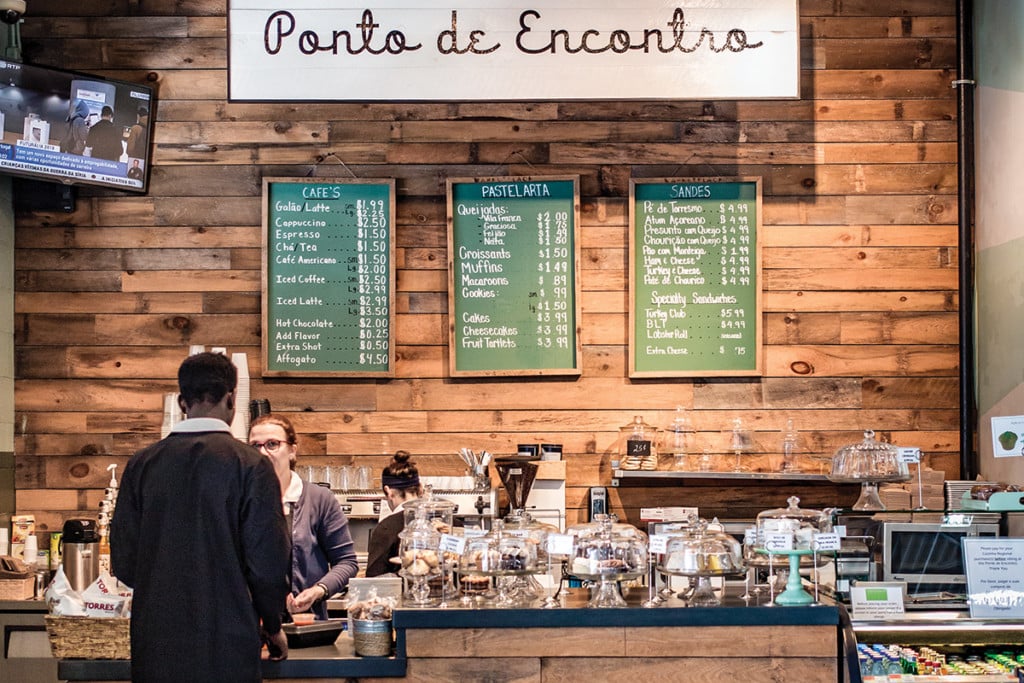 Where to eat
Patti's Pierogis
Patti's has been rolling, filling, pinching, boiling and frying some wicked pierogis since 2009, making a name for itself in a relatively short period of time. Pierogis, for the uninitiated, are essentially Polish dumplings: doughy goodness stuffed with cheesy mashed potatoes, amongst other fillings. They're usually served slathered in caramelized onions with a dollop of sour cream to cut through all that richness. Head to Patti's, bag some pierogies along with a few kielbasa and some czerwona kapusta (a.k.a red cabbage sweet and sour slaw) and you'll have the true makings of a Polish feast. 1019 South Main St., Fall River, Mass., 508-679-4001, pattispierogis.com.
Marzilli's Bakery
Marzilli's bakes its own bread every day in a 100-year-old brick oven. 'Nuff said. Okay, actually there's a whole lot more to say. Marzilli's takes its freshly baked bread and makes it the foundation for some stellar grinders, from the classic, zesty Italian to the homey, stuffing-filled Thanksgiving. After you pick your sammie, grab some potato salad and tiramisu for the perfect picnic spread. 944 Bedford St., Fall River, Mass., 508-675-5551, marzillisbakery.com.
Hartley's Original Pork Pies
Since 1900, Hartley's brings a taste of England to Fall River in the form of savory pies. The aroma of the pies, which are wrapped in golden, butter-flecked crust, is enough to lure you into the modest storefront. After picking up a few of the classic pork pies, grab some good grainy mustard, a jar of pickles and a wedge of sharp cheddar to have yourself a traditional English ploughman's lunch. Wash it down with some ale or cider and you'll think you're in ol' blighty. 1729 South Main St., Fall River, Mass., 508-676-8605, facebook.com/hartleysoriginalporkpiesfallriver.
Great places to explore
Lizzie Borden House
Lizzie Borden isn't just the subject of a catchy children's rhyme; she was a real nineteenth-century woman from Fall River who was tried and acquitted of murdering her father and her stepmother with an axe. Her name lives on in infamy, and now the Borden home is open to the public as a bed and breakfast and museum. Whether motivated by morbid curiosity or a desire to crack the unsolved case, guests can explore every nook and cranny of the site, which many claim is haunted. Those who dare spend a night are granted a more in-depth tour of the home, but daily tours of the house are also available. 230 Second St., Fall River, Mass., 508-675-7333, lizzie-borden.com.
Fall River Heritage State Park
Whether you visited Battleship Cove or are just passing through, a trip to this history-themed public park is a must. The scenic area features a view of World War II battleships and the Taunton River. Take a walk along the boardwalk, enjoy a picnic in the meadow or bring your fishing and sailing gear if that's what you're into. Davol Street., Fall River, Mass., 508-675-5759, mass.gov/locations/fall-river-heritage-state-park.
Great places for a pint
St. James Irish Pub
Having a day where things just aren't going your way? Turn your luck around at St. James Irish Pub. Unwind from the day with a choice of fourteen beers on tap and sample wings, burgers or seafood. Located in the heart of downtown Fall River, the Irish pub features daily specials, a full bar and TVs all around to watch the latest sports game. The pub also has something fun going on most evenings, from Irish music sessions to trivia to open mic nights. 91 Purchase St., Fall River, Mass., 508-672-6951, stjamesirishpub.com.
Tipsy Toboggan Fireside Pub/Tipsy Seagull Dockside Pub
The Tipsy Toboggan Fireside Pub is the younger sibling of the seasonal Tipsy Seagull Dockside Pub and a winter safe haven reminiscent of a ski lodge. When the seagull flies south for winter, the Tipsy Toboggan is the place to sip a brew and watch the game on large flat-screen TVs. From the antler chandeliers to the rustic furnishing, the Tipsy Toboggan has a cozy atmosphere that encourages patrons to feel at home. The two-story restaurant has a wood-burning fireplace, live acoustic entertainment, casual dining options and a generous selection of beer and cocktails. 75 Ferry St., Fall River, Mass., 508-567-0550, thetipsytoboggan.com.
Scotties Pub
Kick your feet up at this neighborhood pub, family restaurant and lottery bar "where friends are made." The two-story sports bar has twenty-four beers on tap, specialty cocktails and a full menu going until 1 or 2 a.m. Play a friendly game of pool, bust a move on the dance floor or watch the game on hi-def TVs while enjoying home-style cooking and a cold one. Scotties also prides itself on being the number one lottery bar in the city. 202 Pleasant St., Fall River, Mass., 508-678-8991, scottiespubfr.com.