Fall River's Portugalia Market is a Taste of the Old Country
This sophisticated destination, in the heart of the city, abounds with cheeses, seafood and other treats.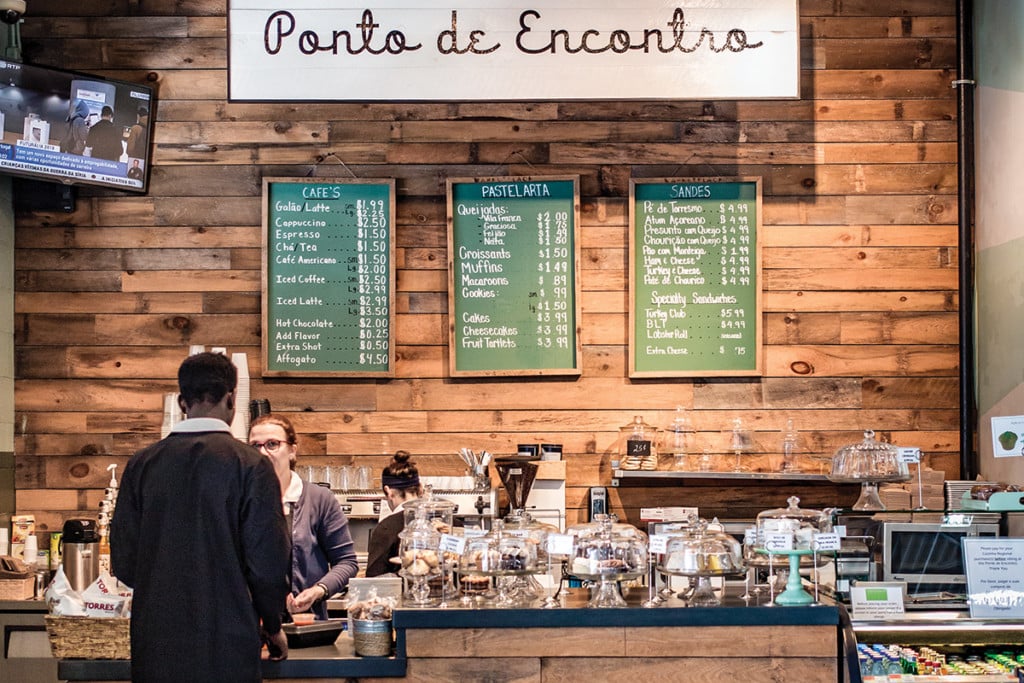 My first bite of chourico was messy. The crisp, taut skin burst, dribbling hot, red grease down my chin, while my mouth burned from its heat. Smoky, spicy, packed with paprika, it was unlike any sausage I'd had before. When I moved to Pittsburgh for college, I scoured the supermarkets for a bite of home, searching for the elusive turkey chourico that I could easily find in my local Walmart back in West Greenwich, of all places. But the only version I discovered was of the Mexican variety and, with all due respect, it just wasn't as good as the Portuguese links.
This was the start of my romance with Portuguese food, a small bite that grew into a full-blown affair after going to London and tasting the spicy Portuguese-South African piri piri chicken at Nando's. A torrid relationship was born.
This is why, as I drive to Portugalia Marketplace in Fall River, I can't help but feel a tiny thrill of anticipation to learn more about this food that few outside of New England (or England) know about.
Portugalia is large. Tiny, acidic Azorean pineapples fill one display, while people with loaded carts mill around, some entering a massive, windowed room in the far right corner that showcases row upon row of splayed cod, salted until hard. Just outside the salt cod room, freezer bins are filled with octopi, squid, smelt, sardines and other sea specimens, and across the way, huge wheels of Azorean cheese are ripe for the noshing.
In one corner of the massive store, a man with wild curly hair lounges at a cafe called Ponto de Encontro, or meeting point, a fitting name since the man's goal is to help shoppers get a taste of Portugal through this market.
Michael Benevides is the Willy Wonka of Portuguese culture and food. His voice speeds up and his eyes glint as he talks about chourico, Portuguese wine, bread, fish and the country itself. I thought I had a love affair with Portuguese food, but I'm a novice compared to Benevides; his obsession is deep.
He was born in the Azores, and his family came to Fall River in 1979, towards the end of the immigration flow, finding work, as many others did, in the factories.
"You start to see a lot of folks come over in the '60s and '70s because in 1957 a volcano had erupted on one of the islands. I think some politicians signed an agreement that allowed some of them to come over. So that's why, in this area, you have a sort of Azorean settlement here."
Thousands of people fled the island, with the heavy ash fall ruining industry and driving the community of farmers and fishermen to safer pastures and waters, with a good chunk of them settling in Fall River.
"Portuguese people have a pretty strong work ethic, and a lot of them didn't have higher education, so people came here to work in these positions that you didn't need to have one. They worked their tails off, quite honestly, as my folks did. My parents worked in factories."
With the influx of Portuguese immigrants, the demand for a taste of home arose.
In 1988, Benevides's father started a small business selling Portuguese coffee, which later expanded to a wholesale food operation run out of his three-car garage. As the demand grew, the business moved to a bigger space, and the idea took hold of Benevides's brain to explore the idea of creating a marketplace.
"I've always worked in the business, so I started to express more interest in it and in expanding it. My father and I looked at this property and I lobbied hard for it."
What is now Portugalia Marketplace was once an old mill building, with the original brick facade preserved inside.
"A lot of Portuguese people worked in these mills, it's so ironic to now shop in the mill that you once worked in," he says, stopping to say tudo bem to a gentleman who has come over for a quick hello. "Mills have a negative association for Portuguese people because they were like sweatshops, but we've transformed it into a food emporium, so it's a positive transformation and the locals, the community has embraced it."
But Benevides isn't just hoping to give an old mill new life; he is on a mission to revive Portuguese culture and food, and share it with the people of Fall River and beyond.
He's also bent on changing perceptions held by Portuguese suppliers, who often see the large Portuguese populations in Fall River and other cities in the United States as old-fashioned and unworthy of higher-quality products.
"We're looked at by the Portuguese, by those who live there, as the mercado da saudade," he says. Mercado da saudade means something like "the market with nostalgia for the homeland," which carries a negative connotation.
"There are generations in Portugal that look at the mercado da saudade as people who left the country at a time when it was backward, so we continue to be backward because we don't know the modern Portugal."
This was reflected in the products that Portuguese suppliers were selling to small markets like the one Benevides's father started in 1988.
"They have products that they've created for export, to feed the mercado da saudade. I was at a trade show and a Portuguese supplier saw my U.S. badge and we got to talking and his very first question to me was, 'Do you service the mercado da saudade?' I said I do, but I also work outside of that. He said our products are not designed for the MDS, that they're not sophisticated enough to consume our products."
Benevides shakes his head.
"That was unsettling for me because I'm a product of that market, and you're telling me that I'm not good enough for your modern products? I've made it a personal mission to let them know that they've got us pegged wrong," Benevides says. "Yes, there may be someone who consumes the way they always have, but you're missing the boat on their kids who now have become doctors, lawyers, teachers, writers, you name it, but who still associate with Portugal, who still say I'm Portuguese, my family is Portuguese. If you have this attitude towards Portuguese consumers abroad, then you're losing out."
This mentality drove Benevides to make Portugalia a more cosmopolitan space that would still appeal to the older generations of Portuguese in the area, but that would also provide more elevated, modern products.
In the process, the market has altered the way many see Portugal and Portuguese food.
"This market has really changed a lot of people's perceptions, and not just for the people here, but for Portuguese suppliers who visit the market."
Today, you can still find the products that define the mercado da saudade (cheaper bulk wines, olive oils and tinned fish) but they stand alongside the higher quality products that are inching towards trendy in the food world.
Benevides gives me a quick tour of the market, explaining what certain herbal teas are for, how Azorean chourico is spicier than that of the mainland and why a certain pepper condiment is a staple in the Portuguese pantry. In between breaths, he praises Portugal as the next big destination for tourists, and reiterates his mission to make Portugalia a ponto de encontro.
"This market has become so much more than just a food market. It's been a really positive image for Portugal. I tell people all the time: We don't just sell the food of Portugal, we sell the culture. We're constantly selling Portugal."