Fall Getaways
Adventures for food lovers, outdoors fans, antiques mavens and families.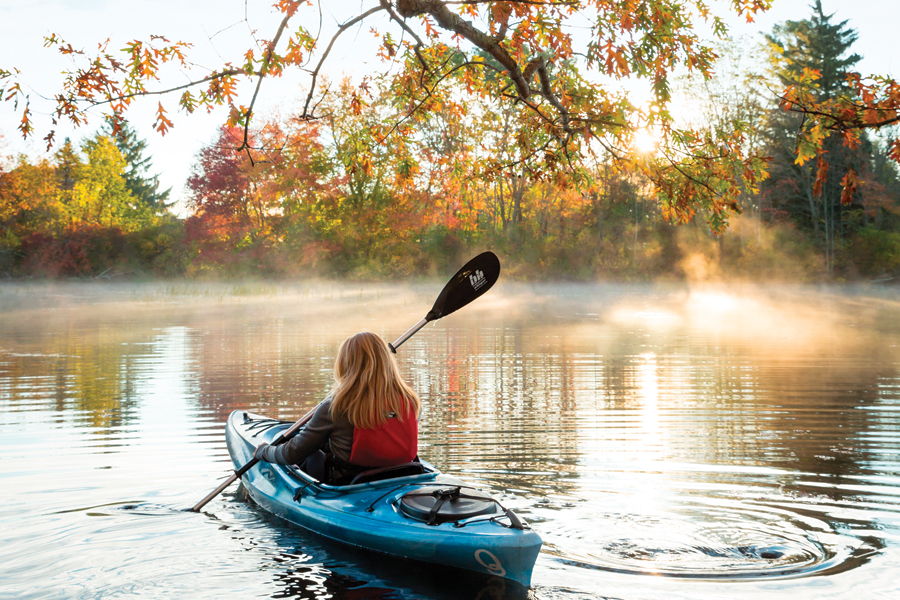 Hey — you with the leaf bags. Drop the rake and step away from the gutter cleaners. We've found things to do this autumn that are way more fun, for food lovers, outdoor fans, antiques mavens and parents with kids. The perfect one-day escape awaits, less than ninety minutes away.

Easton, Massachusetts
Jim Easton. Sheep, courtesy of the Natural Resources Trust of Easton. Kayakers, Jason Evans.

Scenic trails and wooly sheep welcome visitors to this working farm. By Jen McCaffery
There's something undeniably sweet about sheep. The imploring eyes, perked-up ears, the way they like to hang out in groups and nuzzle each other. So when I heard about Sheep Pasture, a 154-acre protected property in Easton, Massachusetts, filled with trails that meander through meadows and woods that doubles as a working farm, I was excited to check it out.
Easton's about a forty-minute drive northeast from Providence and fortunately, the town has the perfect place to fuel up for a day of appreciating nature. I stop at the Farmer's Daughter for breakfast. Established by the chef daughter of a Maine potato farmer, The Boston Globe has written that "the ingredients are as fresh as they come, in true farm-to-table fashion."
The blackboard in the bustling dining room tells me exactly where my beef, eggs and produce come from; familiar Rhode Island names like Baffoni's Poultry Farm and Blackbird Farm are among their suppliers. The combo of warm wood and drinks served in mason jars give the restaurant a welcoming feel. And at $3.95, my pesto scramble is not only delicious, but a deal (thefarmersdaughtereaston.com).
Back on Main Street, the entrance to Sheep Pasture can be easy to miss, but once I turn in, I'm greeted by several farm buildings and sheep grazing (chickens, goats and a cow named Simba round out the flock). I make my way past a day camp, park in one of a handful of parking spaces and head for the six miles of trails on the property.
It's immediately clear why Sheep Pasture is a popular destination for photographers. Looking out over a meadow dotted with wildflowers, I read how from 1893 to 1946, the land was home to members of the Ames family, who played a major role in the history of Easton and the United States. They established a factory in the town, which made tools that helped build the Union Pacific Railroad and earned Easton the name "Shovel Town USA."
Frederick Lothrop Ames acquired the land that became Sheep Pasture in 1893 for his son, Oliver, and his soon-to-be-wife, Elise. He commissioned architect H.H. Richardson and landscape designer Frederick Law Olmstead to build the couple a mansion and plant the grounds. The couple had four children, a farm and orchards on the estate, and people who worked for the family taught the children the names of wildflowers and birds and how to catch snakes.
The mansion was torn down in 1943, but the foundation remains. And you can still see Olmstead's handiwork in the evergreens and some of the flowers along the path to the community garden. When a descendant of the Ames family died in 1979, she willed 114 acres of Sheep Pasture to the Natural Resources Trust of Easton, which maintains the property today.
Much of the beauty of Sheep Pasture stems from its varied terrain. As I walk along the Ames Parker Loop, I pass meadows and turn onto the Bridge Path, then cross over the Queset Brook, which bisects the property. I'm accompanied by chirping along the way; black-capped chickadees, red-winged blackbirds and American robins are in residence. You can also turn off onto shorter trails that take you inside the woods, for a quieter experience.
The property's commitment to agriculture extends to an extensive community garden that's worth checking out for its array of crops and whimsical signs ("I love my weeds"). And fall is a great time to visit Sheep Pasture, when it holds several events, including the popular Harvest and Craft Fair, which takes place this year on Sunday, October 4 with family hayrides and a pizza and pumpkin carving night (when you bring your own pumpkin but don't have to clean up the mess). They also hold regular "Science and Discovery" outings for kids and adults on topics ranging from aquatics to geology.
After spending a day enjoying the outdoors (mosquitos and all), you can also bring a part of Sheep Pasture home with you and buy a dozen eggs produced by the farm's chickens for $4 (pending availability). Then head over to buy some vegetables and herbs from the organic Langwater Farm farmstand nearby, open Tuesdays through Sundays (langwaterfarm.com). It doesn't get fresher than that. 307 Main St., North Easton, Mass., 508-238-6049, nrtofeaston.org. Open from dawn to dusk. Free.

Nuts and Bolts:
Drive time: Forty minutes.
Miles: Sixty round trip.
How to get there: I-95 N to I-495 E, then MA-123 exit to Easton.
Best season to go: Fall.

Tips:
If You Stay Over: Green Spade Inn
This Colonial bed and breakfast pays homage to Easton's history as Shovel Town USA, when the Ames family oversaw a factory that supplied tools that built railroads. New England breakfast included. Rates start at $120 for double occupancy per night. 66 Lincoln St., North Easton, Mass., 508-238-2238, greenspadeinn.com.
Don't miss: Hilliards Chocolates
After your visit to Sheep Pasture, cross Main Street and watch candy being made through the window inside Hilliards Chocolates. Then pick up some fudge to bring home. 316 Main St., North Easton, Mass., 508-238-6231, hilliardschocolates.com.
Worth a Detour: Buzzards Bay Brewing
Refresh yourself after a day in nature with a stop at Buzzards Bay Brewing. Describing itself as "America's greenest brewery," it has its own Brewer's Garden that's open during the warmer months and many beers are brewed onsite. Enjoy a tasting by the fire. 98 Horseneck Rd., Westport, Mass., 508-636-2288, buzzardsbrew.com.
Closer to Home: Queen's River Kayaks
Want your experience with nature to involve a little more exertion? Head to Queen's River Kayaks, behind Kenyon's Grist Mill on the lovely Queen's River, and paddle some of the state's most scenic fresh waterways. You might see painted turtles, foxes, egrets, great blue herons and deer. Rental fees start at $25 for two hours and include gear, parking and river drop-off and pick-up here as well as the Pawcatuck and Wood River locations. 21 Glen Rock Rd., West Kingston, 284-3945, queensriverrentals.com.

Cape Cod, Massachusetts
JFK Memorial, Bryan J. Nylin. Edward Gorey House, courtesy of the Edward Gorey Charitable Trust. Cape Cod coffeeRoasters, Paul Perry. First Crush courtesy of First Crush.

Discover the Cape's tempting eateries, vineyards and a new distillery. By Casey Nilsson
When was your last day trip down the Cape? I mean all the way down: along the bicep, up the forearm, to the wrist and back home again in one day flat.
Now's the time. When the leaves turn gold, poof, tourist traffic disappears and Route 6 leads to all things tasty on Cape Cod. Skip the beaches, just this once. (You're from the Ocean State, after all.) Sometimes the best view is into a good glass of wine.
First, though: No road trip is complete without coffee. Fuel up at Cape Cod Coffee Roasters in Mashpee, a roastery and small shop about fifteen minutes off Route 6 (capecodroasters.com). The MacGregor sisters bought the place two years ago, but the original owner, octogenarian and java bloodhound Demos Young, stayed on to help. Give Demos an unlabeled organic bean and he'll sniff out its origins. If you go on a Thursday, take the 11 a.m. tour. Then order a steaming chocolate macadamia blend or a cold brewed coffee — your choice of colorful bendy straw — and hit the road to the Cape's foodie Mecca, Hyannis.
Meat lovers unite on quaint Main Street at the Brazilian Grill, where all-you-can-eat prime cuts are served tableside. Request a seat on the enclosed patio — koi pond, waterfall, did we teleport to Brazil? — and wash down your sirloin with Herdade De Gambia Tinto, a spicy Portuguese red (braziliangrill-capecod.com).
Those looking for lighter fare should try Pain D'Avignon, a renowned bakery and bistro sandwiched inconspicuously between the Barnstable Airport and the Cape Cod Mall, about a five-minute drive from Main Street Hyannis. Order the roasted prosciutto with arugula and garlic aioli on fresh-baked brioche, an airy upgrade from the traditional midday BLT. A server recommended a Pauillac Bordeaux from the huge glass-encased wine room, which also paired well with a blueberry citron tart that I couldn't walk away from. Other impulse Pain purchases: the pommes frites from Surrey Farms in Barnstable and the cranberry pecan bread. The place is a carb lover's paradise (paindavignon.com).
More serious wine tasting awaits, but it'd be a sin to leave Hyannis without some local sugar. Main Street's newest bakery, Little Miss CupCape, offers artisan goodies as cute as the young proprietor, Taylor Stump, who knows how to rock a cupcake headband. Take two strawberries to go. They travel well in sweet pink and white-striped boxes (littlemisscupcape.com).
A twenty-minute ride up Route 6 leads to First Crush Winery in Harwich, which forgoes rolling vineyards for the efficiency of an industrial park. Don't let the frolicking kids on the label fool you: Vintner Frank D. Puzio, an eye doctor and hobby chemist, makes serious wine from imported Californian grapes. Members of his cooperative help crush the fruit in autumn. "We started off with about sixty members, and now we're up in the 300s," says Puzio during a tour, which is heavy on the science of winemaking. Tours, which must be scheduled in advance, are $15 and include samples of five wines. Don't pass on First Crush's sauvignon blanc; it's crisp, fruity and all-day drinkable (firstcrushwinery.com).
Drive straight from First Crush to Truro Vineyards and you'll have time to take a tour, taste wine and laze on the super-scenic grounds, a decorative oak barrel around every bend. It's a stunning place to spend a casual afternoon — especially when the leaves start to turn — but the vineyard also hosts fun events including the Vinegrass Music Festival on October 4.
The Roberts family purchased the property and farmhouse in 2007 and they use a mix of imported and Cape-grown grapes. Truro's wines are light and sweet, especially the signature Cranberry Red, a Beaujolais blended with Cape Cod cranberries in a lighthouse-shaped bottle. Snag one for home or the holiday table.
New last year at Truro, the Roberts launched South Hollow Spirits, the Cape's first legal distillery since Prohibition. Taste a flight of three rums and a cocktail for $15, or buy a bottle and turn your Cranberry Red into the tastiest souvenir: an authentic Truro sangria (trurovineyardsofcapecod.com).
If you must, must, must feel the sand between your toes before you head home, take a two-minute drive from the vineyards to Head of the Meadow Beach. Go ahead, dip into your day trip booty. I won't tell.

If You Stay Over: Penny House Inn
In 2012, new owners Melissa Leonard and Leonard Magliocca transformed the flailing B-and-B into a culinary haven. Start the day with homemade granola and pumpkin pancakes, then head to the inn's kitchen for an Italian cooking workshop, wine tasting and communal dinner. Fall room rates start at $129, which includes breakfast. 4885 Route 6, Eastham, Mass., 508-255-6632, pennyhouseinn.com.

Nuts and Bolts:
Drive time: Eighty minutes to Mashpee
Miles: 250 round trip.
How to get there: Take I-195 E to US 6 E.
Best season to go: Fall to avoid beach traffic

Tips:
Don't miss: Highland Lighthouse and Museum
The lighthouse housing your Truro Cranberry Red? See the full-sized version in person, about a five-minute drive from the vineyard. Climb to the top of the Cape's first lighthouse and view 360 degrees of shoreline. Tours are $4. Highland Lighthouse and Museum, 27 Highland Light Rd., North Truro, Mass., 508-487-1121, highlandlighthouse.org.
Worth a Detour: Edward Gorey House/Jack's Outback Restaurant
Stop into the late gothic illustrator's house-turned-museum and browse "From Aesop to Updike," an exhibition of Gorey's book cover art. Then walk to Jack's on Route 6A and order the artist's everyday lunch: a grilled cheese. Museum admission is $8. Edward Gorey House, 8 Strawberry Ln., Yarmouth Port, Mass., 508-362-3909, edwardgoreyhouse.org.
Closer to Home: Newport Vineyards
Same cabernet-by-the-seashore vibe, minus the tank of gas. Take a $15 tour and get half off dinner appetizers at the vineyard's newest addition, Brix, an airy gourmet restaurant. 909 East Main Rd., Middletown, 848-5161, newportvineyards.com.

Essex, Connecticut
Courtesy of Florence Griswold Museum. Main street Essex, Steve Segall. Book Barn, Gregg Singer. Sailboat, Jennifer White-Dobbs.

This postcard-pretty area draws shoppers and antiques mavens. By Megan Fulweiler
The list of celebs who live or have lived in Connecticut is longer than our arm. More refined than Rhode Island but not as rugged as Maine, it's almost unfair that the third smallest state should flaunt such an insane number of picture-postcard, we've-got-it-all towns.
Tony Essex perched on the west bank of the Connecticut River — it ripples away at the base of Main Street — is a prime example. It's a popular destination for natty boaters as well as day trippers. In fact, it's listed in Patricia Schultz's A Thousand Places to See Before You Die, as the perfect small American town.
Everything you'd expect is here but in addition, there's also the well-curated Connecticut River Museum (ctrivermuseum.org) as well as the Griswold Inn. One of the country's oldest inns — more welcoming than waspy — the Gris, as it's dubbed, includes a world-renowned taproom that channels Red Coats raising tankards (a Revolutionary Ale gets us in the spirit).
Tourists revel in the scenery (the Essex Steam Train and Riverboat translates a two-and-a-half-hour narrated tour on land and water, essexsteamtrain.com) and the early-Colonial and Federal-era houses. But the shopping is audacious too. Legions of modern day explorers comb the area seeking treasures old and new. (Fun fact: the Connecticut River Valley holds one of the state's largest concentrations of antiques shops.)
Strolling around Essex, we found everything from gleaming highboys (alas, too pricey) at English Accents (englishaccents-ct.com) to mid-century Danish candlesticks (doable) at By Chance. Edward Condon was crafting historically appropriate works at the Essex Woodcarver. And over at Weltner's Antiques and Art, there were nautical items amid the eclectic stew (weltnersantiquesandart.com).
If it's art you're hunting, galleries like the Spectrum Art Gallery and Artisan Store (spectrumartgallery.org) feature works by regional and national artists in a variety of mediums. And chic home stores? Well, this is Connecticut — ones like stylish Highpoint Home (highpointhomedecor.com) and Pough Interiors (poughinteriors.com) carry all you'll need to replicate the look.
A less than six-mile drive zips us from Essex to the adorable artist community of Chester. Manhattanites cluster about on weekends for the inventive garden-to-
table fare and the boutiques. Check out Elle Design for artisan-made jewelry, majolica, boho dresses and cool home accessories (elledesignstudio.net). Vintage photographs can be found, by appointment, at William L. Schaeffer (williamlschaeffer.com) and herbs potted and bottled at R.J. Vickers (rjvickersherbery.com).
The tiny Chester-Hadlyme ferry (ct.gov/dot, through November 30) carries us and car on an eight-mile voyage across the river to East Haddam, home to the Goodspeed Opera House. Or, we travel by foot and hike up, instead, to famous Gillette Castle, home to the twentieth-century American actor William Gillette, who gave life to the character Sherlock Holmes. Nevermind if the medieval-looking estate and its gift shop are closed; the park grounds are open year round and the panoramic autumn views? Priceless.

Nuts and Bolts:
Drive time: Eighty minutes
Miles: 145 round trip
How to get there: I-95 S to CT-9 N via exit 69, then follow the signs
Best season to go: Spring and early fall

Tips:
If You Stay Over: Griswold Inn/Copper Beech Inn
Many of the Griswold Inn's comfortable rooms are decorated with antiques (36 Main St., Essex, Conn., 860-767-1776, griswoldinn.com). But plump four posters also abound, along with a highly touted chef, at the stylish Copper Beech Inn, less than three miles away. 46 Main St., Ivoryton, Conn., 860-767-0330, copperbeechinn.com.
Don't miss: The Book Barn
The Book Barn in Niantic houses more than 500,000 books, according to category, in four chockfull locations — all within a mile of each other. West Main and Main sts., Niantic, Conn., 860-739-5715, bookbarnniantic.com.
Worth a Detour: Florence Griswold Museum
Once home to a summer art colony and now a National Historic Landmark, the Florence Griswold Museum in Old Lyme, Connecticut, is celebrated for its collection of eye-pleasing American Impressionist paintings and notable exhibit roster. 96 Lyme St., Old Lyme, Conn., 860-434-5542, florencegriswoldmuseum.org.
Closer to Home: Saltwater Farm Vineyard
Stock up your own personal wine cellar at Stonington, Connecticut's, cinematic Saltwater Farm Vineyard. An airport in its previous life, the manicured farm stages tastings in a restored hangar that overlooks fifteen acres of grape-laden vines and a grass landing strip and makes the most of its coastal setting. Reservations required on Saturdays. 349 Elm St., Stonington, Conn., 800-818-7258, saltwaterfarmvineyard.com.

Sterling, Massachusetts
Kiddos learn how a working farm saves endangered animals. By Jamie Coelho
My almost-two-year-old son loves animals. So much so that he chases our two cats until they hide under the bed and do not come out until long after he's fast asleep. It's tough to teach a toddler how to be gentle with cuddly, furry, cute things, but a great place to learn is Davis Farmland in Sterling, Massachusetts. The seventh-generation working family farm is the largest private sanctuary for endangered farm animals in North America.
We wake up early and get ready for the day by packing a cooler with sandwiches, fruit and cold drinks for lunch. The farmland has picnicking spots available throughout the grounds, but there's also an onsite cafe with a build-your-own sundae bar (plus homemade cider doughnuts in the fall), which we plan to hit up for treats later. The drive is about an hour from Providence, and Carter thankfully naps in the car before our 10:30 a.m. arrival. It's going to be a long day of play. Along the ride, we pass the exit for Purgatory Chasm in Sutton, Massachusetts, which would be a nice detour for families with older children.
We arrive to meet my sister and Carter's two cousins for a day of petting baby animals and exploring activity areas. The first animals we see are two beautiful calves. One is a black and white Holstein like we're used to seeing at local farms, but the other is a furrier brown Scottish Highland heritage breed. Both are just a few months old. We swing open the gate and approach the babies. Carter's four-year-old cousin, Jake, picks up a soft brush and runs it through the bovine beauty's curly coat. Carter watches his cousin gently brush the calf, then picks up a brush and copies his tender strokes.
Next, we're headed to feed the goats and sheep that wander the open field. We purchased a few cups of grain and as soon as our barnyard friends see we brought snacks, they head right in our direction. We're surrounded by six cold noses and mouths agape seeking handouts. We can't feed the tiniest babies yet (some born just days ago), but there are separate pens we can enter for a visit with the newest additions and their nursing mothers.
I teach Carter how to pet the goats by praising him when he's gentle, and speaking sternly and redirecting him when he's like a bull in a China shop in the goat pen. Once we're finished feeding goats, sheep, llamas and pigs, his cousins learn to hold baby chicks in the Chicken Coop, and painted dragons cling to their shoulders outside the Reptile Ranch. The Critter Corner holds rabbits, guinea pigs, a ferret and kittens. The kittens can be purchased for a donation to Worcester Animal Rescue League, and if you visit at the right time, you can take them for a walk on the grass with a leash.
Just when we thought our animal adventure was complete, we discover all of the new play areas at Davis Farmland. Imagine Acres boasts an inflatable bounce house, toddler activities and sandboxes filled with countless construction trucks. There are pony rides and a Play and Spray playground, open Father's Day weekend to Labor Day. In Adventureland, you can find a giant slide, playgrounds and kiddie racetracks with pedal bikes and toddler push-cars. Moo Town is a whole village complete with handmade child-sized wooden buildings like an ice cream parlor, diner, market, veterinarian's office and more. There's even a miniature campground complete with retro-style campers and a mock fire pit that makes me think of a kids' version of Ogie's Trailer Park in Providence. We could spend hours playing with all the true-to-life toys, riding a large tractor and wooden train, or pushing around shopping carts from place to place. Thankfully, there are plenty of shaded areas for mom and dad to sit and watch the little ones.
After six hours of fun and one sticky cotton candy ice cream sundae, it's time for us to head home. But activities abound for the seriously ambitious. In the fall, Davis Farmland has a Mega Maze where guests can wander a cornfield labyrinth designed by seven-time Guinness World Records holder Adrian Fisher. There's also a pick-your-own apple orchard and pumpkin patch, and outdoor laser tag offers action-packed entertainment.
I buckle up one exhausted toddler into his car seat and drive down the bucolic roads. Before heading home, we take a quiet detour to the top of Wachusett Mountain to take in the views from the top. It's a lovely way to end the day, looking down at the tiny world below, my little boy sleeping soundly in the back, dreaming of the wonderful day he spent with family and new animal friends. 145 Redstone Hill Rd., Sterling, Mass., 978-422-6666, davisfarmland.com.

Nuts and Bolts:
Drive time: Sixty-five minutes
Miles: 115 round trip
How to get there: I-146 N to I-290 E and I-190 N to exit 6 toward Sterling
Best season to go: Open mid-April to end of October
Tips:
If You Stay Over: Chocksett Inn
Like staying in a New England inn but with all the modern hotel amenities, including an onsite restaurant and gym. Rooms with full kitchens are perfect for families. 59 Laurelwood Rd., Sterling, Mass., 978-422-3355, chocksettinn.com.
Don't miss: Meola's Wayside
Stop in for ice cream before heading home at Meola's Wayside, a third-generation, family-run stand with sixty-five flavors of ice cream and frozen yogurt. 110 Leominster Rd., Sterling, Mass., 978-422-3900, meolasicecream.com.
Worth a Detour: Wachusett Mountain
Head to Wachusett Mountain for BBQFest Oct. 3−4 and AppleFest Oct. 17−18, both from 10 a.m.−5 p.m. BBQFest is all about the pig roast, chili and pulled pork. AppleFest features crafts and farmers market booths, pie-eating contests, punkin chunkin, family entertainment, scenic foliage skyrides to the summit, a barbecue and more. The weekend also includes Octoberfest with a beer garden and live music. 499 Mountain Rd., Princeton, Mass., 978-464-2300, wachusett.com.
Closer to Home: Purgatory Chasm
Purgatory Chasm is a great stop to explore natural rock formations with names like the Corn Crib, the Coffin, the Pulpit, Lovers' Leap and Fat Man's Misery. The chasm is believed to have been caused by the sudden release of dammed-up glacial meltwater near the end of the last Ice Age, approximately 14,000 years ago. 198 Purgatory Rd., Sutton, Mass., 508-234-3733, mass.gov.