Faces of Hope
Three locals talk about falling on tough times and overcoming homelessness.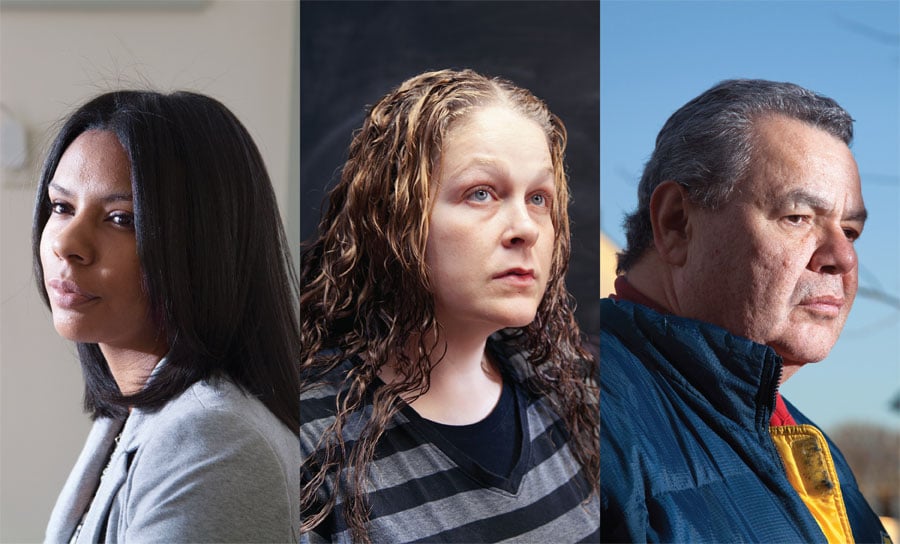 In 2014, there were 4,067 homeless individuals living in Rhode Island according to the annual report from the Rhode Island Coalition for the Homeless. Homelessness has declined two years in a row in the state, and this is due to an increased fulfillment of supportive housing. The two main reasons for the prevalence of homelessness are lack of income and a shortage of affordable housing. With rising rents and incomes that sometimes fail to support the cost of living, a growing number of individuals and families are facing the possibility of life on the streets. Thankfully, there are organizations available in Rhode Island to help when times are tough by providing permanent supportive housing.
Many of these homeless men, women and children defy the stereotypical image. Some work behind cash registers at retail shops while others pack their days with educational and vocational training; all strive to climb out of darkness and to overcome what they define as only a temporary situation. Here are three stories featuring formerly homeless individuals who have sought assistance from Crossroads, House of Hope or Amos House, and have used their programs to help rebuild their lives.
A Tragic Start: Emily Gomez
Emily Gomez, thirty-two, was dealt a rough hand of cards. "My dad was dead before I was born," she says. "When I was fifteen, my mother passed away from lung cancer. My oldest daughter was two months old at the time. At first, losing both my parents put a fierce focus and determination into my life, which meant a lot of personal success. I graduated Gibbs College for the legal secretarial [program] with a 3.86 GPA. But life continued, as it does, and I had no one to make proud or disappoint. I felt lost."
Gomez sits on a micro-suede couch in a basement playroom that's littered with toys and brightened by colorful drawings on its chalkboard walls. The cheerful L-shaped space is a gathering spot for the residents of Amos House's Mother-Child Reunification Program, which occupies a large blue Victorian and shelters a group of formerly homeless women and their children. Gomez lives here with her nine-month-old daughter, a golden-haired bundle with chubby cheeks and periwinkle eyes.
The infant is the youngest of Gomez's five children and the only in her custody. Her other children — all girls — range in age from four to sixteen. "My six-year-old and four-year-old daughters are together with a loving family in an open adoption. They call me mommy Emily," she says with a smile. "My twelve-year-old lives with her father and my sixteen-year-old lives with my aunt. I have a relationship with all my children."
Diagnosed with anxiety disorder at twelve and depression four years later, Gomez was placed on prescription medications at sixteen. "The diagnoses kept coming," she says. "Bipolar disorder, borderline personality disorder, PTSD…I've been on meds for most of my life. That, I think, is a huge piece of my problem. Any altered state of mind for me — even psychotropics — can lead to trouble."
Seeking normalcy and the stability of a family unit, Gomez got pregnant and gave birth to her second child at the age of twenty. "Her father and I planned on having a wonderful life," she says. "For four years, it was good. Then I decided to use marijuana. He wasn't cool with that so more and more I was out of the house, smoking all the time." Gomez shakes her head, her long strawberry-blonde ponytail bobbing from side-to-side. "I didn't know anything back then. I had no mother around to tell me this is what we do in life."
For four years, throughout her mid- to late-twenties, Gomez had substance abuse problems, and finally, at the age of twenty-nine, she sought help for addiction at Tri Hab King House, a residential drug abuse treatment center in Woonsocket. She lived there for six months, up until she was sent to prison for six months for a domestic incident. "It ended up being a felony assault. I'm currently serving a five-year sentence in the community," Gomez says. When she was released from prison, Gomez completed re-entry at King House, and then transitioned to OpenDoors, a Providence-based nonprofit that supports the formerly incarcerated.
Shortly after moving in, Gomez learned she was pregnant with her fifth daughter. "OpenDoors doesn't allow children," she says. "I didn't know what I was going to do. Then I found SSTARbirth in Cranston. It was there that my life was beautifully changed."
SSTARbirth is the only residential substance abuse treatment program in the state of Rhode Island specifically designed for pregnant and postpartum women and their children. Gomez credits the program with saving her life. "It's a wonderful facility," she says. "They wouldn't allow me to be invested in the thought of being crazy. They helped me get off all of the meds I was on. You see me now? Sitting here having a normal conversation? I couldn't do this before. At times, I could barely talk or sit upright. Now, being unmedicated and drug-free allows me to be more present and available to my kids."
A group of giggling preschoolers bounds into the playroom at Amos House. "As you can see, there's not much privacy around here," Gomez says. "But I'm extremely grateful for the struggle. If it was all peaches and cream, I wouldn't be learning that I don't want to end up here again."
Despite the challenges of living in a figurative glass house, Gomez is quick to point out the positives: "Amos House provides a clean, safe and beautiful home. This building is actually an old bed and breakfast. Our rooms are really nice and the staff is so supportive." All women in the Mother-Child Reunification Program are required to take parenting classes and attend several group meetings every day. "I had to make sure I could be a proper mother," Gomez says, staring down at her youngest. "Everyone thinks I do a good job. We're ready to move on."
The next step for some women is Amos House's Phase Two housing, but Gomez continues to look for affordable apartments on her own. She is currently on probation, and that has been a challenge. "My criminal history is a barrier I'm having trouble overcoming," she says.
Gomez receives a survivor's benefit and has saved money for first month's rent and security. Initially, she used Amos House's escrow program as a savings tool. Amos House has residents put a percentage of their income into a savings plan so they can make sure they have funds to move on when they are ready. Gomez now uses her personal bank account to save.
"Every choice and every decision I make from here on out is to make stability for me and this baby," she says.
Update: Gomez and her daughter moved into their own apartment in February.
---
Amos House is an organization that provides housing, meals and other resources, including training and employment, to homeless men and women. It features a fifteen-bed women's and a twenty-one-bed men's transitional shelter program as well as several rooming houses and apartments. It also operates the largest soup kitchen in the state. If you'd like to give to Amos House, visit this page.
Amos House, 415 Friendship St., Providence, 272-0220, amoshouse.com
Facing Unemployment: Al Lopez
Al Lopez is a fifty-nine-year-old high school graduate who has worked steadily since the age of seventeen. "With a few gaps here and there," he says, detailing a variety of blue-collar jobs ranging from warehouse work to forklift operation to shipping and receiving. He's been homeless a handful of times, totaling at least four years, with his most recent stint beginning in October of 2012. "I seem to be my own worst enemy," he says with a shy smile, his hands threaded politely on the tabletop in front of him. A fluorescent light crackles overhead inside House of Hope, illuminating his freckles.
The soft-spoken, clean-shaven man in the conservative tan-and-cream knit polo shirt is in a long-term relationship with depression. Despite being diagnosed with the condition several years ago, he only first sought professional treatment this past summer. "I've always had the tendency to deal with problems on my own," he says. "That's not the smartest thing to do."
Lopez's depression led to troubles at work, which drove him to reach for the bottle. "My drinking was never a daily thing," he says. "I'd have months of sobriety, then every once in a while I'd go on a run. Most recently, I was renting a room in a private home and working as a materials handler through a temp agency. They wanted to move me to an assembly position where I'd be sitting down all day and putting together little pieces, so I decided to quit. It was a bad decision on my part and I ended up going on a drinking binge, which led to hospitalization."
During his five-day hospital stay, Lopez lost the room he had been renting; his landlord decided she wanted him out.
After being discharged from the hospital with nowhere to go and no family to rely on for help,
Lopez headed straight to the library to research available resources. From there, he hopped on a bus to House of Hope's Harrington Hall, a 120-bed men's shelter in Cranston, which is just one of nineteen sites House of Hope operates. The shelter is open from 5 p.m. to 6 a.m., seven days per week, except during inclement weather when it's open twenty-four hours. Men are given cots on a first-come, first-serve basis after waiting in line outside. They all bunk together in a large, taupe, barracks-style room that contains mattresses on bunk bed frames.
For weeks, Lopez would show up every night around 4 p.m. to wait his turn in line. "When staff saw me doing the right thing — showing up sober every night, meeting with my case worker — they gave me an assigned bed and a locker to put my things in," he says. "The shelter staff is incredible. I'm very thankful — thankful for the meals and for the attention. It always feels good when they ask how my day went." He pauses in thought. "A stranger might not guess it, but I'm sensitive to a fault. It doesn't show too much because I'm so guarded."
Lopez slept at Harrington Hall for about fifteen months.
These days, he lives in an apartment in Providence with two roommates; each man's rent is one-third of his income, whatever that may be. The arrangement is part of the Housing Resources Commission's Rental Subsidy Initiative; the ultimate goal is to secure non-supportive affordable housing for the recipients. With wait lists spanning one to five years to get into non-supportive housing, this program enables individuals like Lopez to escape the shelter system by providing a transition while they wait.
"There are a lot of resources out there for homeless people," he says, "but you've got to be active in getting the things you need. You've got to pick up the Street Sheet — it's a guide for the homeless that tells you where to get food or shelter. If you have to walk around the city all day with a backpack on, you do it," he says. Individuals who haven't been assigned lockers carry their belongings with them at all times, or else they might get stolen, Lopez explains. "You need to keep yourself clean, keep up appearances. If someone gives you clothes, you go wash them. Crossroads will let you use their washers and dryers if you make an appointment. Again, it comes down to making the effort. Not everyone is willing [or able] to do that."
Currently Lopez is searching for work. He was employed as a materials handler in a temporary position back in October, which lasted about a month.
"Hopefully something pans out. I'm looking at warehouse, shipping and receiving, forklift or materials handling jobs. I go to the library or netWORKri [career center] every day to fill out applications online. I could never bring myself to do the panhandling thing. I'd much rather be working."
Lopez's goals for the future include remaining sober, staying employed and paying taxes. "I've been blessed with reasonably good health for my age…. I try to remind myself that I don't have it so bad. I have to stay away from the pity party," he says. "That's only going to set me back."
---
House of Hope CDC is an organization that offers temporary shelter and permanent supportive housing to the homeless as well as a variety of social services including counseling, case management and more. To make a tax-deductible donation online, visit this page.
3188 Post Rd., Warwick, 463-3324, thehouseofhopecdc.org
The Single Mother: Karima Prince
Karima Prince, twenty-four, is a striking young woman with dark skin, thick lashes and dreams of becoming a nurse practitioner. In a tailored pair of slacks and a silk patterned blouse, and with a touch of pink lipstick, you'd never guess that she was once homeless.
She sits in an office chair inside Crossroads Rhode Island's employment resource center in Providence. It's a cheerful room that hints of new possibilities and brighter tomorrows.
Prince had been living with her mother in a two-bedroom apartment in Brooklyn, New York, when she learned she was pregnant with her now four-year-old son. "Things were great at first," she says, "but then my mother took custody of my cousin's four kids and there wasn't enough room for all of us."
Fortunately, Prince's father, a Providence resident, opened his arms to his daughter in her time of need. After moving in and unpacking her bags, she enrolled at Community College of Rhode Island (CCRI) and began chipping away at her nursing prerequisites. Everything seemed to be working out, but then the unimaginable happened.
"We had a fire at the house. My dad was burned over 45 percent of his body. He was in the hospital for months." Prince recalls the horrific events with a certain matter-of-factness that's a tribute to her ability to remain stoic in the face of adversity. "His hands healed poorly, like claws, and he needed many surgeries to straighten them out. He was in a lot of pain, on a lot of meds and I think kind of depressed."
After arguing about money, Prince's father kicked her and her son out onto the street with nowhere to go.
"It was a small fight that got blown way out of proportion," she says. "Things wouldn't have gone down like that if it wasn't for the fire. We stayed in a hotel for one night and then came to Crossroads the next morning. I didn't have any other choice."
Prince describes living at the family shelter for two months with fourteen other families as "interesting." Each family gets one bedroom and the group shares a living room and kitchen. "It wasn't too difficult to get used to for me," she says, "because I never had my own privacy anyway."
The transition proved more difficult for her son, Ama'e, who was one year old at the time. "He wouldn't eat in the dining room with all the people at the table so I'd have to bring him up to our room to feed him," Prince says.
During their time at the family shelter, Prince had a part-time job at a clothing store at Providence Place mall where she had been working for the past year-and-a-half. She walked to and from the mall every day, regardless of the weather. The busy single mother recently completed a Certified Nurses Assistant (CNA) program, which is one of the many employment services supported by Crossroads. She now works full-time as a medical assistant at Thundermist Health Center in Wakefield, a career that includes two twelve-hour shifts and two nine-hour shifts. She takes the bus each way to work from Providence.
"I had wanted to get my CNA certification for so long but I couldn't figure out how to pay for it," she says. "I've been given a lot of opportunities by being a Crossroads client. They help you as long as you're willing to help yourself."
Topping that list of opportunities? Prince now lives in a two-bedroom apartment, as part of the agency's transitional housing program. Rent is one-third of her income. "I never thought I'd have my own place," she says. "I get to be independent, I get to pay my own way. It feels good…. Believe me. I can manage. I'm a lot stronger than I look. It's hard to be a young single mother but what doesn't kill you makes you better."
Prince's son Ama'e just celebrated his fourth birthday. He was diagnosed with autism spectrum disorder in January, adding a whole new challenge to their lives. But Prince says his behavior is improving; he's less aggressive and listening more. Prince is also back in contact with her father, who watches Ama'e while she works.
"People need to realize that it's not always a person's own fault that they're homeless," says Prince. "Sometimes bad things happen to good people and it's up to you to turn things around. I think I'm a good example of that. I do what I have to do."
---
Crossroads is a private nonprofit that provides shelter, housing, case management and education and employment services to homeless individuals and families. Founded in 1894 as Travelers Aid, the organization provides twenty-four-hour assistance seven days a week. To support their efforts to help the homeless, visit this page.
160 Broad St., Providence, 521-2255, crossroadsri.org