Eye for Design Update: September 2013
The latest Rhode Island design news and events.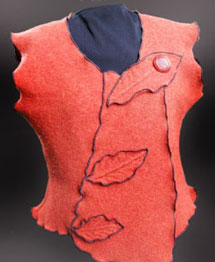 September 2013
Calendar:
9/1, 9/8 and 9/15
Providence Flea has extended its season for three more Sundays. The popular flea market at 345 South Water St. in Providence features vendors selling local crafts, antiques, vintage clothing and furniture. Free. 10 a.m. to 4 p.m.
9/6
Doris Duke Historic Preservation Awards. Spend the evening touring the heiress's estate at Rough Point while honoring preservation efforts in Newport. Tickets range from $145 to $1,000. Rough Point, 680 Bellevue Ave., Newport.
9/7-9/8
Exchange Street Open Studios at the Pawtucket Arts Festival will feature the work of more than sixty artists and designers in four different mill buildings. Check website for details. Free. 10 a.m. to 4 p.m.
9/7, 9/21 and 9/28
WaterFire, Providence's celebration of fire on its downtown rivers, continues, starting just after sunset and lasting until about midnight. Waterplace Park to Memorial South Main Park.
9/20
Pecha Kucha Providence, the monthly show-and-tell for adults that is held worldwide, is participating in a global event with more than one hundred cities. The theme of the presentations is "Hidden Heroes," and cities will be making their presentations available in Google Hangouts. Free. 7:30 p.m. Betaspring, 95 Chestnut St., Providence.
9/25
Providence Geeks, Dinner and thirty-minute presentation. RSVP here. 5:30-8 p.m. AS220, 115 Empire St., Providence.
9/26
Landscape architect Nick Dines kicks off URI's lecture series with a talk on "The Public Landscape: A Process and a Product." Free. 7 p.m. Weaver Auditorium, University of Rhode Island, Greenhouse Road, Kingston. 874-2983.
9/27-9/29
A Better World By Design. Annual conference held by Brown and RISD students that brings together students and professionals to promote socially conscious design. Check website for more details and to buy tickets.
Launches:
The Arcade Providence has announced retail tenants, including jewelry designer Jessica Ricci; Luniac Glamour; Kingston Krafts, which sells antique furniture; and Nude, which will feature designers including Jess Abernethy, Yellow Clover, Jonathan Joseph Peters, Amy Stetkiewicz, Kent Stetson and Susan Troy. (Check out Rhode Island Monthly's coverage of some of these designers and more at StyleWeek Northeast at www.rimonthly.com.)
Madewell opened a store in Providence Place Mall.
Restored by Design, a shop and website devoted to jewelry and accessories designed from discarded materials, recently opened at 34 Governor St. in Providence, restoredbydesign.com, @RestoredbyDsign
Retail Project RI launched its third brand, Slumbersome, an online marketplace featuring products to help people sleep better. Slumbersome.com, @RetailProjectRI.
PaperWorks has opened a new store at 73 Dorrance St., Providence, 533-9869.
J. Crew and Sephora have signed leases to open stores in Cranston's Garden City.
Notables:
The Rhode Island State Council on the Arts is seeking applications from Rhode Island designers who demonstrate innovation and problem solving in their field, to compete for a $6,000 cash grant. Applications due by October 1.
Ad Age named Nail Communications in Providence the small agency of the year for the Northeast.
Furniture made by Studio DUNN in Providence was featured in London's Financial Times.
The environmentally friendly Sandywoods community in Tiverton was awarded the John M. Clancy Award for Social Responsible Housing. It was designed by Union Studio in Providence.
Continuing:
Tickets are available for Startup Weekend Providence, a fifty-four-hour event for budding entrepreneurs that will be held October 18 to 20 at Betaspring, 95 Chestnut St., Providence.
"Locally Made" features the work of 300 artists at the RISD Museum, 20 N. Main St., Providence.
Classes in offscreen printmaking, Adobe Illustrator, and other design at AS220.
Got some design news or an upcoming event to share? Email details to Jen McCaffery at jmccaffery@rimonthly.com.