Eye for Design: The Rhythms of Isoude
Newport-based Kate Brierley's art-inspired designs have been featured by Town and Country.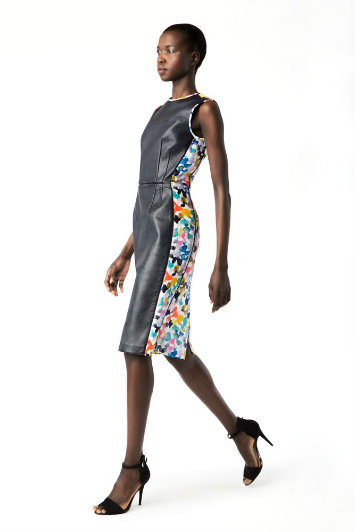 When Isoude designer Kate Brierley opened her windows for the first time last spring, the newly warm air wasn't the only thing she let in.
"Lying there, I started thinking about rhythms. Spring was coming and I became very aware of my circadian rhythm and I could literally hear the earth coming alive," Brierley recalls.
Those ideas became the starting point of Brierley's Spring/Summer 2014 collection. She turned to Australian artist Emily Green to help turn those ideas into designs. Together, they came up with a brushstroke-dotted print that appears numerous times in the collection on avariety of pieces, including gowns, jumpsuits and sheath dresses. Meant to represent the ascending and descending aspects of the circadian rhythm, the print appears in two forms: a bright multicolor and a blue. The former is a nod to the rise of rhythms from dawn to day and the latter the fall of day to night.
"There's a purity to it, a childlike wonder to it," said Brierley of the print. "It's not overly wrought, not ironic, it's so pure."
For Brierley, the strong influence of a print was a new element to her design process.
"This is the first time I've started a collection with a print, where the story began with a visual cue versus a structural one."
Allowing for that kind of open-mindedness, according to Brierley, is a key component of her design process.
"The process is always changing: How some people get in the mood for a certain type of food, I get in the mood for clothes and design," says Brierley, who studied at both RISD and the Fashion Institute of Technology (FIT) in New York. "I try to be very relaxed and open to accept where the inspiration is coming from. If you try to overthink, it never comes out right."
That process has paid off in the growing success this latest collection has already seen. Two Isoude gowns — a blue ombre print and an orchid hue — were featured on Town and Country's website and Brierley is already working on additional iterations of the featured print, including an embroidered version that a client recently scooped up solely based on a sketch hanging on her studio wall.
Brierley says her customers, who range in age from eighteen to eighty, tend to be "patrons," who are drawn to design with an artistic bent.
"I think that our clients really appreciate things that are special and well-made. They have an intuitive sense of collecting."
The bulk of Brierley's client base is on the East coast, including Newport — where the Isoude Atelier is located — New York and Boston, but she's worked with clients all over the world and sells her designs in stores in Birmingham, Alabama and Winnekta, Illinois, as well as at the Mark Hotel in NYC. Pieces from the Isoude ready-to-wear collection can be purchased online, with prices starting at $880, though the majority of pieces from each collection are made to order. Brierley also works with clients to create couture pieces upon request and availability. While no stranger to the success of her design, Brierley, who has been featured in Vogue and Women's Wear Daily and whose work is part of the permanent collection at FIT, says she's thrilled with the reaction this latest collection is getting thus far.
"It's been getting an amazing response. Editors are calling and dresses are flying off racks. It's been awesome."
Isoude Atelier, 142 Bellevue Ave., Newport, 401-619-5775, isoude.com.