Eye for Design: Craftsman Nicolas Esposito
Providence-based craftsman Nicolas Esposito is a master at drawing stories out of wood.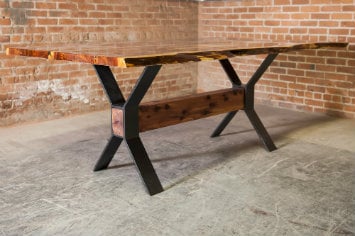 It can be so hard to maintain the connection to the natural world, particularly as we spend an increasing amount of time staring at shiny screens. As spring nuzzles in and the Earth starts to regenerate, and we become surrounded by beautiful reminders of what it means to be a living being, it's a fitting time to remind ourselves that good design has its roots in the organic, that nature has elegance that no factory finish can mimic, and that the best pieces of art tell a story.
Providence-based craftsman Nicolas Esposito is a master at drawing those stories out from the wood he works with. His material sourced from sawyers in Richmond, West Greenwich and Tiverton, Esposito remains committed to the ecosystem (and economy) from whence his custom-created furniture comes. Though his journey as an artist and a carpenter took him from the south shore of Boston where he grew up to the mountains of Colorado to the prestigious Compagnons du Devoir in France, where he apprenticed as the artisanal training school's first full-time American fellow, he was happy to find his way back to New England. He's built pieces ranging from individual tables (a rustic picnic table lists on his website for $3,500 including local delivery; a side table is listed at $595), kitchen islands, bookcases and more, up to the entire interior of a juice bar in Boston.
"I've had really positive responses from clients on the residential and commercial side," he says of his work in Rhode Island. "There are definitely creative people here, and it translates back into the local community — opening people's eyes to things that are happening at their own doorstep. I think that people are really pushing back from mass-produced stuff these days."
Esposito's work is part of that pushback: his methods harken to days before fiberboard and plywood, before some assembly being required. You can sense his devotion to his craft — and the idea of trades — as he describes how each piece originates, moving from meeting to design to hauling pieces of wood out from the bottom of a big pile in a local barn. Esposito says rather than relying on stains and finishes, he chooses woods that naturally possess what each client wants: if a client wants a darker tone, for example, that can be accomplished by selecting black walnut. Depending upon the plan for the piece, some of these hulking hunks are left with what Esposito calls a "live edge."
The lingo reminds you that even something as inanimate as a coffee table was once of the Earth, once reached to the sky. He defers to the wood by letting it acclimate to his shop for about four weeks before working with it, allowing all the moisture to leach out naturally before he begins the process of dimensionalizing the project and hand-cutting all of the traditional joinery, piece by piece.
Esposito says that his operation is a one-man show at the moment, but that he plans to hire an apprentice hopefully within the year. He says he wants to play a part in the lineage of tradesmen who came before him, honoring traditions that stretch farther back than any one carpenter's life. It's his hope that his art form, like the material on which it's built, will continue to thrive on in a sustainable environment. "There are a lot of positive programs that are being created to promote the trades," he says. "And consumers are becoming more educated about the difference between something that's handmade and something that you can buy at a box store. It's pretty inspirational for anyone who wants to get into [the trades] at this point."
You can find Esposito's work at thenicoworkshop.com.