Eye for Design: A Gathering Force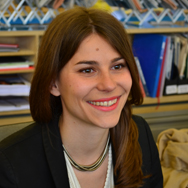 Did you know Rhode Island is home to the second highest number of industrial designers per capita in the United States? And since 2007, the number of design businesses in the state has grown by 194 percent, according to Dun and Bradstreet.
"Rhode Island is filled with design talent, though many do not know this talent exists here in the state, nor do they fully understand the potential of design-thinking," says Lisa Carnevale, who is working on an initiative called DESIGNxRI.
The project, which was awarded a Make It Happen grant from the Rhode Island Foundation, aims to bring together under one umbrella a variety of design disciplines — including graphic design, architecture, industrial design, interior design and landscape design — so they can share resources and promote Rhode Island as a place for great design.
The board recently hired a project coordinator named Janet Zwolinski. DESIGNxRI is working on a website that will feature profiles of Rhode Island-based designers. To stay informed, you can join DESIGNxRI's email list, check out its blog and follow it on Twitter or Facebook.
And DESIGNxRI is hosting its first event this month: a panel featuring Camilla Buchanan, an adviser to the Design Council in the United Kingdom, which works on social challenges such as dementia and youth employment, and provides design training for businesses.
Buchanan is visiting the United States to investigate how design is used to effect change in the fields of health care, social innovation and business. She will meet one-on-one with designers from Ximedia and Focal Upright. The panel will take place at Betaspring, 95 Chestnut St. in Providence on Tuesday, November 12. The event is free, but seating is limited. For more information, email info@designxri.com.