Eye for Design: A Better BMX
Providence-based welder David Harrison makes frames for some of the best in the BMX business.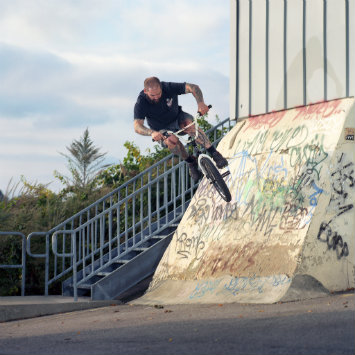 Consider the BMX bike. A vehicle as much as a lifestyle, it bristles with rebellious, energetic possibility: grinding handrails, bunnyhopping curbs, slaloming traffic, finding ways in which the environment can integrate with — and thus heighten — the BMX experience. Which in turn creates a community, as like-minded individuals come together to swap stories about where to find the next big locale begging to be BMX-ed.
But for David Harrison, owner of Pedal Driven Cycles in Providence, that community wasn't enough. He wanted to transform his passion for performing sick tricks into a career spent building a better BMX bike.
"I've just always loved BMX bikes, the whole scene of it," says Harrison, a forty-year-old covered with tattoos. "Back in the '90s, though, the bikes didn't make sense, geometry-wise. They were built cheap by older people. So the younger generation — my generation — started building new bikes, and all the magazines were featuring these people. Then I said, 'Why can't I do it?' "
For the next sixteen years, Harrison learned how to design and weld frames working for companies making bikes for top BMX racers — places like Spooky Cycles, Schwinn, Terrible One, CULT. Known in the industry as "Big Dave," he's made frames for Aaron Ross, Dave Mira and Mike Tag, and his career moves have been chronicled by biking magazines and ESPN. In 2011, he took his knowledge and using a Kickstarter campaign, created his own BMX brand, Kool Thing. (Harrison credits Sonic Youth for the name.)
These days, like a true '90s punk enthusiast, he works out of a brick-walled studio on the first floor of a mill building that, at first glance, could easily be mistaken for abandoned. Tattoo artwork and BMX posters adorn the studio's walls. Bike frames from past jobs hang from the ceiling. It's as much his workspace as it is a testament to his BMX history. And it's the perfect spot for Harrison's work.
"Sometimes, in between building frames, I need to blow off steam, so I'll grab my own bike, mess around in the lot, or grab my commuter and run down the road a ways, to Seven Stars," he says. "It's nice and quiet here. Great for working."
And work he does: Harrison produces handcrafted BMX frames made from chromoly, a durable, lightweight steel, which he polishes to create a metallic rainbow effect similar to oil dropped in water. Each frame comes complete with a stainless steel Kool Thing logo. He produces anywhere between five to ten frames a run — a far cry from the 300 to 400 a month he used to produce with previous companies. He also repairs old, broken frames.
Surprisingly, though, for handcrafted, professional-grade quality, Harrison's frames are reasonably priced, ranging from $389 to $450.
"I get it, you know," Harrison says. "My clientele can be anyone from fourteen to forty, and a kid isn't going to have the money an adult has to buy a handmade frame. I remember mowing lawns all summer, taking odd jobs, saving money just to buy my own bike. I did it. I understand. I'm trying to make it so my younger self could buy my own bikes."
Without a doubt, BMX bikes are Harrison's top priority, but his creative eyes have begun to wander into other bicycle genres, and he says a one-speed commuter is scheduled for release sometime in March or April. In addition, he plans to add another BMX bike to his growing line.
"Something about the BMX culture, I just love it, that middle finger to authority, the rowdy kids kicking over trash cans and swerving through traffic. It makes it so all I want to do is build bikes."
Harrison's Kool Thing frames are available at Circuit BMX, in Pawtucket, or through his website, pedaldrivencycle.com.