Extended Q and A: MorganEve Swain on Brown Bird's Final Album
Warren-based multi-instrumentalist MorganEve Swain talks about Axis Mundi, an album of songs she wrote with her partner in music and in life, Dave Lamb, before he passed away last April.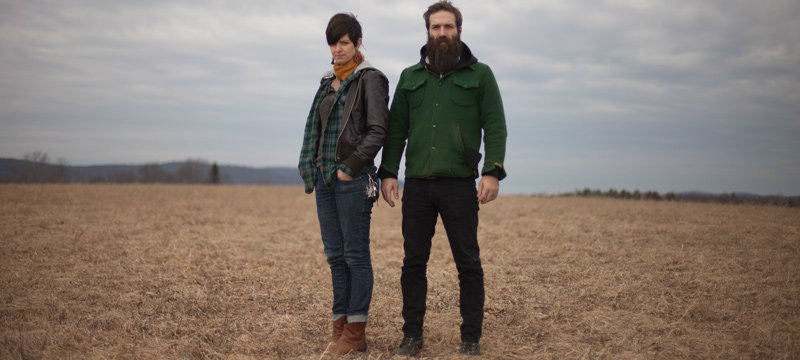 MorganEve Swain and Dave Lamb performed together as Brown Bird, a renowned local band that toured all over the nation. Brown Bird became a regular name on the folk scene after a main stage performance at the Newport Folk Festival in July of 2012. Read our post-performance Q-and-A here.
The following spring, Dave was diagnosed with leukemia. He passed away in April of 2014, at the age of thirty-six. The loss rocked New England's music community; Dave was considered one of the area's humblest talents.
In the April issue of Rhode Island Monthly, we featured a story on Brown Bird's final album, Axis Mundi, which will be released on April 28. Here's our full interview with MorganEve, edited for clarity:
Rhode Island Monthly: Over the course of Dave's illness, you shared a lot with your fans. Is Axis Mundi an extension of that?
MorganEve Swain: Yeah, I guess it is. As far as being public with our private lives, we tried really hard not to have our relationship be a public thing. We were overly aware of the dangers of being pigeonholed as a cute couple folk band. We never wanted the fact that we were a couple to be the thing that was interesting about us. It was always about the music. And when he got sick, going public with everything just felt like the right thing to do.
The outpouring of support was really incredible and I don't know how we would've got done what we did without that, as far as people donating money and people sending us notes and letters. That's definitely part of why I want to keep Brown Bird going as long as I can. I feel like the fans now are part of my family.
At Christmastime, I released an album that was kind of a thank you to the fans for going through this with me. [Read more about A Brown Bird Christmas here.] It was a more lighthearted thing I wanted to get out there before the album, because I know the album is pretty intense. [Axis Mundi] was written during the year he was at home recovering from his bone marrow transplant. So with the exception of a few songs, most of them were written through that time.
What was it like working on the songs after Dave passed away?
The first two months I was basically in shock, but it felt like the most important thing to me was to keep the music going. I don't know, it wasn't even a conscious decision at that time. I had these demos and they were almost done and it was what needed to happen, so that's what I did.
Did you put a lot of thought into the song order, or did you play it by ear?
The very first song, "Focus," our engineer was like, "I don't care what order you put it in, but this has to go first." And it did make sense to do that. The rest of it — it seemed to be the right flow. The only other two that were really important to me about where they were, placement-wise, were "Tortured Boy" and the very last track, which will be a hidden track on the release.
You wrote "Tortured Boy" for Dave, right?
Yeah, I wrote that in the first months we knew each other. I had written songs back then and I never had any intention of doing anything with them. But for whatever reason, Dave really wanted "Tortured Boy" on this record. And it was really random, I was like, "Why? All of these songs are so strong and so good." But he was really adamant about it, which, in retrospect now, is kind of a crazy thing.
What about the hidden track, "Avalon"?
He wrote "Avalon" for me last Christmas. Being stuck at home and too ill to go anywhere, he wasn't able to do normal holiday things. So he wrote me a couple of songs and did a couple of silly covers and gave them to me last Christmas, and that was one of the songs he wrote.
Aside from the more personal songs, do you have a favorite on the album?
I don't know if I have a favorite, but some were a lot of fun when we were writing them. "Smoke Rising" and "Bannermen" were two of the absolute most fun to do. When Dave was well enough, we were getting together with a buddy of ours, James Maple, and he would play drums and we would go electric. The rockier ones are fun.
There's still a Eastern European, gypsy feel to this album, but the rock influence definitely comes through.
Yeah, it's something we always wanted to do. There's a record label called Sublime Frequencies that we're big fans of that releases a lot of Middle Eastern and international psychedelic rock. And we're big metal fans and rock fans. We were always trying to find a way to incorporate that stuff into what we did because that's what we listened to. We really didn't listen to folk music at all (laughs).
Tell me about the album art.
It's hand-embroidered by Will Schaff, who is a dear friend of mine and also the artist who did the cover art for our last two albums. I love working with him. I think he's a really incredible artist, and embroidery is one of his favorite mediums. The only idea I wanted him to go with was the mandalas.
That reflects on the album title, right? [The axis mundi, or the center of the world, is often associated with mandalas, a spiritual pattern loosely translated as "circle."]
Yeah, the mandalas are pretty important. It's just one of those things that materialized through everything. Dave had the mandalas on his hands, I have one on my leg, my mom got one on her back. And they've become way more meaningful then I think either of us ever thought they'd be. They were just interesting designs Dave found, which we used in the imagery of Fits of Reason, and it spun from there.
What do you hope your fans and new listeners will take from Axis Mundi?
I don't think there's a wrong or right way to hear it. I just want people to be aware of how incredible Dave was and I want to keep his legacy going as long as I can. I don't think I've ever been as proud of anything as I am of this album. Usually when you talk about your own music, you're kind of modest and there's always something you could've done better, but this album, I'm like, nope, it's awesome. There's no modesty about it.
What's next?
That's a good question. I have some ideas about recording at home, and I have a project I've been slowly working on called the Huntress. [Click here to listen to the exquisite "Call to Arms," MorganEve's first release under the Huntress moniker.] I also have some ideas about starting a nonprofit, something in Dave's name.
Axis Mundi is available via Supply and Demand Records on April 28. Purchase the album here, and visit brownbird.net to view the band's entire collection of music. Look for the original story in our April issue, on newsstands March 30.