Extended Q and A: Debbie Sterling of GoldieBlox
The Lincoln native inspires girls with GoldieBlox, a construction toy she created just for them.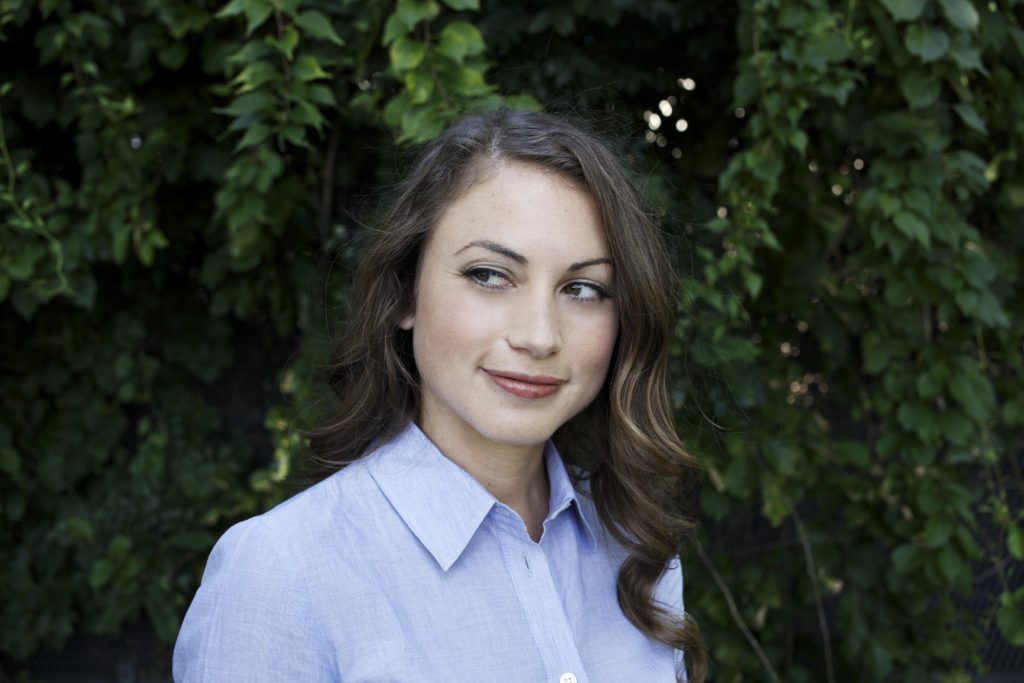 What kinds of toys and games did you play with growing up in Lincoln?
My younger sister and I played with a lot of traditional girl toys like stuffed animals and dolls, but I also loved using my imagination and incorporating everyday household items into play. When we would go out to eat (my mom really loved Gregg's) I would gather all of the sugar packets and build huge towers at the table. My parents dream was for me to become an actress, so dress-up and talent shows were a big part of playtime, too. Developing and then acting out these stories is really such a great memory for me and that's why I made sure storytelling was central to GoldieBlox. I knew from experience that girls often like to know why they're building what they're building and we've found that concept is really resonating.
How did your high school math teacher influence your career?
When it came time to apply for college, I turned to my high school math teacher, Mary Viruleg, for a letter of recommendation and a little advice. She asked me what I wanted to major in and I was, admittedly, stumped. I knew I liked math and science, but I also loved writing, drawing and art. When she suggested engineering, I immediately thought of a train conductor or some mad scientist crunching numbers all day. Nevertheless, when I started at Stanford I heeded her advice, enrolled in Mechanical Engineering 101, and the rest is history!
What types of activities were you involved in during high school?
My interests in high school were fairly diverse. I was president of our Renaissance Club, which was all about academic and civic responsibility, and I was also a member of the math team. During my senior year, I was one of the emcees for the Variety Show – which anyone that went to Lincoln High School will tell you is a pretty big deal – it's right up there with winning Spirit Week.
What I'm most proud of, however, is helping start the school's very first girls' soccer team of which I eventually became a captain. I feel very fortunate to have been surrounded by some amazing people at Lincoln High School; everyone from the teachers and administrators, to my graduating class. It was truly a talented and inspiring group.
What inspired the initial idea for GoldieBlox?
When I finally committed to studying Engineering at Stanford, I remember looking around and realizing that I was one of only a handful of women in my classes. I constantly wondered why this was the case. After I graduated, this glaring gender gap was something that stuck with me. One day, at an idea brunch with friends, someone reignited this conversation and it all suddenly clicked. If you take a walk down the pink aisle of any toy store you see how girls are inundated with all things pink while boys get construction toys and science kits. I realized I needed to reach girls at an early age to make an impact and introduce them to engineering. My breakthrough was a construction toy designed specifically for them.
After months and months of research, I found that simply creating a pink building toy wasn't nearly enough. Young girls are avid readers, and they internalize and learn more effectively through storytelling. GoldieBlox combines the story of Goldie, the girl inventor who loves to build, with a construction kit. Goldie's goal: to get more girls interested in engineering, build self-confidence and inspire the next generation of innovators.
How can the average person help change the stereotype of what boys and girls are conditioned to play with?
Similar to our goal of disrupting the pink aisle, families everywhere can disrupt stereotypes by simply providing girls with more options. Take out everyday items, like I did with sugar packets, and show kids how to start building and tap into their creativity. If you combine the building with a story – or even a challenge – the adventures become even more exciting. Around the office we talk about "life hacks" and how we all create simple machines everyday to overcome obstacles. GoldieBlox is really all about showing how engineering is not only accessible, but also a fun way to solve problems.
What would you like to see happen to the pink aisles in toy departments?
The movement toward change begins with simply providing more options for girls. We're not here to say pink and princesses are bad, we just want girls to know they can build their own castles, too!
Any plans to disrupt the action figure aisle?
As we expand Goldie's story and introduce new concepts, colors and characters, the possibilities are really endless in our quest to make Goldie a household name. I think a GoldieBlox action figure sounds like a great idea. All I'll say is stay tuned!
Watch some of the videos that made GoldieBlox famous: