Exploring Providence Children's Museum with a Toddler
I wondered if my toddler would be able to participate in all of the activities inside this wonderful place. So how did it go?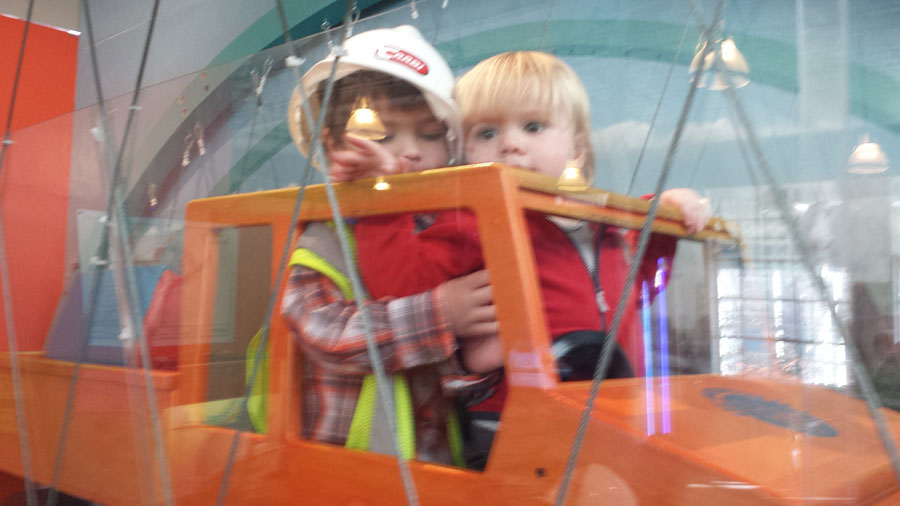 When it's too cold or rainy to play outside, what can you do with a rambunctious toddler? My son Carter is only one-and-a-half, so there aren't many options. I wondered about the Providence Children's Museum, and if my toddler would be able to participate in all of the activities and play spaces they've constructed inside this wonderful place.
We visit the museum with my sister and nephew, Jake, who is four years old. Up until now, they haven't played together much because of the difference in age. As soon as we enter the museum, my little man is off and running after Jake to investigate all the translucent tubes that twist and turn on the first floor. You can stick balls in some of the tubes and watch them get sucked up and travel along the piping. He stops at the funhouse mirrors to see how he would look as a tall wiry character, then as a stout, round baby.
Just around the corner, we enter the Water Ways exhibit (read more about Water Ways and 9 New Things to Do at the Providence Children's Museum). I am a little worried about this one, because I forgot a change of clothes for Carter (a big mama no-no!), and it is freezing outside. I take a chance, push up his sleeves and snap on a neck-to-toe waterproof smock. It covers almost every inch of his clothing, keeping him dry as he wanders from water table to stream. The curving waterways are fixed with spigots pumping running water, vortexes and fountains forming umbrellas of spray. If only I could make bath time this fun! The tables are low enough for him to investigate (which really means splashing), but he is mostly interested in watching how the balls are taken with the current and playing with ice and slush at another table.
Then we go upstairs to play in the treehouse area, Littlewoods, where there is a little bear cave for him to explore and hide in. There are bear and bird costumes and hats for dress up, and rubber rocks that he enjoys carrying around. I help him go down the slide and walk along a little bridge.
Along the way to the next play area, he enjoys stopping to stack blocks, tinkering with locks set up along a wall and exploring other interesting objects, all different weights, shapes, sizes, colors and textures. Sensory activities abound around every corner.
Then we get to the construction site, and for a little boy who instantly loved trucks from the first moment he saw them, this was his favorite book come to life! We read him the book Goodnight, Goodnight, Construction Site almost every night, and he can't help but say "Vroom, vroom," every time daddy watches "Gold Rush." With a little help from mom, he climbs aboard the real construction vehicle and turns the wheel and manipulates the shifter as if he is driving. He crawls around the floor pushing rubber rocks with the toy bulldozer and transports boulders inside the bed of the dump truck. Then we venture over to the reproduction Iway bridge with Jake where they can wear helmets and reflective yellow vests. They sit side by side and ride another vehicle. Under the bridge is a little wooden boat Carter enjoys steering along the pretend river.
While he doesn't want to leave this exhibit, we move on to the Coming to Rhode Island area with little rooms demonstrating several immigrants' experiences coming to America. One of the rooms actually includes a real ship with a story about a Cape Verdean immigrant with our same last name. His name is Antonio Coelho who sailed to Rhode Island in 1892.
My son loves exploring below deck, where there are bunk beds and food storage areas, including a chicken in a cage. Then I let him explore the deck where there is a captain's wheel for guiding the vessel, a wooden treasure chest, netting and sails. Then we're onto Doña Fefa's market where he loves playing with pots and pans and toy fruits and vegetables.
It turns out the Providence Children's Museum is the perfect place to take an inquisitive toddler. Although I thought he might be too young for the experience, he enjoyed exploring the exhibits more than I could have ever imagined. And at only $9 per person, you can bet we'll be back many times this winter, and in the spring and summer, when we can't wait explore the amazing outdoor area. 100 South St., Providence, 401-273-5437, childrenmuseum.org