Explore Fox Point Like a Local
This East Side enclave is quickly becoming Providence's "it" neighborhood.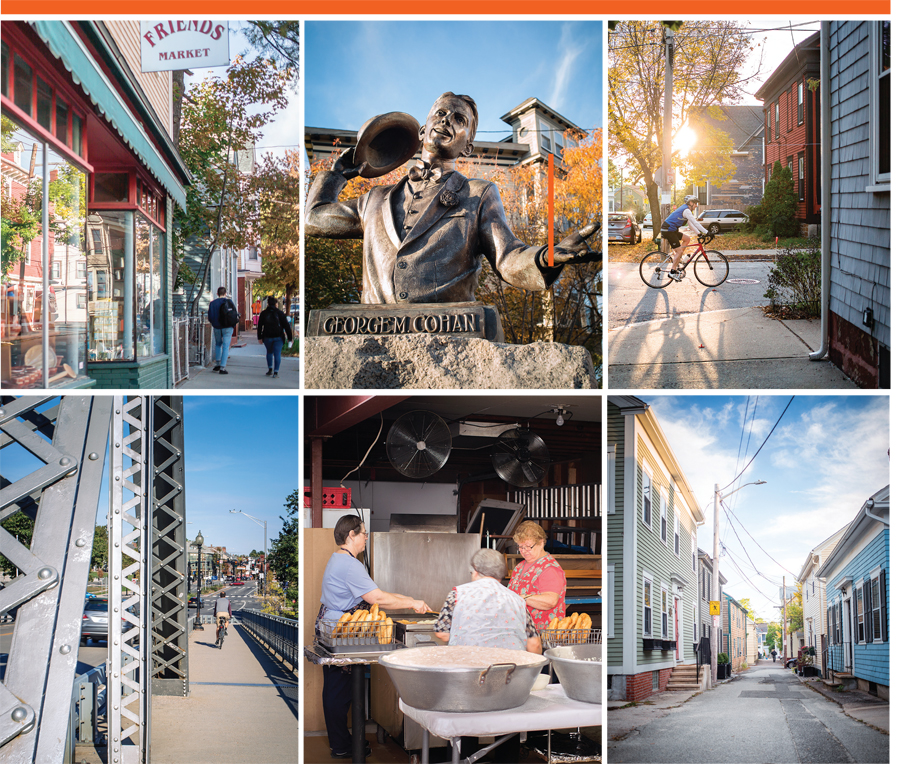 I was first impressed with Fox Point when my frustration was running rampant: sitting in my car, mid-week, mid-January, at quarter past five in the evening. I had just punched out for the day from my internship in Davol Square when I quickly realized that my usual route to 95 south via Point Street had turned into a parking lot.
The traffic signals teetered to and fro on their wires, needlessly flashing through their color cycles while each intersection remained at a total standstill. I took one look at what lay ahead of me, said "nope" and checked my phone for an alternative route.
Google Maps turned me around, sent me across the Providence River and onto Wickenden Street. I followed the road until directed to turn right onto Gano Street, and then right again onto the East Providence Expressway.
While a bit of a roundabout path, I'd say this small slice of Fox Point (although I was completely unaware of its name at the time) made a pretty good first impression: It was faster and much more scenic, so I took the more unconventional route quite often. Each time I found myself looking around at the inviting shops, the cutesy apartment buildings and the contented pedestrians as I embarked on my agonizing, fifty-minute-depending-on-traffic-please-God-don't let-there-be-an-accident-today commute to South County. Each time I wondered if, once I finally managed to move up north, this was a place where I could be content, too.
I finally got the opportunity to find out.
Alissa Peterson, an active board member for the Fox Point Neighborhood Association (FPNA), has lived in Rhode Island, more specifically Fox Point, for a little more than four years. She joined the board in 2015 after she and her husband attended a few meetings and glimpsed behind the scenes of community action. "It's remarkable for me, coming from New York, just how involved you can actually get into things that are happening here," Peterson tells me over a steaming cuppa at the Benefit Street Juice Bar in Providence.
So how did a Brooklyn transplant find herself in Fox Point? For her, the attraction lies in the walkable nature of the community.
"Plus the restaurant scene is just fantastic, and we're the site for a lot of unique, locally run festivals," Peterson says. "It's a pretty cool place to live."
FPNA's website agrees, dubbing the area "historic and hip." The historic aspects are obvious, between the traces of nineteenth century architecture that pop up along Benefit Street and remnants of Buddy Cianci's legacy at his former Power Street dwelling, but hip doesn't fall far behind.
Now, I'm normally the first to lament that if something has to announce that it's "cool" (looking at you, former state slogan) then, in actuality, it's probably pretty square. But I'm happy to concede that Fox Point — which begins just south of Waterman Street and covers parts of Brown University and Rhode Island School of Design campuses, and extends down to India Point Park and the north shore of the Seekonk River — has entered a bit of a renaissance in recent years.
"We have a lot of new initiatives that we're really excited about," says Peterson. The Wickenden Area Merchants Association, for instance, is looking for funding for their Conversation Trees project, which would remove Wickenden Street's damaged and timeworn tree guards and replace them with stylish benches designed by Johnson and Wales students. "These would add a little bit more of a pedestrian-friendly feel," Peterson says. "Because it's a small-scale street, we want people to be able to stay and hang out after they shop. To feel welcome."
FPNA, along with the merchants association, also recently persuaded the city to set aside proposed meters on Wickenden Street, while working on ways to increase parking.
And a pedestrian bridge that will connect Fox Point to the Jewelry District has been approved. The foundation is already in place, repurposed from the remnants of the old I-195 bridge. "From the drawings it looks beautiful, just this great architectural centerpiece that overlooks the Providence riverfront," says Peterson. "And it will create a more integrated feeling to the city. We'll be able to easily walk over and go out to eat in the Jewelry District or downtown, and then their residents can come check us out, too."
As Fox Point flourishes and becomes more accessible to the community around it, more and more people will be captivated by its charm, just as I was that fateful day when forced to turn around and see my surroundings in a whole new light.

4 great places for foodies.
Providence Hot Club
A tip from our Fox Point insider, Alissa Peterson: The ever-popular night-out destination, Hot Club, also makes for an absolutely beautiful spot during the winter, especially when it snows. Watching snowflakes peacefully drift past the city skyline to meet the water's edge while munching on a juicy burger and homemade chili in a cozy setting? Sign us up. 25 Bridge St., Providence, 861-9007, hotclubprov.com.

Persimmon
Piloted by three-time James Beard semifinalist, chef Champe Speidel, this new kid on the Fox Point block serves ingredient- and technique-driven American cuisine. Persimmon's menu changes a bit from night to night, but Speidel's culinary vision remains a constant. 99 Hope St., Providence, 432-7422, persimmonri.com.

A short drive away
Old Grist Mill Tavern
When they say "old" they aren't kidding; built in 1745, the Old Grist Mill Tavern was once a site where local Colonial farmers could grind their grains. No one knows exactly when it converted to a restaurant, but patrons do know that they're thankful it did. Come for the history and stay for a taste of one of the tavern's quality steaks, legendary crab cakes or scrumptious baked stuffed jumbo shrimp. 390 Fall River Ave., Seekonk, Mass., 508-336-8460, ogmtavern.com.

Poco Loco
Who doesn't like a good taco? And at $5 for a grande, it's a steal. Poco Loco can be found zooming around the streets of Providence in a trendy food truck, as well as at the snug brick-and-mortar location in Cranston. And their flavors are creative, with the PB and J (pork, beans and jalapeños) and the Funguy taco (tacos with a sense of humor, we're in) with mushrooms and salsa verde. 2005 Broad St., Cranston, 281-9866, pocolocotacos.com.

4 great places to shop

Campus Fine Wines
Everyone deserves to sit down with a nice glass of cabernet (or whatever your poison may be) after a long, hard day of work. Luckily, Campus Fine Wines is here and more than happy to cultivate your thirst. Peruse their wide selection of small production, organic wines and thoughtfully chosen beers and spirits at your leisure or stop by on a Friday evening or Saturday afternoon for a tasting. 127 Brook St., Providence, 621-9650, campusfinewines.com.

Lore
What began as a modest holiday popup show in 2014, Lore is now a force to be reckoned with on the East Side. The impressive collection of contemporary art and design objects, curated by local designers Margaret Hinge and Jayna Aronovitch, aims to expose the innovative talents of New England-based makers and artists to the community at large. So go ahead and enlighten yourself by checking out their inventory, which also includes apparel, jewelry and accessories. 144 Brook St., Providence, lorecollection.com.

A short drive away
Blackbirds Consignment Shop
While a tagline like "friends don't let friends buy retail" may seem a bit radical, one look at Blackbirds Consignment Shop's collection could be enough to make you reconsider. The shop is praised for offering like-new designer apparel and accessories, from the likes of Gap, J. Crew and Banana Republic, in perfect condition, at a fraction of the wholesale price. And, if you're more interested in adding to their inventory, owner Jackie Murrant can schedule an appointment with you to evaluate your items. 1800 Mineral Spring Ave., Unit E, North Providence, 353-2028, blackbirdsconsignment.com.

4 great places to explore
Providence Ghost Tour
Their disclaimer is quite the enticer: "The Providence Ghost Tour cannot be held responsible for any haunting, soul-possession or poltergeist activity endured before, during or after participation on the tour." What better way to get to know Rhode Island's capital city than hanging out with some of its former inhabitants? 484-8687, providenceghosttour.com.

RISD Museum of Art
If you appreciate art in any form then you'll most certainly appreciate the RISD Museum of Art. Their long-term collection contains more than 100,000 works of art, and its special exhibitions showcase an array of cultures and media from contemporary clothing to ancient objects. The museum is open Tuesday through Sunday from 10 a.m. to 5 p.m., and the cozy cafe, Pearl, makes for an ideal space to sit and reflect with a hot cup of tea. 224 Benefit St., Providence, 454-6500,
risdmuseum.org.

A short drive away
Long Live Beerworks
Long Live Beerworks is the only — that's right, only — brewery in Providence. The brews are the brainchild of head brewer, Armando DeDona, while the colorful beer labels are designed by his wife, Jessica deBry. A mewing black cat graces the Black Cat Pale Ale label, while a howling hound bays on the smoky Heck Hound brew. Tastings room are open Wednesday through Friday 4 to 9 p.m.; Saturday 1 to 8 p.m. 425 West Fountain St., #104, Providence, longlivebeerworks.com.

Wintertime Farmers Market
Hosted every Saturday morning, snow or shine, inside the charming Hope Artiste Village, the Wintertime Farmers Market brims with high quality, locally sourced seasonal produce, baked goodies and artisanal wares. More than eighty local, favorite vendors will appear this year. 1005 Main St., Pawtucket, farmfresh.org.