Expert Tips on Furniture Restoration
Three creative types transform a ratty settee, a mid-century desk and a slab of old wood into marvels of design.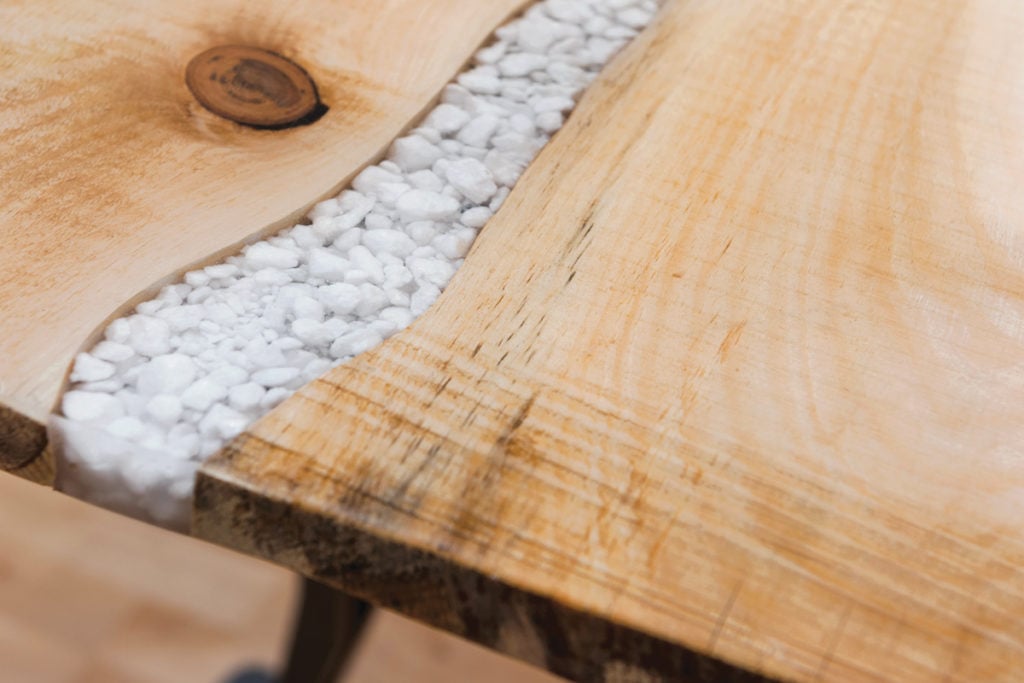 Color Pop
Sea Rose Cottage owner Nancy Chace scored big when she stumbled upon this American of Martinsville desk at the East Bay Food Pantry's thrift shop. Similar mid-century modern pieces go for $1,200 and up on sites like 1stdibs.com, but Chace snagged this one for a mere four Hamiltons. Given the price, it's no surprise the vintage find needed more than a little TLC. Instead of replacing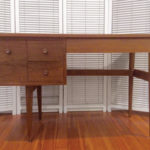 the worn-out veneer, Chace, who opened her Bristol design store six years ago, turned to one of her favorite mediums, paint, to transform the decades-old desk. Annie Sloan Chalk Paint in a trio of mid-century-appropriate hues took it from office staple to colorful showpiece. When working on a piece for a client or her store, Chace says she often uses paint in creative ways to give it new life. "I try to leave parts of the wood exposed when I can, but with paint I find that you can often see the architecture of a piece better and appreciate the form more. Sometimes with dark wood, you lose some of the interesting details."
Grow to Love
Furniture restoration and reuse take many forms but one of the main ingredients should always be love. That's the approach Guy Lemoine, who owns the West Side design store Home Imagined with his wife, Kristen, takes when converting reclaimed and locally milled wood into furniture and home decor. Here, a piece of live-edge pine from Burrillville is reincarnated as a one-of-a-kind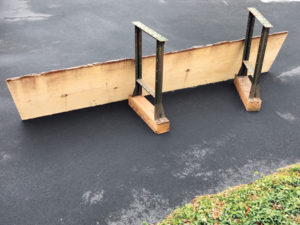 dining table. To add even more character, Lemoine carved a notch down the center and filled it with white stone before covering the entire surface in several layers of epoxy for a durable finish. Since beginning to work with wood four years ago under the moniker That Guy, Lemoine has turned a hobby of making wall decor out of wood pallets into a custom design business. He's hand-crafted everything from furniture and pallet walls to restaurant bars and bathroom accessories in a variety of wood species. "It is just amazing to see how furniture is made. From a tree to table, it's cool to be part of that transformation," Lemoine says.
Preferred Seating
Upholstery can provide a nice opportunity for a little creativity when giving furniture a new look. "We love when people are a little irreverent with their fabric choices. Those are often the best projects," says Kreatelier owner Line Daems. For a Victorian settee purchased at a Barrington design store that was closing, Daems and creative director, Pernilla Frazier, struck their own off-kilter tone with a velvet fabric in a citrusy chartreuse to replace its mish-mash of ripped and dingy fabric. The wood frame needed little work except a light cleaning and oiling. "We're typically known for our patterned fabrics, but this was such an ornate piece that we wanted to balance it out with something simpler," says Frazier. While Daems and Frazier have always believed in the power of fabric to transform a piece, they are now seeing younger and younger clients adopting the same mentality. Their customers view it as not only a cheaper option, but one that has more sentimental value. "It's that whole sense of keeping what you have rather than buying new," Daems says. "It's such a fun way to pay tribute to a family piece."
---
Pro Tips on Furniture Restoration
A few things to consider before embarking on a restoration journey of your own.
Love the piece as-is. Upholstery or paint can be transformative, but they aren't going to completely change the appearance. If you don't like the lines or general style of a piece, chances are you aren't going to love it more after a restoration.
Be honest about your budget. Designers are often willing to work within your price points and have creative ideas for doing so. For example, a chair can be reupholstered in a less expensive fabric on the back, and paint can be used to cover flaws in a wood piece that a client can't afford to fully restore.
Figure out what you have space for. Measure and then measure again before committing to a piece. It can be hard to eyeball how much space something will take up when you get it home. Lemoine suggests taping off where you'd like a piece, like a dining room table, to go. Then, add chairs to make sure there is plenty of room for the entire setup.
Factor in your existing color palette and style.
When choosing a finish, be it upholstery, paint or stain, it's important to make sure it works with what you already have. It can be fun to dream about a crazy pattern or dramatic finish, but if it clashes with everything else in the room, you'll second guess your choice.
Be honest about what you have time for.
If you're tackling a restoration project yourself, think first about your timeline and what you can commit to the process. There's nothing worse than buying a piece only to have it languish in a basement for months or years. If you don't have the hours — or skills — to make it work, it might be time to reconsider or call a pro.