Experience Zen in this Tranquil Garden
Asian serenity meets New England ingenuity in Newport.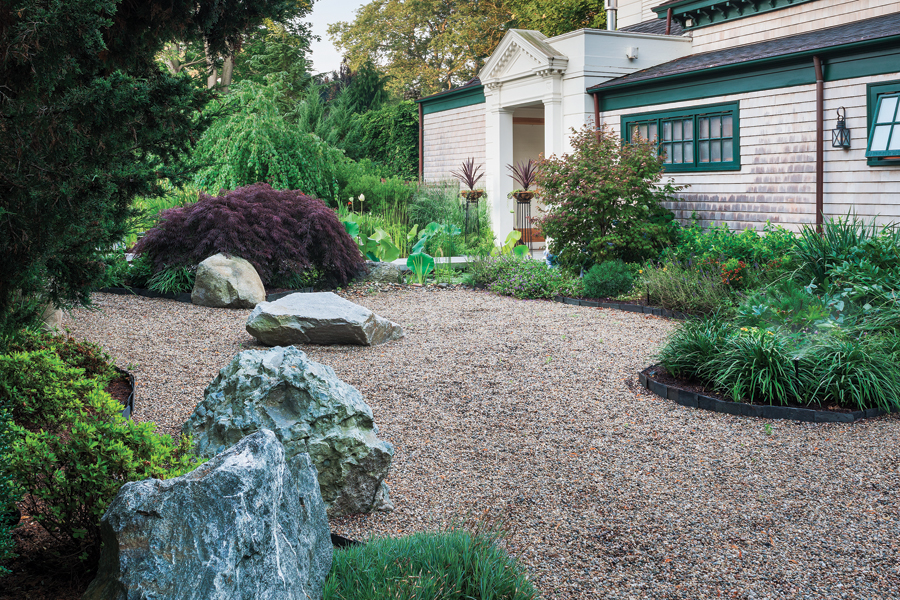 A sailor's sanctuary
In their earliest incarnation in twelfth century Japan, Zen gardens were a place of respite for war-weary Samurai returning home from the battlefield. There, behind the gardens' walls, the soldiers could meditate and recharge in their rock-laden retreats. Eight centuries later, the idea of such an escape still appeals. It's what inspired landscape architect Tanya Kelley while designing an Asian-style garden for her Newport-based client, a race boat builder who spends much of his summer on the water.
"I was thinking about him as a warrior of the sea returning home to a place of peace and relaxation," says Kelley, a principal of Newport-based PLACEStudio Landscape Design who says creating such a narrative is part of the process of planning her projects.

Stepping out through the back door of the owner's home — what was once the carriage house to a neighboring property — one can't help but feel the tranquility the space exudes. Tucked behind a tall fence and surrounded by even taller trees, it becomes a world unto itself, doused in influences from both early Chinese and Japanese landscaping. A stroll through the garden begins with a walk across a free-floating granite bridge — a common feature in Asian garden design — under which koi splash about and use the stone as a hiding spot from herons when needed.

The water, which flows down from a small hill to the pond, is a nod to a traditional Edo garden. Each spring, Nelumbo Water Gardens of Wickford, which helped design the water feature, returns to repopulate the pond with lilies and lotus.

Contemplative Climb
The design of the garden, with its narrow bridge and rocky path, necessitates that visitors step mindfully, as the garden's early influencers intended. A terrace of stone leads to steps — underlit when the sun sets — of the same salt-and-pepper granite that forms the bridge. Etched to resemble wooden planks, they lead up the hill, their scattered pattern mimicking that of the nearby splash stones that carry the water back down to the pond. At the top, a spread of conifers — many brought in by Samuel Kinder and Brother in Bristol — including white pine and Japanese cedar, as well as colorful coral bark maple, serve as a visual reward for reaching the summit.
"I wanted to evoke the feeling that visitors were traveling up a mountainside to the source of the water," explains Kelley.
Down below, just past the bridge, a "pond" of gravel that anchors the Zen portion of the garden takes the shape of the Narragansett Bay's East Passage, where the owner spends much of his time. Roof slates serve as borders that mimic the Newport and Jamestown coastlines.
This being a partly dry garden, rocks, sourced from all over the state, play an important role in setting the scene. The large stones nestled into the gravel stand in for Coasters Harbor, Goat and Rose islands while also acting as built-in seating. Another prized find was a rock shaped like a Buddha hand that guides the water into the pond.
More granite creates a patio area just off the owner's bedroom where, by day, he can admire the garden's intentionally simple palette of plants, including several varieties of Japanese maple, weeping katsura, azaleas, black bamboo, boxwoods and even a few hydrangeas.
"Because you can't seem to have a garden in Newport without a few of them," Kelley says of the flowering bushes.
By night, the patio's flushed-grade firepit makes an ideal backdrop for moon-gazing.
Across the way, a grove of arborvitae and juniper trees conceals a path, made from cross-sections of a tree trunk that had to come down, that leads guests from a gate to the guesthouse without disturbing the owner.
Sticking with tradition, the focus of this garden is foliage over flowers. In caring for their gardens, the Japanese would spend considerable time and energy coaxing greenery into shapes they found pleasing. For the sea-bound owner of this garden, the idea was quite the opposite: to keep it simple. When a space is as pleasing as this one is on its own, there's little room for improvement.

Tea for Two
With its variety of terraces and verandas, it would be easy to forgive Susan Ruf and her husband, Michael Walsh, for seldom venturing past the main house of their Newport estate, Hillside. But their approach has been quite the opposite, developing the grounds over time into a lush landscape of gardens, and more recently adding a modern-style greenhouse where Ruf cultivates her passion year-round.
Still, until a few years ago, one corner of this second two-and-a-half-acre property that housed a small grove of dogwood trees had remained untouched. That is until Walsh had the idea to build a Japanese-style teahouse on the site. Ruf jumped right onboard, eyeing it as an excuse to create a long-lusted-after Japanese garden.
"I've always loved the simplicity and serenity of Japanese gardens and traditional Japanese garden plants are some of my favorites," Ruf explains.

In constructing the house, the first phase of the project, no detail was overlooked. Woodworker Kevin Pritchard of Pritchard Woodworking dove headfirst into construction, researching Japanese joinery techniques. The fruits of his labor are displayed throughout the house, particularly in the eaves and foundation, and in the cypress and bamboo fence that wraps around the area. Mason Rick Oriel called upon an expert from California to make sure the stucco recipe adhered as closely to the traditional mix of straw, soil and latex as possible, while Newport's Randall Sheet Metal Work topped it all off with a traditional copper roof.
The inside is equally authentic, with tatami mats covering the floor where Ruf often sits to meditate or practice yoga. An intricate storage unit, another of Pritchard's design feats, includes space for a flower arrangement — a traditional element of Japanese teahouses — which Ruf changes regularly in her nearby greenhouse.
Once the house was complete, attention turned to the surrounding outdoor space, with designer Laura Willson from Garden Endeavors in Swansea working with Ruf to develop a garden that evoked the same peace and tranquility as the house.
"We wanted to incorporate traditional elements of a Japanese garden but in an informal way," says Ruf.
The simple spread of green plants provides plenty of texture and seasonal color. Mosses, epimediums and shiny-leaved Sarcococca (sweet box) cover the ground, while ferns, grasses and flowering quince shrubs create a perennial mid-layer of green. Topping off the scene are Japanese maples and dogwood trees, as well as plenty of evergreen pines, cedars, Chamaecyparis and hemlocks, which keep the corner garden colorful even in winter months.
Stonemason Kevin Baker brought in a plethora of stones of all shapes and sizes to serve in various roles. Several flow downhill to the north of the teahouse, forming a dry streambed, one of the garden's main focal points. Large gray granite slabs act as steps up to the house, while another cluster of larger rocks create a mountain-like vignette.
A bubbling stone water basin, the garden's only water feature, sits near the entry of the teahouse, serving as a year-round attraction for feathered friends.
"It's so much fun to sit down here and watch the birds," Ruf says.
On warm days, the rice paper-covered doors are pushed back into their pockets, opening the structure on three sides, while a porthole window on the remaining wall provides a perfect view of the streambed, even when the doors are closed during colder months.
Just two years after completion, Ruf and Walsh can hardly imagine a day that doesn't include a stroll down to the teahouse, where they work, sip tea and entertain guests often.
"It's become a very restful, unique space in this corner of the world for us."