Excellent Fish Market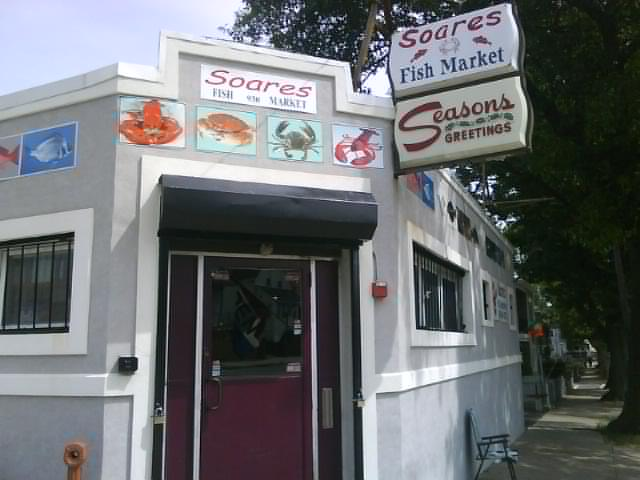 It doesn't look like much, and the first time I walked into it, I walked out without buying anything. I'd been spending too much time shopping in Whole Foods and I guess I felt like if it wasn't laid out in huge, gleaming displays of overabundance, I wasn't sure I should be buying it.
But then friends – foodie friends – told me to go back. So I did. And I bought fish. And it's been incredibly fresh, all three kinds I've tried so far. And cheap!
And so, dear readers, I present Soares Fish Market, ingloriously located on the north end of Narragansett Boulevard, where it still feels like Allens Avenue.
My habits mean I've hit it on Wednesdays, and each time, I've asked what came in that morning. The first time, I was sorely tempted by the glorious whole red snapper ($5/pound!) but wasn't sure dinner guests would want to deal with bones, so went with the halibut fillets ($4/pound and so fresh they smelt like milk and sugar).
And this last Wednesday, I went for a piece of salmon and a piece of cod. I just finished the last of the cod, which I'd pan-steamed in lime juice with chiles and Thai Basil, for lunch today. Yum! The salmon is sitting in my freezer. Both were $4 a pound and impeccably fresh. It's really pretty impossible to argue with that.
I think it's safe to say this is now part of my routine. There's good cooked food there too; I've tried the sauteed squid and the sausage and peppers, both prepared Portuguese-style with plenty of paprika (they sell it there by the generous ziploc bag) and served with yummy rice. The stuffies look good. The fish-counter guys who've helped me haven't blinked when I've asked if I can smell the fish before I buy it. (Why should they? They know they're onto a good thing.) And I love that the sign on the outside wishes you "Seasons Greetings" – even on a sweltering day like today.
Soares Fish Market
930 Narragansett Boulevard
Providence, RI 02905-4326
(401) 941-8700