Examining Rhode Island's Prostitution and Sex Trafficking Laws
Six years after reform, what's changed?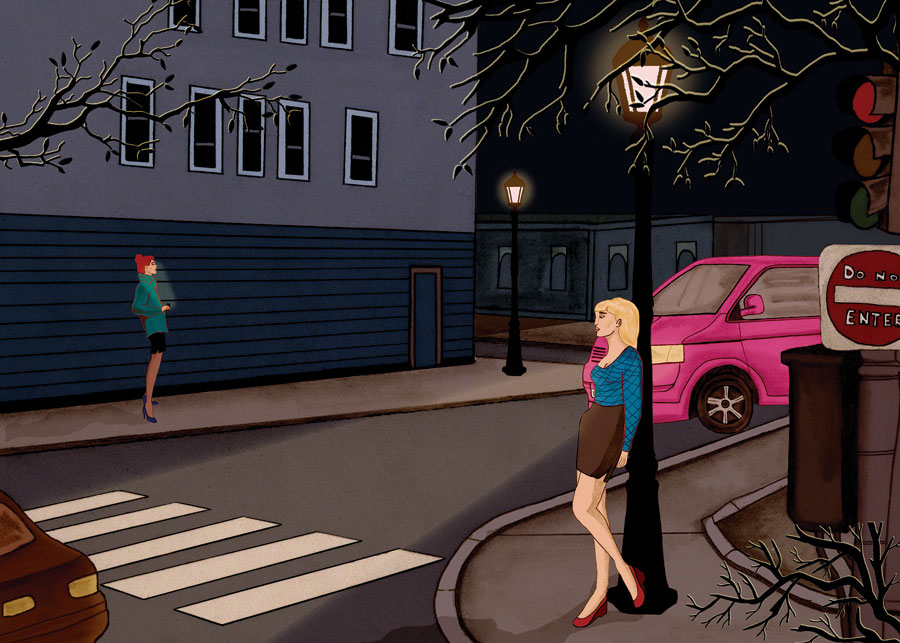 Vicky began selling sex at sixteen, ushered into the profession by an escort service driver she met as a runaway. She went from being trafficked to running an escort service, and in her years as a sex worker, Vicky (a pseudonym) plied her trade from the streets to indoor locations, advertising on Craigslist and Backpage.com. But in November 2009, when the General Assembly closed a loophole that allowed indoor prostitution,Vicky decided it was time to quit.
"I was petrified, because I had already been to jail for prostitution and I didn't want to go back," she says. She turned to office work, but the economic pressure was intense. Now thirty-three and a mom, Vicky says, "sometimes I wish I could go back on Backpage. It's easy to resort to because it would help so much."
Her story demonstrates some of the successes and the failures of the legislation, which outlawed indoor prostitution and made trafficking a minor for sex a specific crime.
During the laws' contentious passage, proponents argued that in the absence of an indoor prostitution law, Rhode Island had become a hub for commercial sex operations and that the proposed legislation would allow authorities to target pimps and rescue trafficked minors.
But advocates who work with prostitutes feared that criminalizing indoor prostitution would only further penalize sex workers. Prostitutes would continue to shoulder the heaviest burdens of the crime, they argued, and the new law made no provisions to help prostitutes leave that life.
Five years later, no one can say if the legislation reduced the incidence rate of prostitution, although arrests for those "engaging in prostitution" have dropped by more than 40 percent since 2009, according to the 2014 Uniform Crime Report, a compilation of all Rhode Island police records.
For example, in Pawtucket, where street prostitution was once a major problem, Major Tina Goncalves says, "We don't have the typical street walker. It's now moved to social media. The younger generation is online."
But there have been a number of significant changes. For one, with the express prohibition against indoor prostitution, the once-ubiquitous Asian massage parlors are now few.
"We put on a full-court press and got rid of almost all of the indoor massage parlors," says Providence Police Captain Michael E. Correia.
State and federal authorities have also prioritized diverting minors from the sex trade, while prosecuting their traffickers. There has been a steady stream of high-profile cases, featuring teenaged and female traffickers, or adult men who lured young girls here from as far away as Texas or sold teens as young as fourteen years old.
But state court records also show that those who criticized the proposed laws in 2009 also saw their fears realized. Prostitutes who are older than eighteen are still more likely to be charged, more likely to plead guilty to prostitution charges and more likely to be jailed than their customers or their pimps. Advocates say there are few resources for adult women who are driven into prostitution by poverty or addiction.
"The new buzzword is human trafficking," says Felicia Delgado, a former sex worker who founded Esther's Well, a nonprofit that supports commercial sex workers who have left or are trying to leave the life. "They are doing all these raids, but at the end of the day what about these women? Just because they aren't arrested doesn't mean they don't need help."
Last year, law enforcement targeted not just the supply, but the demand. Police in West Greenwich, Providence and Central Falls conducted stings that led to the arrests of sixty-five men, lured via Backpage ads to buy sex.
"The police really got the message that they shouldn't just be arresting the women," says Donna M. Hughes, a University of Rhode Island women's studies professor and trafficking researcher. "There is also an increased awareness that many women in prostitution may be victims of sex trafficking."
To date, the United States Attorney and state Attorney General have prosecuted about thirty trafficking cases. The state and federal prosecutors are cross-designated so they can work together in either state or federal court to try the accused in the right venue. The effort has produced some lengthy sentences for traffickers. In October, Kemont Bowie, thirty-five, of Central Falls drew a thirteen-year sentence in federal prison, after pleading guilty to trafficking a seventeen-year-old and a homeless woman.
"We really picked up the pace of trafficking prosecutions because we are now recognizing it as a legal community for what it is," says U.S. Attorney Peter F. Neronha. "Police are asking better questions, tips are coming in and there's more sharing of information."
These are difficult cases, says state Assistant Attorney General Stacey Veroni, with prosecutorial challenges akin to domestic violence cases: victims who disappear, cultural and language barriers, the fear of retaliation from their traffickers.
"They have so many other issues," she says. "They are not charged, but if they are victimized without counseling services, we will see them back in the system."
Since 2013, a statewide human trafficking task force, representing the criminal justice, medical and social welfare communities, has met monthly to develop policies, share resources, discuss cases and provide services to victims. In January, it unveiled a protocol for identifying, screening for and responding to sex trafficking. Among the task force's priorities: training municipal police to understand that prostitution is not a lifestyle choice.
"Not only do [police] not treat the kids as criminals, they don't charge the adults. They will refer them to us," says Peg Langhammer, executive director of Day One sexual assault and trauma center.
These initiatives may yet benefit adult sex workers. But, so far, the most comprehensive available data over the last six years illustrate that adult prostitutes are more likely to bear the most serious legal consequences of the crime, compared to johns or pimps. According to state court records, from 2009 to 2015, there were 118 charges against sex sellers; sixty-five against sex buyers and thirty-nine against traffickers.
The trend was most pronounced in the wake of the law's enactment. From 2009 to 2014, very few sex buyers were charged — two on average. Sex sellers sustained many more charges, on average thirteen — a ratio of more than six to one. Last year was the first in which officials' actions reflected their intentions: Charges against sex buyers and traffickers exceeded those against sex sellers, with twenty-three prostitution charges, thirty-nine procurement charges and ten trafficking charges.
Those charged with prostitution were more likely to wind up with a guilty plea than those charged with procuring sex for a fee, by a ratio of two to one. A one-day census of inmates at the Adult Correctional Institutions from 2009 to 2015 shows that an estimated 90 percent of those serving a prostitution-related sentence were women.
Colleen Daley Ndoye, director of Revitalizing and Engaging Neighborhoods by Empowering Women (Project RENEW), also bemoans the dearth of resources for adult sex workers.
"If you are under eighteen, there is help for you and I'm happy," Daley Ndoye says. "But once the person turns eighteen and there is no trafficker, that's the same person — with the same exact needs. The risk is the same, the violence is still the same, the shame, the guilt, the trauma is still the same. Why do we have this distinction?"
On a cold Wednesday evening, Project RENEW outreach worker Lily Rivera and an undercover narcotics officer cruised Olneyville. Rivera spotted a woman she recognized, and hopped out of the unmarked SUV with a bright pink pouch containing condoms and RENEW's contact number. The woman regarded Rivera warily. She was trying to earn enough money to buy some heroin, and Rivera was interfering.
"You're doing this on purpose," she says. "I just want to get my medicine and go back home."
Rivera retreated. Coaxing prostitutes off the streets requires patience.
"We talk to them and hope that one of these days they'll come in. They all say they want to get help," Rivera says. "But she's using. She's not ready."