APRI Red Ribbon Cocktail Gala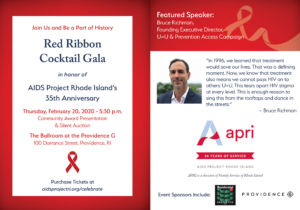 Throughout 2020, AIDS Project Rhode Island (APRI) is commemorating thirty-five years of transforming the lives of people living with, affected by, and at risk for HIV. As the first HIV/AIDS service organization in the state during the early days of the epidemic, APRI provided critically needed services and care, and today remains a leader in the fight against HIV—especially for those who lack access to resources and treatment and who face pervasive stigma and discrimination.
To honor this history, APRI is launching an exciting, year-long event series that celebrates the gains we have made, remembers those we've lost, and moves us forward toward an AIDS-free future. We reach out now to ask you to join us, particularly as we kick off the series on Thursday, February 20, with a 35th Anniversary Red Ribbon Cocktail at the Ballroom at the Providence G, featuring speaker Bruce Richman, founding executive director of the Prevention Access Campaign and the pivotal "Undetectable = Untransmittable" (U=U) campaign. You may have seen the extensive media coverage Richman and the U=U campaign have received in The Washington Post, CBS Evening News, China Global Television, CBC Canada National News, and The Lancet. Bruce was named Plus magazine's "number one Most Amazing HIV positive People of 2018," and he was instrumental in getting prominent public health bodies, including the Centers for Disease Control and Prevention, to sign on to the U=U campaign. We are honored to have this internationally recognized leader in the fight against HIV join us. This cocktail reception, and other events APRI will host throughout 2020, is expected to gather hundreds across the state and offer exceptional sponsorship opportunities.
More information and tickets are available at aidsprojectri.org/celebrate.